Skiing In The Alps – Top 10 Resorts For Last-Minute Getaway
Skiing in the Alps is one of the most popular ways to enjoy European winter. Which is why accommodation in many top skiing resorts are often unavailable on short notice.
In fact, having lived in Bavaria (almost at the heart of Europe's skiing world) for many years I witnessed first hand how much locals enjoy their skiing vacations. Talking to my colleagues I was surprised to learn that people book their winter cottage (or at least a hotel somewhere in Austria) already in July. And that's in Munich, where slopes are only 1 hour drive away…
For me that's too much planning – instead, I enjoy showing up in a new place every other time.
I explored a lot of skiing resorts in the Alps in such way, so in this post I will share a few places that would be perfect for a last-minute skiing getaway. Be it a daytrip or even a long weekend.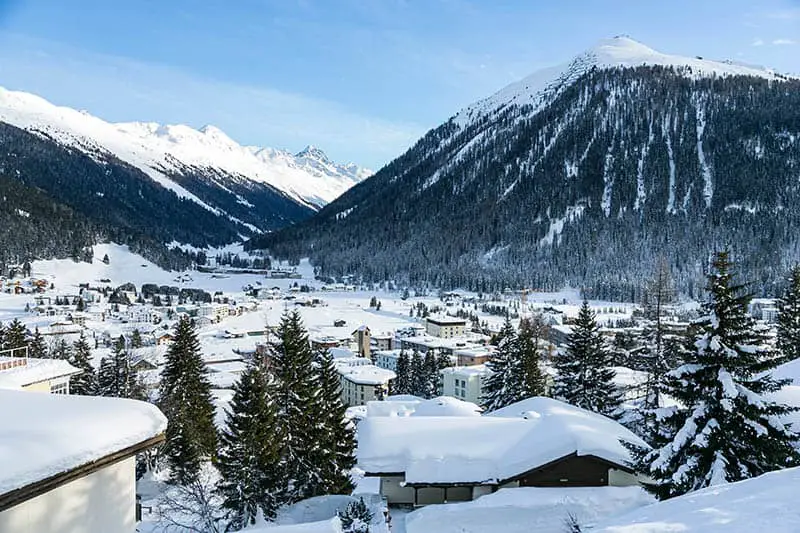 Top resorts for a daytrip of skiing in the Alps
Traditional week-long skiing holidays are not for everybody, aren't they?
In fact, connecting through a major European hub like Munich or Zurich opens up a great opportunity to add some adventure to otherwise boring hours of sitting in the airport. Or the airplane.
Why not extend the trip and combine it with something fun? Taking advantage of that stopover or adding a day to the business trip is a great way to stay fit while traveling.
If you have the chance and are 'in the neighborhood', below are some of the most convenient resorts to enjoy a day of skiing in the Alps on a short notice.
---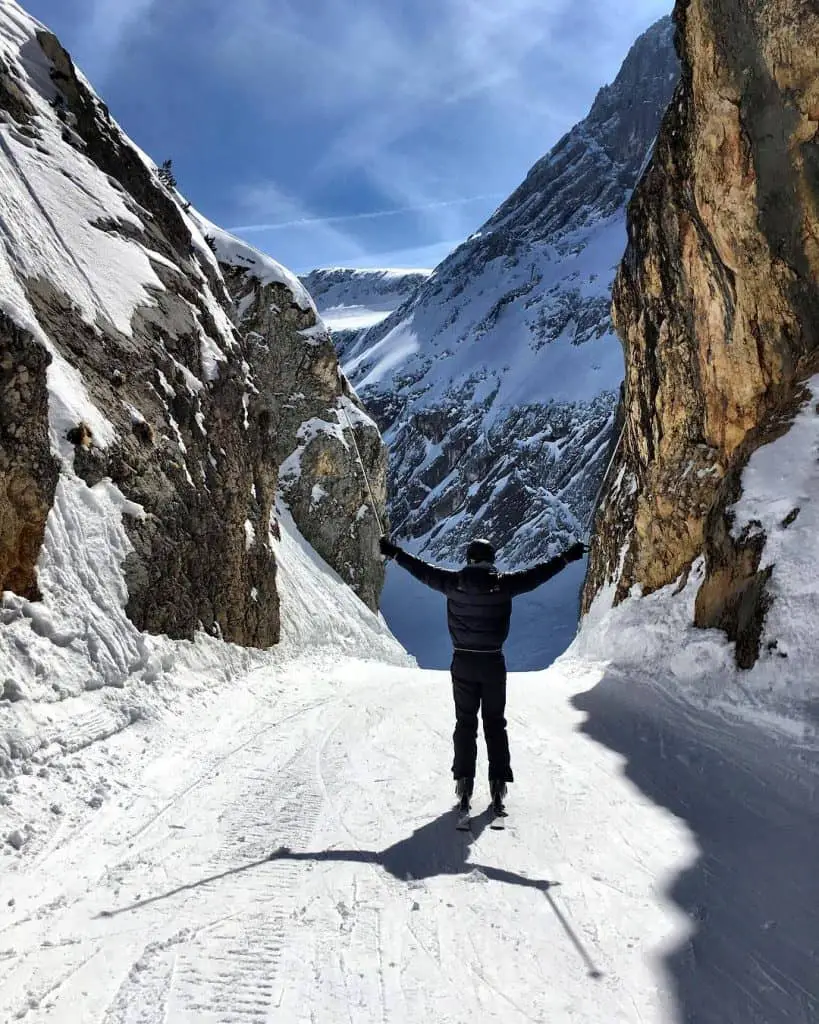 #1 Garmisch-Classic and Zugspitze, Germany
Olympic town of Garmisch-Partenkirchen is located in the foothills of the Alps and feels almost as a hidden retreat with all the mountain peaks around. But it's far from being hidden. On the contrary, it's a popular destination not only for skiers, but also for hikers, trail runners, mountain bikers and other healthy lifestyle enthusiasts. So, there's plenty to do besides going down the slopes.
Skiers can choose from 2 options – the Garmisch Classic resort located inside the city and the Zugspitze glacier located 1h train ride away. Both have great conditions for skiing, but offering very different experience. Garmisch Classic is great in the middle of the season – very beginner friendly, has different terrain and offering amazing views of the valley. Zugspitze, on the other hand, is located high in the mountains, surrounded by snowy peaks and is open for skiing until early May.
Read also: 15 Outdoor & Active Things To Do In Bavaria For Thrill-Seeking People
Personally, I found Garmisch Classic to have some of the cheapest ski lessons across all skiing resorts in the Alps. On top of that, slopes are great for both beginner and intermediate skiers.
Getting in: Garmisch Classic is just 1 hour train ride from Munich (train stops 300 meters away from the lift). Zugspitze is another 1 hour train ride away. With beautiful views, though, as the train climbs over 1,000 vertical meters.
What's special: At 2,962m above sea level Zugspitze is the highest point of Germany. From the resort area take a cable car to the peak and enjoy the 360-degree panorama of mountain peaks scattered across 4 countries.
---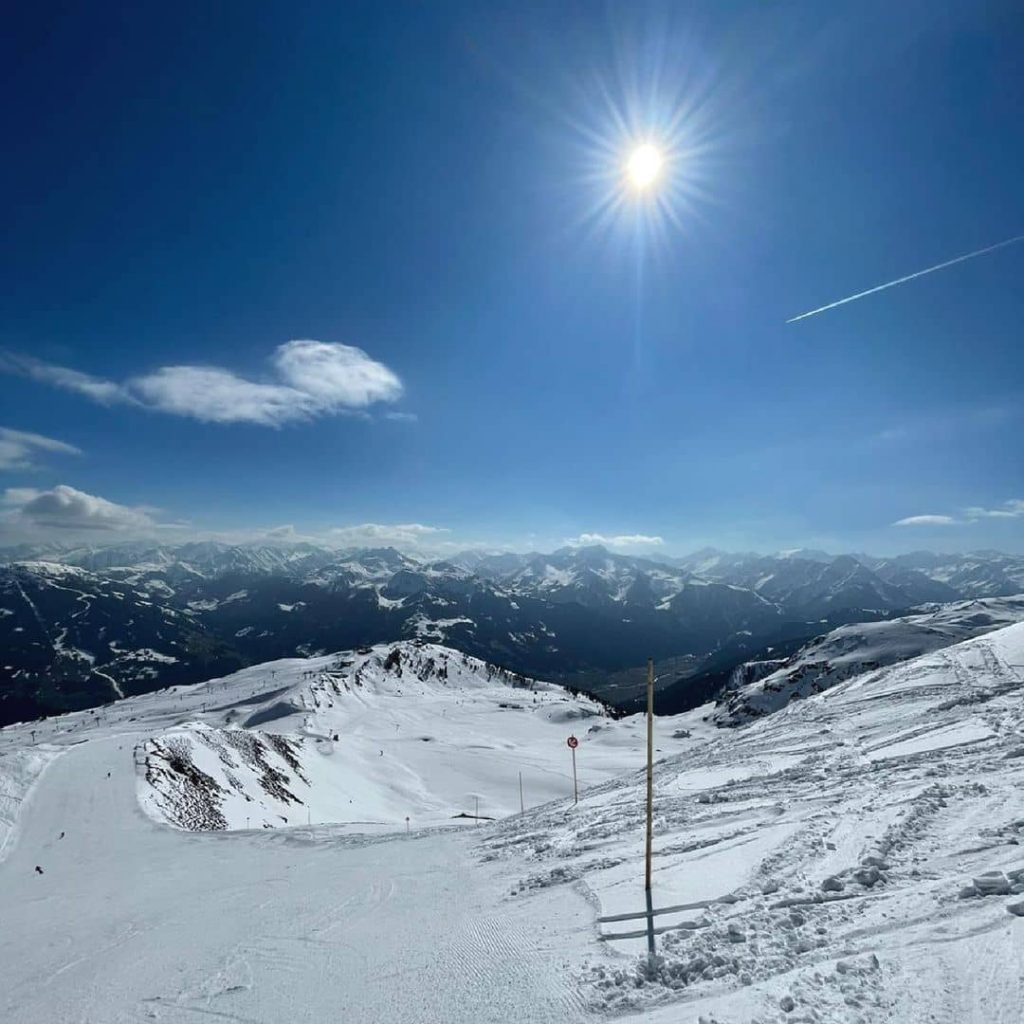 #2 Hochzillertal, Austria
Austria's Ziller Valley (Zillertal) is home to half a dozen skiing resorts and is a popular skiing day trip destination from Munich and Innsbruck.
Hochzillertal is the largest resort in the area offering plenty of slopes, great variety (off-piste, free ride, etc.) and good skiing conditions thanks to higher altitude. On top of that, it connects with a resort built on the neighboring peak (Hochfügen), so a full day might not be enough to explore it all.
Getting in: Just 40 minutes drive from Innsbruck or 2 hours from Munich. Thanks to its size and popularity there are many companies offering 'return bus ride + ski pass' packages.
What's special: Make sure you visit Kristallhütte. It's a great place to relax, unwind or even party – whatever you fancy. The atmosphere there is very diverse.
---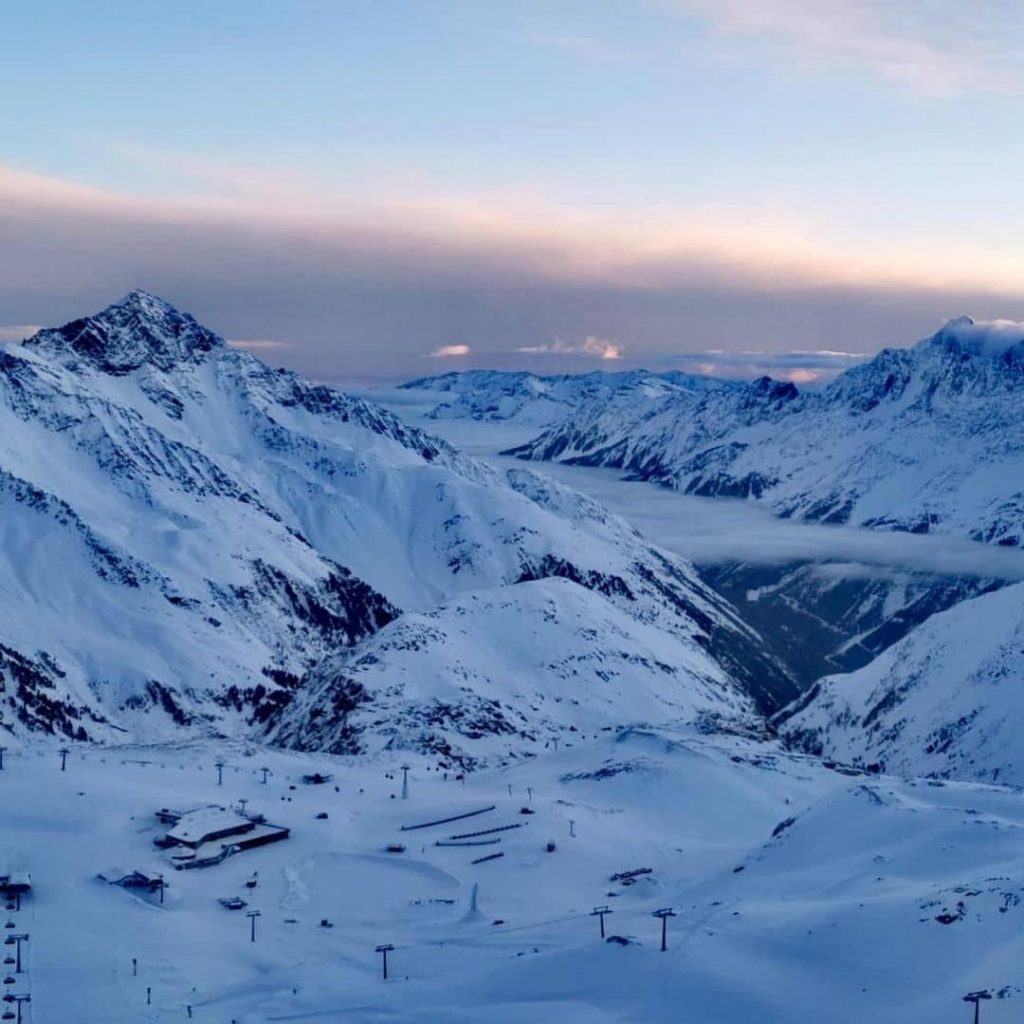 #3 Stubaier Gletscher, Austria
Being a glacier, Stubaier Gletscher is one of the most reliable places for skiing in the Alps. It's not a big resort, but thanks to being high in the mountains there's good snow and perfect conditions most of the time. And for the better part of the year too.
Stubaier Gletscher is on the pricier side, but you can see what you pay for. Ski lifts are modern, efficient and well-maintained. Pistes are in very good condition. And the views of the Stubai valley are just gorgeous.
Getting in: 40 minutes drive from Innsbruck (accessible via skibus shuttles) or 2.5 hours drive from Munich.
What's special: open 'almost' year-round – skiing at Stubaier Gletscher is possible from October to June.
---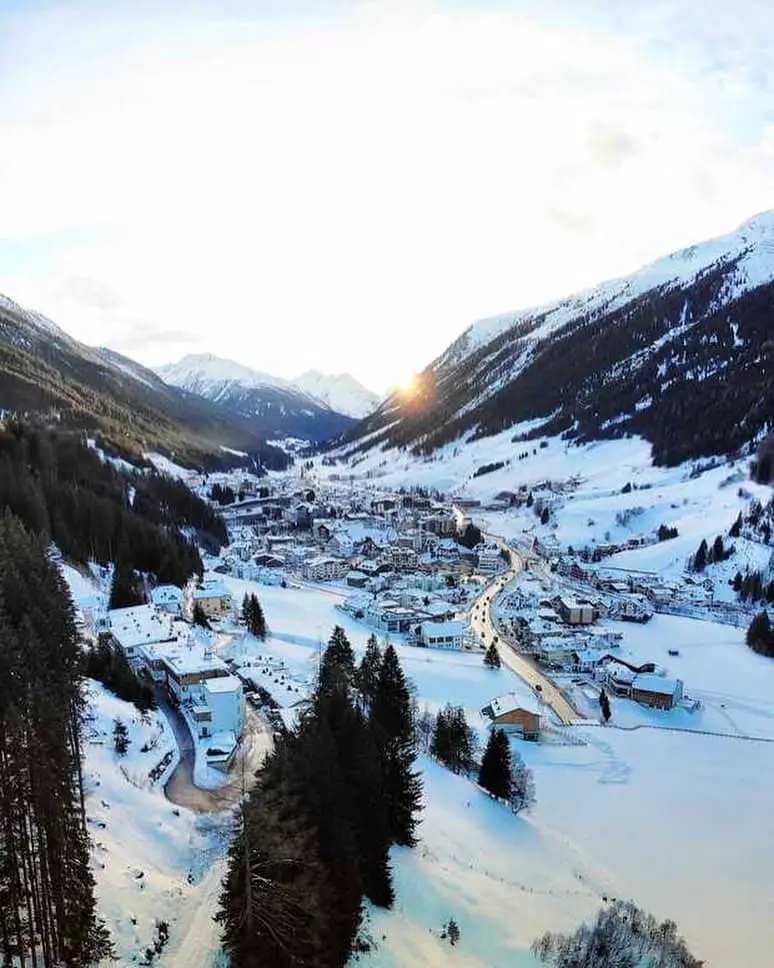 #4 Ischgl, Austria
Ischgl is known as the party place of the Alps.
There are plenty of pistes suited for every skiing level – from beginners to experts. Ischgl spans across two countries – Austria and Switzerland. There's a duty-free run that takes one to the remote Swiss village blocked by mountains. There's even a challenge called Smuggler's Circuit that takes a skier on a tour around the resort, totaling to 40-60km of skiing + chairlifts.
But one thing that most people will remember Ischgl by is partying. And it's true – the level of Après Ski energy and atmosphere here is not matched by any of the skiing resort in the Alps. Every year Ischgl hosts an end of season party that attracts world's top DJs and performers.
Getting in: 1.5 hours drive from Innsbruck.
What's special: The 'duty-free' run down to the Swiss village of Samnaun. Due to its unique geographical location and history Samnaun the only duty-free zone in Switzerland. Perfume, cosmetics, watches, jewelry, even food – all tax-free. And beautiful scenery along the way.
---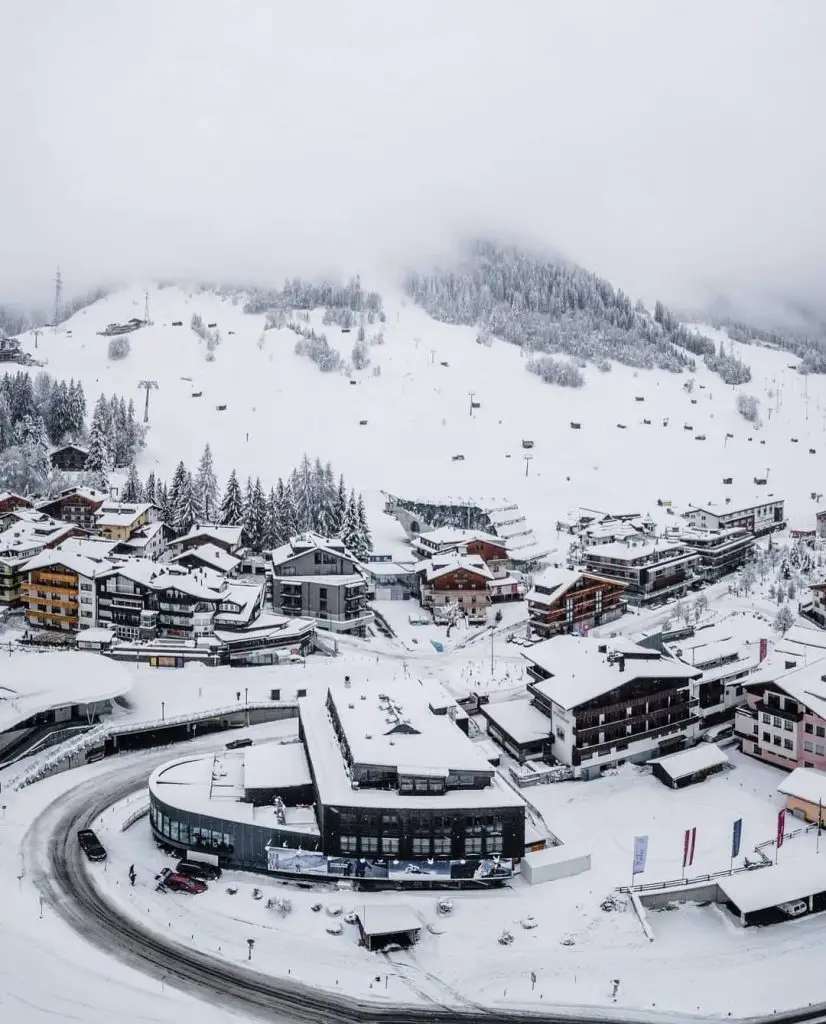 #5 St. Anton am Arlberg, Austria
St. Anton is one of many interconnected resorts in Austria's Arlberg region. Combined these total to ~350 kilometers of pistes, making it the largest skiing area in Austria and 5th largest in the world.
St. Anton is the most accessible of these resorts and also one of the most diverse. Skiers of every ability will find their perfect ride here, but it's the intermediate level that will really thrive on the slopes. Some snowboarders, however, might struggle on flat connections between the bigger skiing areas.
Getting in: 1.5 hours drive from Innsbruck or 2.5 hour drive from Munich. Due to its size and popularity there are many tour companies organizing day trips to St. Anton offering 'return bus ride + ski pass' packages.
What's special: Exploring. And taking in the views as you travel between the mountain passes. It is really spectacular.
---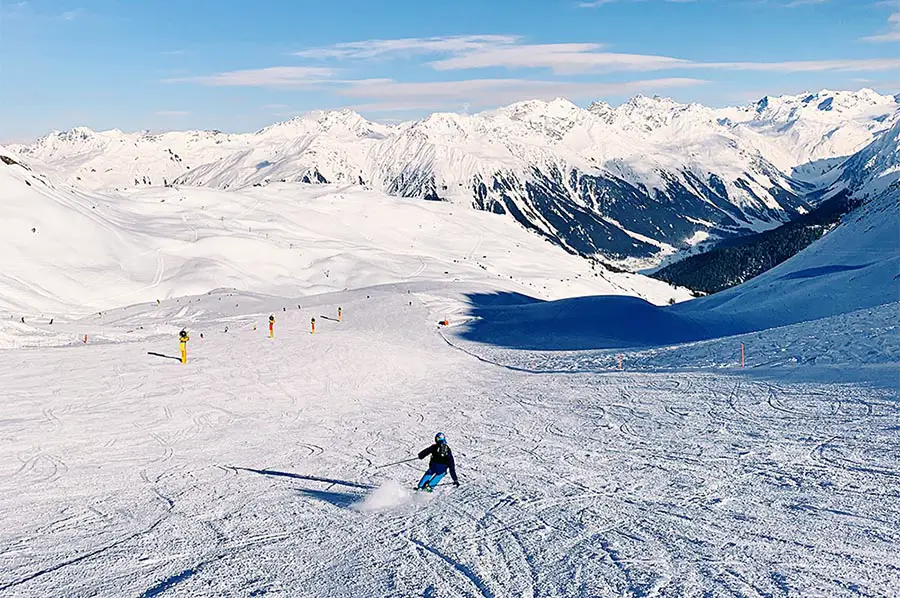 #6 Davos, Switzerland
Yes, Davos is the place where the Annual Meeting of the World Economic Forum takes place. Every year in late-January this small village high in the mountains quadruples in size as world leaders and the accompanying entourage (teams, press, etc.) visit it for this event.
Read also: Skiing In Davos During World Economic Forum – Possible? Worth It?
Besides that, Davos is the biggest skiing resort in Switzerland with its 300+ kilometers of pistes. And it's much easier to reach than more 'traditional' resorts of St. Moritz or Zermatt.
Davos is very high in the mountains (2,200 to 2,800 meters above sea level), so good conditions are almost always guaranteed throughout the season. And the pistes are very wide and well-maintained, so skiing in Davos is pure joy.
Getting in: 2 hours drive from Zürich. Once there, use the shuttle to easily travel between different resorts.
What's special: Great conditions, wide and well-maintained pistes.
---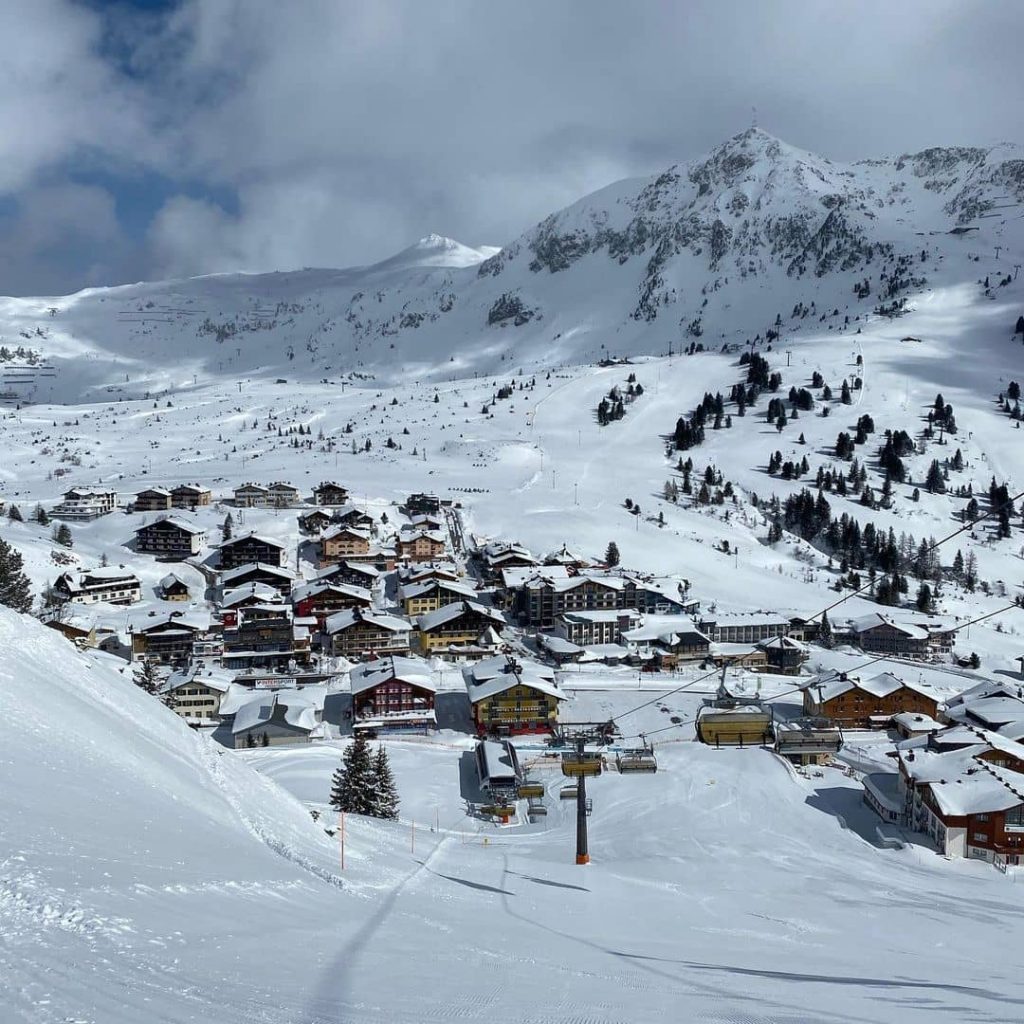 #7 Obertauern, Austria
Obertauern is one of the most consistent resorts for skiing in the Alps. The village is located at 1,600 meters above sea level and statistically the area receives one of the highest snowfalls of all Austrian non-glacier ski resorts. So, snow is pretty much guaranteed from late November to early May.
One cool thing about the resort is the way pistes and lifts are organized. The village is surrounded by mountain peaks and skiers and snowboarders can travel around the entire resort and return to the same spot.
While wide pistes make Obertauern perfect for family & intermediate skiers, there are lots of off-piste & freeride options as well. Also, advanced skiers can test their skills on the steepest skipiste in Europe – the Gamsleiten 2.
Getting in: 1.5 hours drive from Salzburg or 2.5 drive from Munich. Some companies offer 'return bus ride + ski pass' packages, especially in early and late season.
What's special: Fresh snowfall is very common at Obertauern. And that means only one thing – a perfect opportunity for powder skiing.
---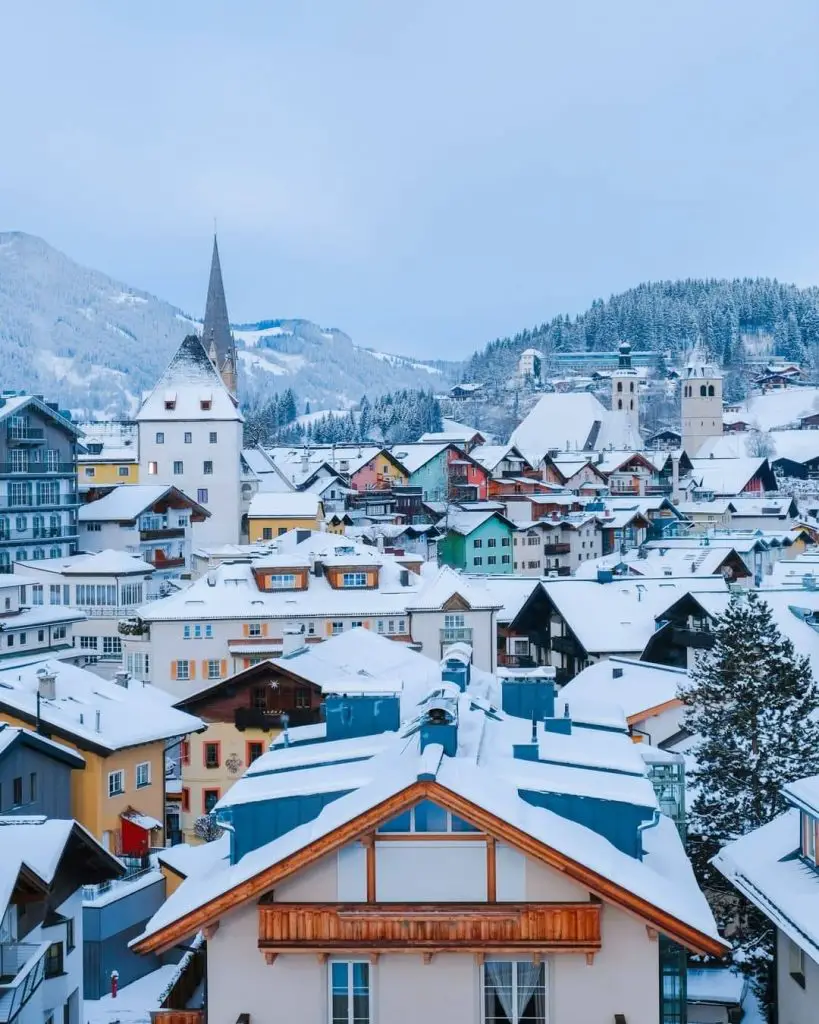 #8 Kitzbühel, Austria
Kitzbühel is frequently ranked as Austria's best ski resort. And for a good reason – it has it all and, most importantly, in good balance.
Great conditions. Well-prepared pistes (as well as snow parks and toboggan runs). Tens of mountain huts to recharge. And, of course, a cozy village with many restaurants and bars creating a very friendly and lively Après Ski atmosphere. All of it will make up for great time – be it a day trip or a week-long holiday.
Getting in: 2 hour drive from Munich or 1.5 hour drive from Salzburg.
What's special: Every January Kitzbühel hosts the FIS Alpine World Cup on the Hahnenkamm mountain, which some consider to be the most spectacular skiing competition outside the Winter Olympics. Streif – as it's called – is widely considered the most challenging downhill course on the World Cup circuit with terrain as steep as 85% vertical in places. Outside of the competition every skier can try his/her skills on this legendary course.
---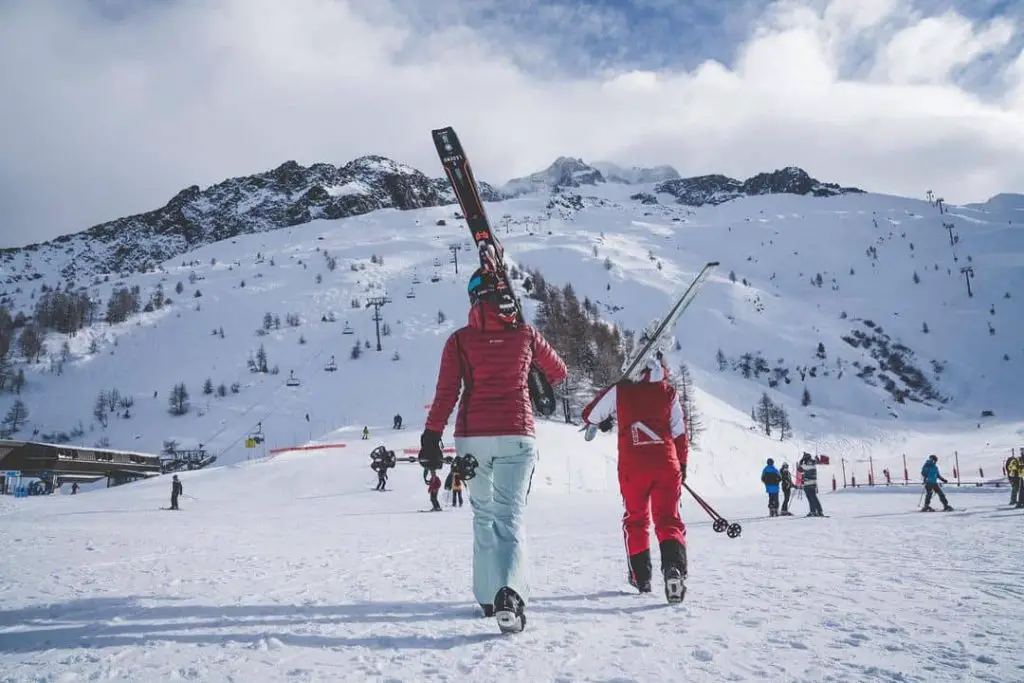 #9 Chamonix – Mont Blanc, France
Chamonix is one of the oldest resorts in France and has been a world-class destination for skiing in the Alps ever since it hosted the first Winter Olympics in 1924.
Chamonix is located in a valley 'just beneath' the Mont Blanc – the highest point of continental Europe and one of the 7 Summits. Throughout the year this small French Alpine village welcomes thousands of hikers, cyclists, mountaineers, rock climbers, trail runners and, of course – skiers. It's worth the visit just for the sake of soaking in the atmosphere, as the air is virtually buzzing with adventure all year round.
While there are some beginner-friendly slopes, Chamonix Valley is a destination for experienced skiers and those seeking adventure. In particular, it's very famous for its off-piste options.
Getting in: 1.5h drive from Geneva.
What's special: Take the cable car to Aiguille du Midi station (3,842m) for the best view of the Mont Blanc. If you're brave enough, take the step into the void.
---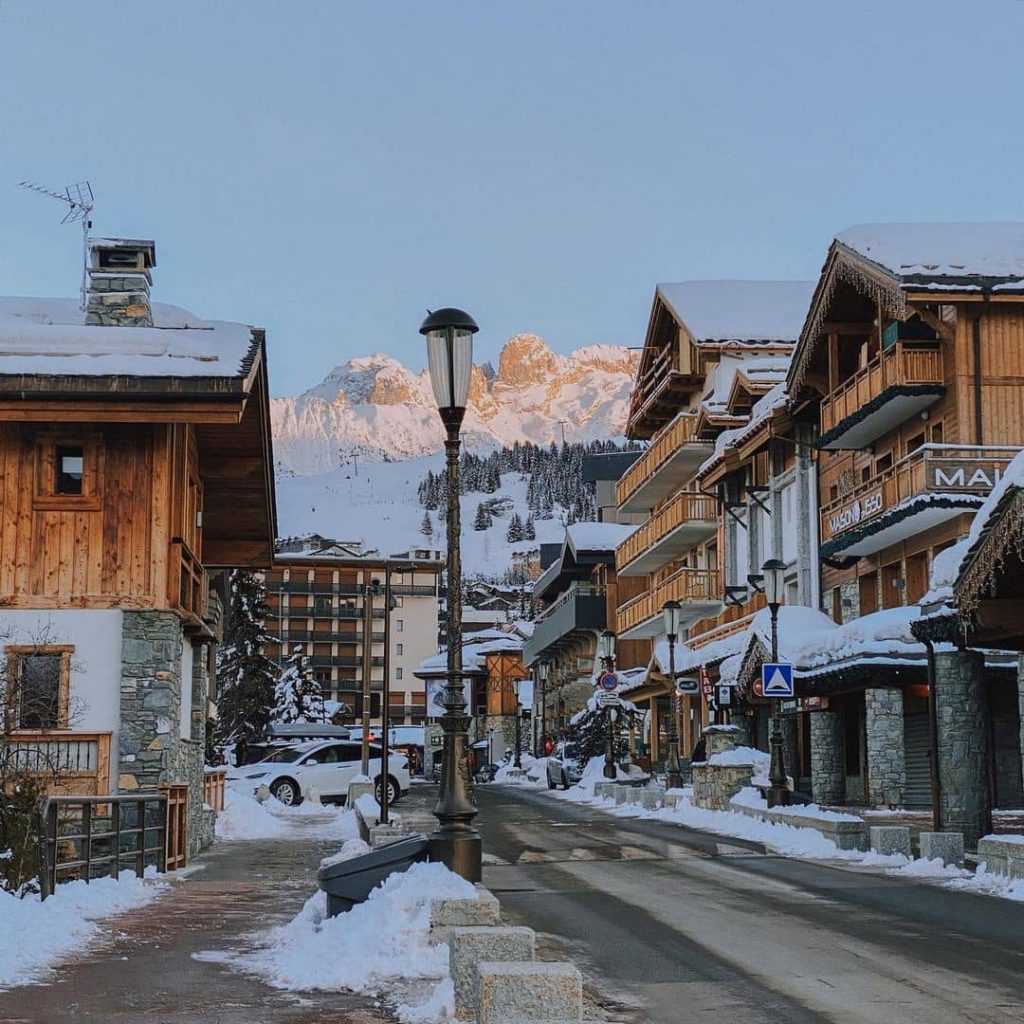 #10 Courchevel, France
As a resort Courchevel falls more on the luxurious side when it comes to skiing holidays. Michelin-starred restaurants, high street designer boutiques and 5-star hotels create very posh atmosphere which many celebrities come to enjoy and unwind in.
There's something about immersing yourself in that atmosphere even just for one day.
Still, there is place for everyone – families, those looking to unwind and even party-seekers – as Courchevel is a resort that connects 6 different villages. Each with its own distinct look and feel.
Getting in: With an almost 2.5 hour-drive from Geneva this might be the longest commute to push for a daytrip. But if you're planning a weekend getaway this is a great destination.
What's special: That La Vie Est Belle atmosphere. Unless you wear jeans to ski nobody will tell whether you're crazy rich or not. Everyone is equal on the slopes and there's no way to tell who you are behind a pair of ski goggles.
Did you find this information useful? Share the post with others using the buttons below.
Tags In
Andrejs
Andrejs is a certified IRONMAN coach and a former professional athlete who created The Athlete Blog as a way of sharing his training experience with the world. His journey across different sports inspired him to develop a training methodology that, apart from results, also focuses on being healthy, happy and full of energy. You can read his personal story
here
.