15 Outdoor & Active Things To Do In Bavaria For Thrill-Seeking People
My nature doesn't let me sit still. I don't seem to function that way and it has been so since I can remember. Even in my teens when I was obsessed with playing video games I managed to get my addictive personality outdoors to exercise. Logically, years later when I received an offer to relocate to Munich the first thing I checked was what are the active things to do in Bavaria. And that got me interested.
I don't know what I knew about Germans back when I moved here, but 7 years here have really corrected my lack of perspective. I was surprised at how fit my colleagues and other people in Bavaria are – it seemed like they knew how to take the most of every weekend. A hike in the mountains, a skiing day trip, paddle boarding in crystal clear lakes. These are my kind of people.
Active things to do in Bavaria
I am obviously biased, as Bavaria now has a special place in my heart. But I honestly think this is the place for all those who want to embrace a healthy and active lifestyle.
One of the main reasons why I lived here for so long is because of how many cool and adventurous things one can do here. Scroll down for my list of top active things to do in Bavaria.
#1 Hiking
Among active things to do in Bavaria hiking is by far the most popular in summer. On a sunny weekend morning (7-8AM) Munich central station will be packed with people carrying backpacks and going for a hike in the mountains.
Hiking is such an easy and visually rewarding way to spend free time and enjoy the nature. It's a great way to do sightseeing as well – hiking around the Neuschwanstein castle to see it from a different angle, climbing the Wankberg to view Garmisch-Partenkirchen from above or just hiking around one of the beautiful Bavarian lakes.
If you're up for a challenge, take a 2-day trip and climb Zugspitze – Germany's highest point, standing at 2,962 meters above sea level.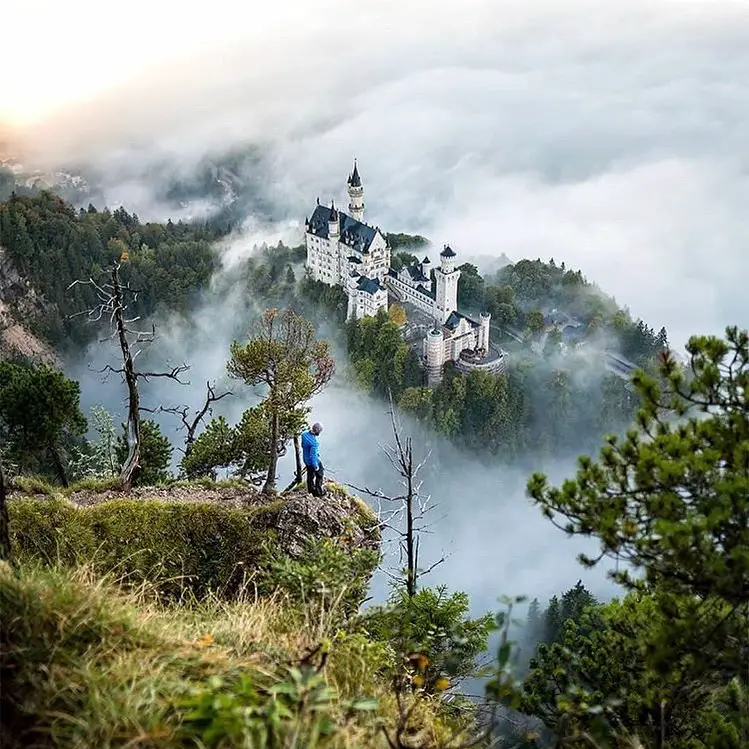 It's not only about the Alps, though. There are tons of routes across all Bavaria for all levels – from beginners to experienced hikers. Personally, I found this map to be very useful at finding potential routes.
Read also: Hiking In Bavarian Alps – 10 Most Spectacular & Interesting Trails
#2 Trail running
Those who are ultra fit and for whom hiking doesn't provide enough of a challenge might be interested in doing some trail running. There are thousands of peaks across Bavariam Alps – both big and small – which is perfect for building stamina and even doing some altitude training.
The best part? Stunning mountain views are almost always guaranteed.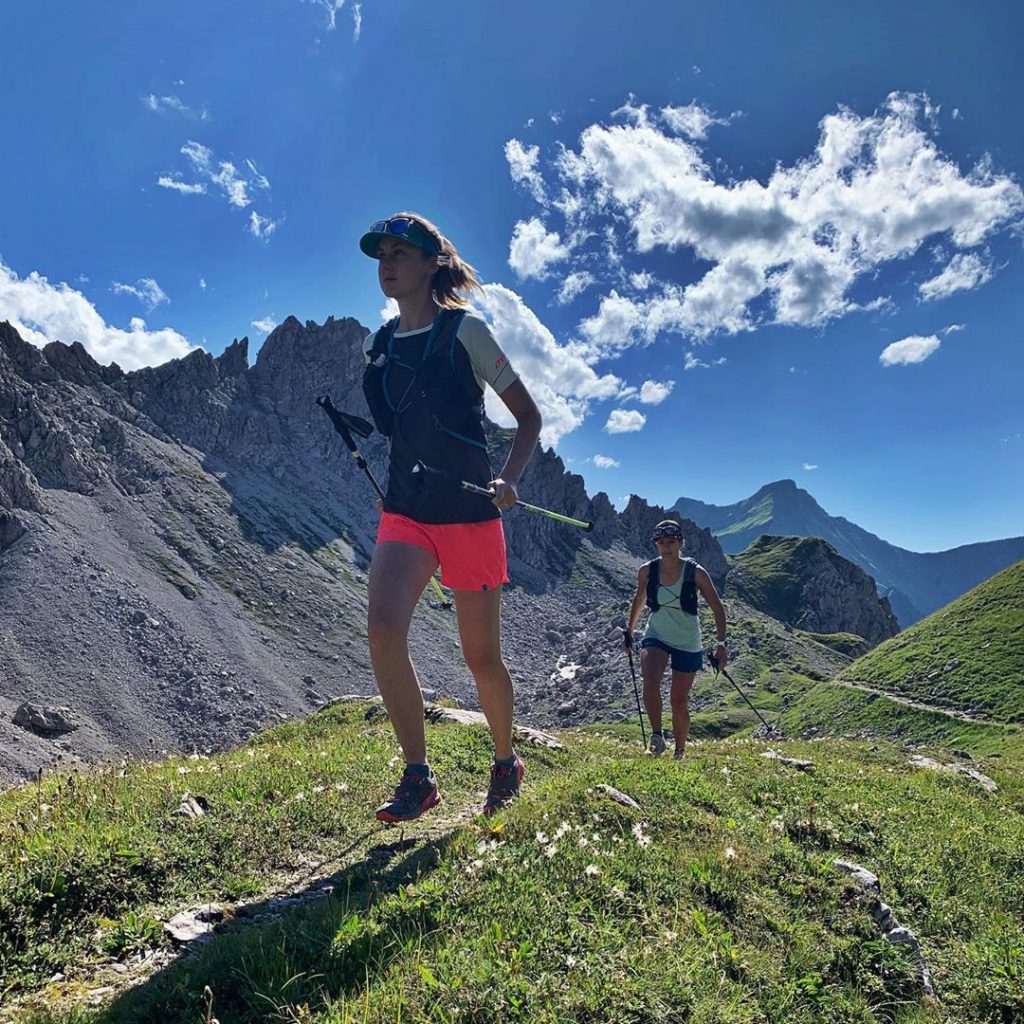 #3 Alpine skiing or snowboarding
If you're into winter sports and happen to be in Munich between November and April – you're in luck. Skiing is one of the best day trips from Munich for both locals and visitors.
Hitting the slopes is probably also one of the most popular and active things to do in Bavaria. Yes, there aren't many big resorts to choose from in Germany (Garmisch being the most accessible one), but it's not a problem. Many choose to go to the neighbouring Austria or Switzerland by car or on an organized all-inclusive bus trip.
Waking up at 4AM to be the first one to hit the slopes at sunrise is probably my favorite way of spending a winter weekend.
Personally, I like the bus option more. Everything is organized for you – transport, ski pass and sometimes even breakfast. You don't really have to worry about much – just getting the gear (bring your own or rent it) and getting down the mountain on time to leave. Look for Skibus München or Studenten im Schnee – these leave multiple times per week from Munich and have a wide selection of resorts they travel to.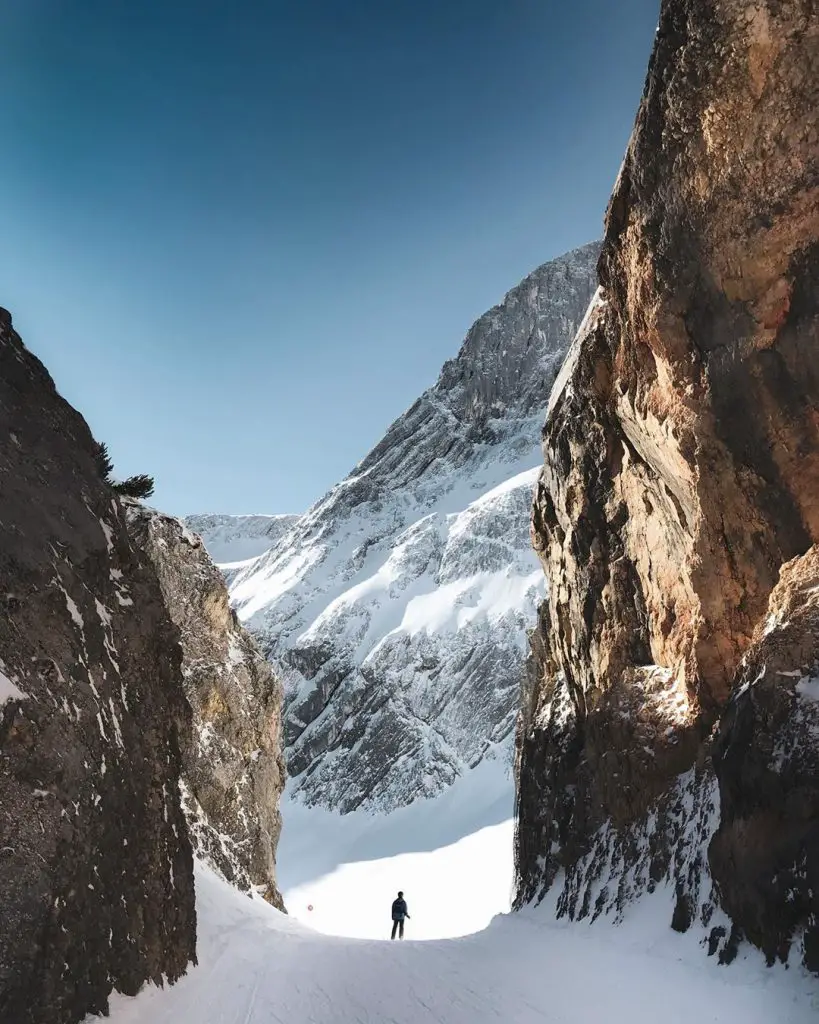 #4 Cross-country skiing
One thing that is quite accessible across Bavaria is cross-country skiing. When the weather is right (typically when it has stayed around at least -5°C to 0°C for a week) one can enjoy skiing on well-prepared cross-country skiing tracks.
There are schools, rental places and prepared tracks all across Bavaria. Lots of towns and villages will have some options to offer – I found this map to be a good starting point.
However, if you're looking for some serious training or doing an organized training camp, the best place to go is Ruhpolding. The tracks here will provide beautiful scenery and challenging hills – perfect for the body and for the soul – for every experience level.
Ruhpolding is also one of the global centers for cross-country skiing & biathlon. Once every year it hosts IBU World Biathlon Cup, during which more than 25,000 athletes and spectators come to enjoy the event.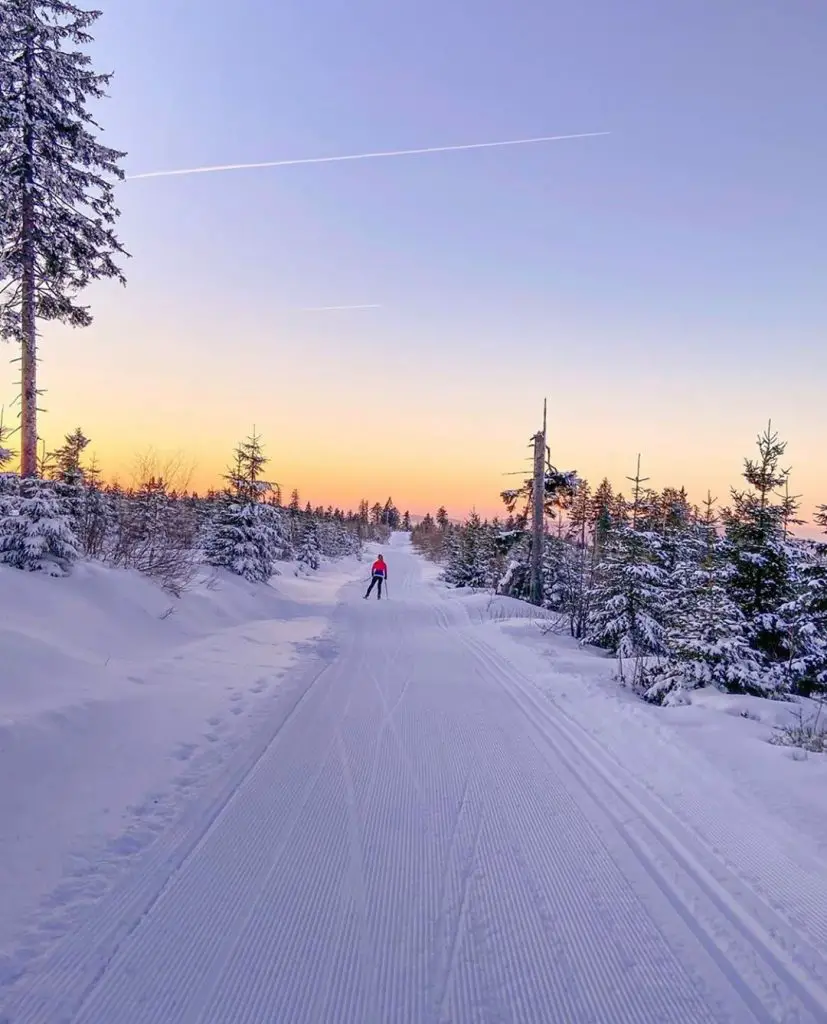 #5 Ski touring
One interesting thing I noticed while skiing in the Alps is people 'hiking' up the slopes with their skis on. This activity is called ski touring and people apply a special adhesive tape to their skis to prevent them from sliding down. Once they are at the top, they remove the tape and are able to ski down just like normal.
The usage of the slopes is actually free, because nobody can restrict the freedom of movement. It's the ski lift that costs all the money.
Ski touring is kind of like heli-skiing for those who are on a tight budget. However, it's a great way not only to save money and get extra exercise, but also to reach distant and spectacular places where gondolas won't take you.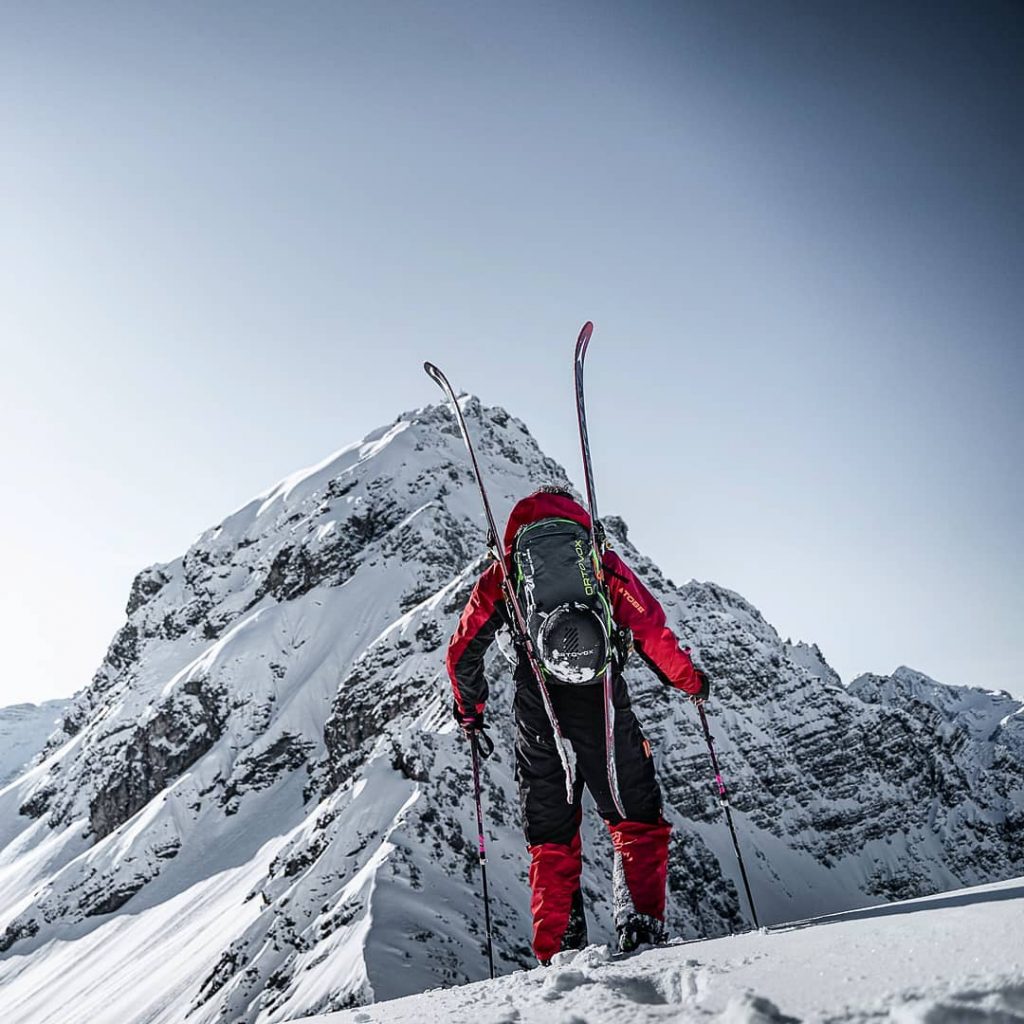 #6 Mountain biking
People in Bavaria love everything related to mountains. And cycling uphill for hours (or even carrying the bike through a rough terrain) just to ride it downhill is not a problem. In fact – just like with ski touring – it's an opportunity for exercise and a great way to enjoy the nature.
Mountain biking is one of the most exciting and active things to do in Bavaria. Similar to skiing infrastructure, there are lots of bike shops around the region where you can rent a mountain bike for a day and enjoy the time.
Those who are not keen on going uphill for hours or pushing themselves can rent an electric bike and enjoy the thrill of cycling at reduced effort. Or just do an easy ride around one of the beautiful lakes (i.e. Tegernsee or Walchensee).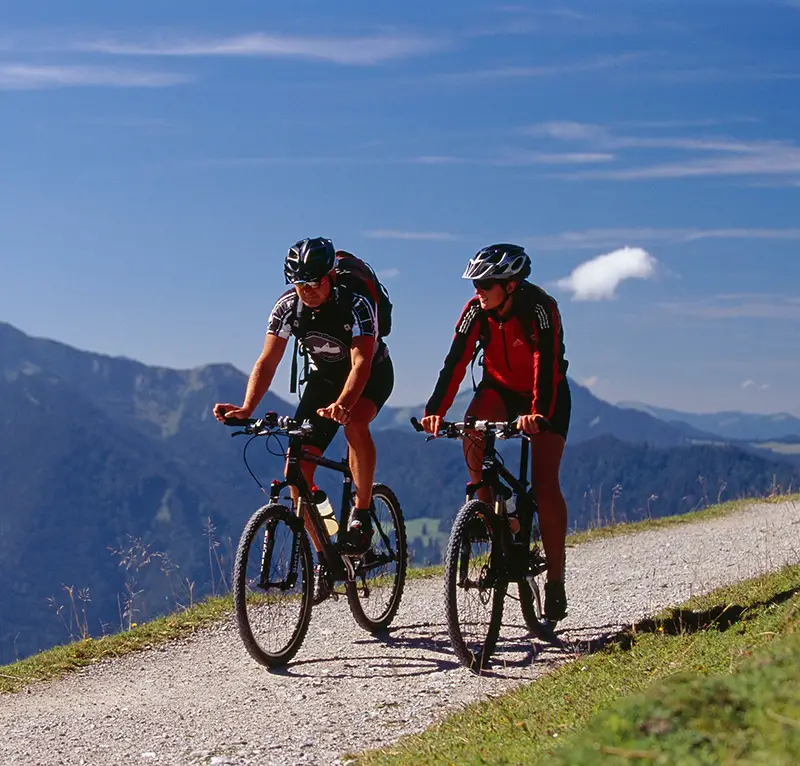 #7 Road cycling
More hardcore cyclists will find paradise in Bavaria. It's the region that has it all for solid training – great road surface, rolling and/or challenging hills, network of cycling paths, cosiderate car drivers and, most importantly, gorgeous views.
There is a large community of triathletes in Bavaria and the competition is fierce. In fact, Germans tend to be very strong cyclists and I can totally understand why. It's living here that inspired me to pick up triathlon and go out training on a road bike.
Read also: IRONMAN Austria Race Report – The Story Of My First Ironman Race
In fact, two spectacular races take place in Bavaria and attract athletes from all over the world – Challenge Roth and Alpentriathlon Schliersee.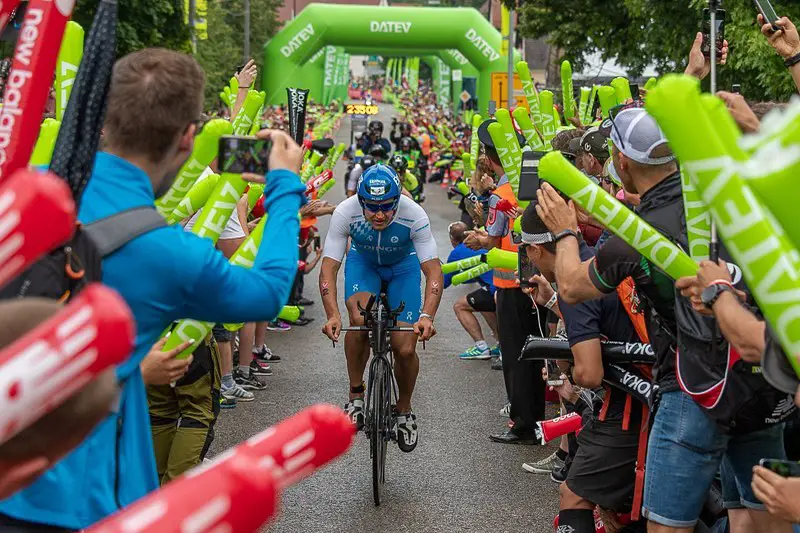 #8 Stand up paddling
Stand Up Paddling (SUP) is taking over the world by storm and Bavaria is no exception. There are many schools that offer various types of training and excursions for any taste. On top of that, many locals now have inflatable boards and take them whenever they go to.
With crystal clear lakes and breathtaking scenery Bavaria is a great place for SUP paddling. However, there are some areas where this activity is regulated and paddling is forbidden. This page is a great resource to learn about these spots.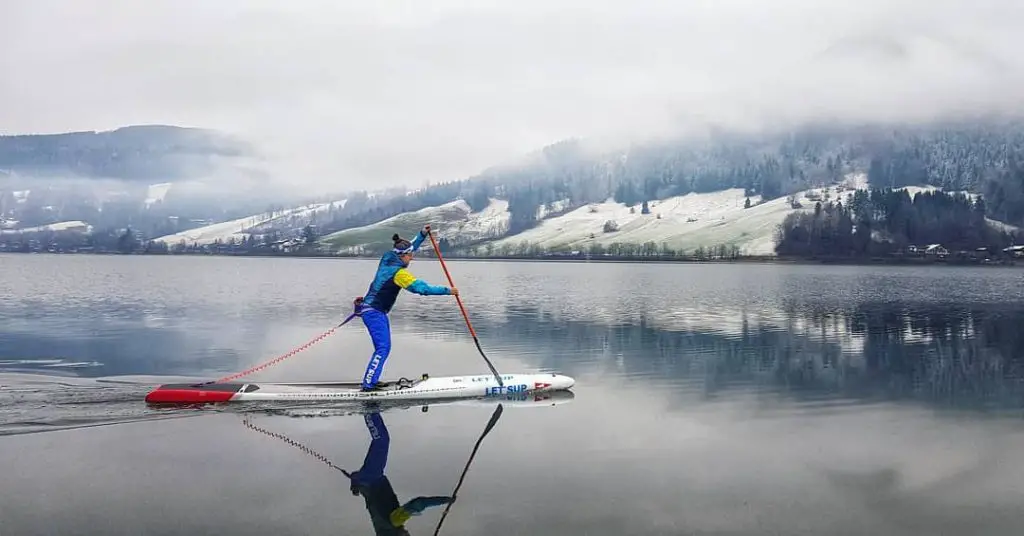 #9 Open water swimming
Another great way to experience the landscape, picture-perfect views and crystal clear water is to swim in it. Triathlon community is very big in Bavaria and many people go for organized swim sessions, training camps or just solo swims.
In our family we combine the best of both worlds. I do the swimming and Kristine follows me on a SUP board. Everybody wins.
Mountain lakes tend to be cold year-round, so in most cases one will need a wetsuit to do longer training sessions.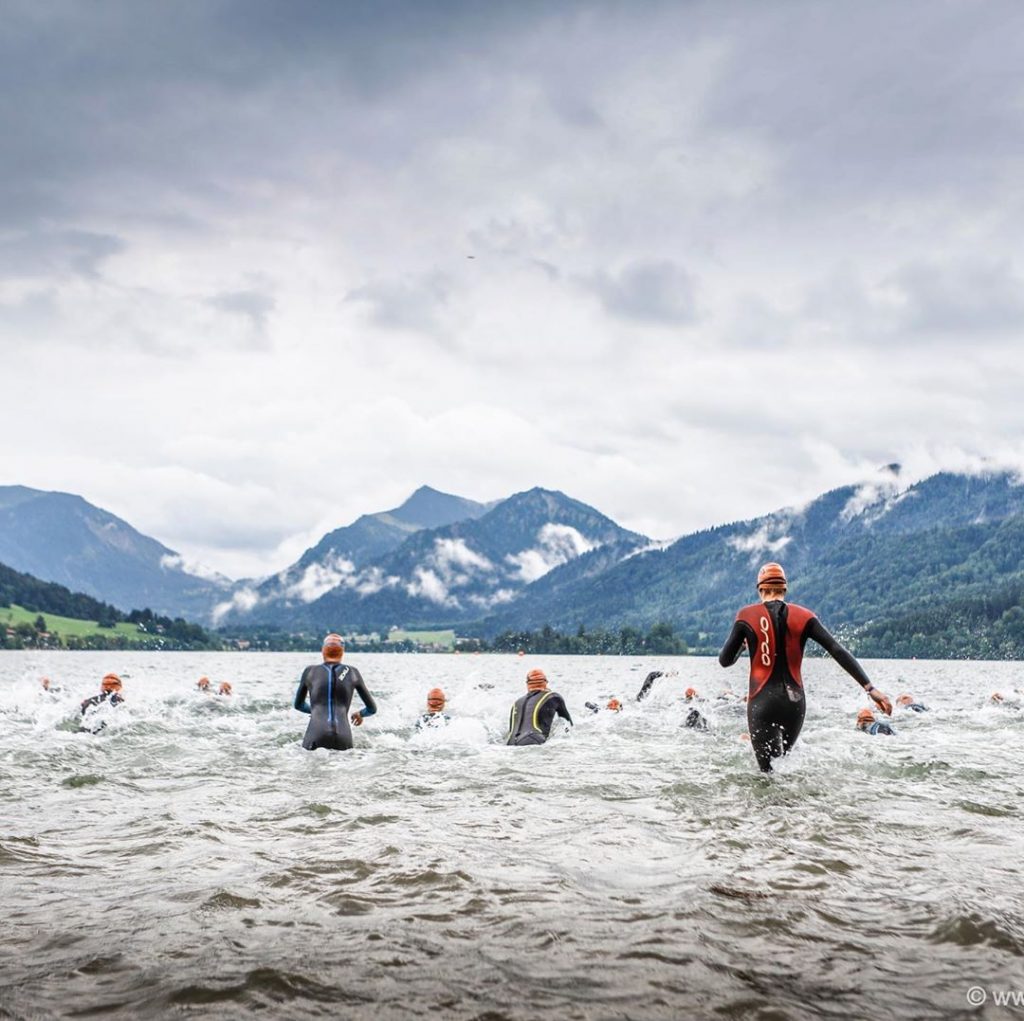 #10 Yoga camps and retreats
Spectacular scenery of Bavarian mountains is a great place for finding inner peace and nurturing your body. After all, meditating and exercising feels much easier when you have something stunning to focus on, right?
Which is why there are many yoga retreats and meditation camps organized across the region. For example, Garmisch-Partenkirchen hosts the anual Wanderlust festival that attracts hundreds (if not thousands) of yoga enthusiasts to this beautiful town in the foothills of the Alps.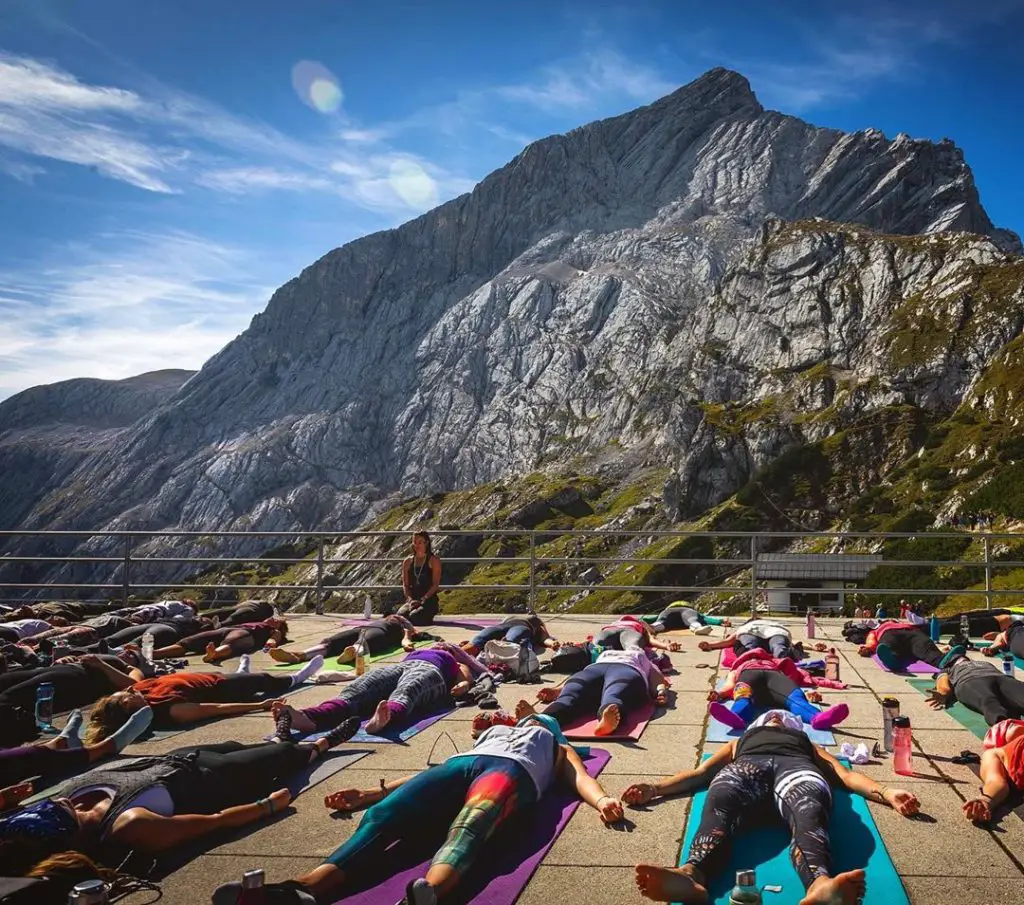 #11 Rock climbing and bouldering
One thing I quickly noticed after moving to Munich is how popular are various types of climbing here. From the amount of adventure shops to the fact that many gyms have climbing walls – the interest in this activity is obvious.
German Mountaineering Organization (Deutscher Alpenverein or DAV) does a great job at promoting mountain adventures as a way of spending free time. Anyone interested can join organized courses (climbing, mountaneering, etc.), participate in camps and even join expeditions to higher mountains (i.e. Himalaya).
Coming from Latvia where this sport is very rare and interest is limited to a narrow group of enthusiasts, I was inspired by this lifestyle. In fact, during the first couple of months I kept returning to large adventure stores and savoring in the atmosphere that is there.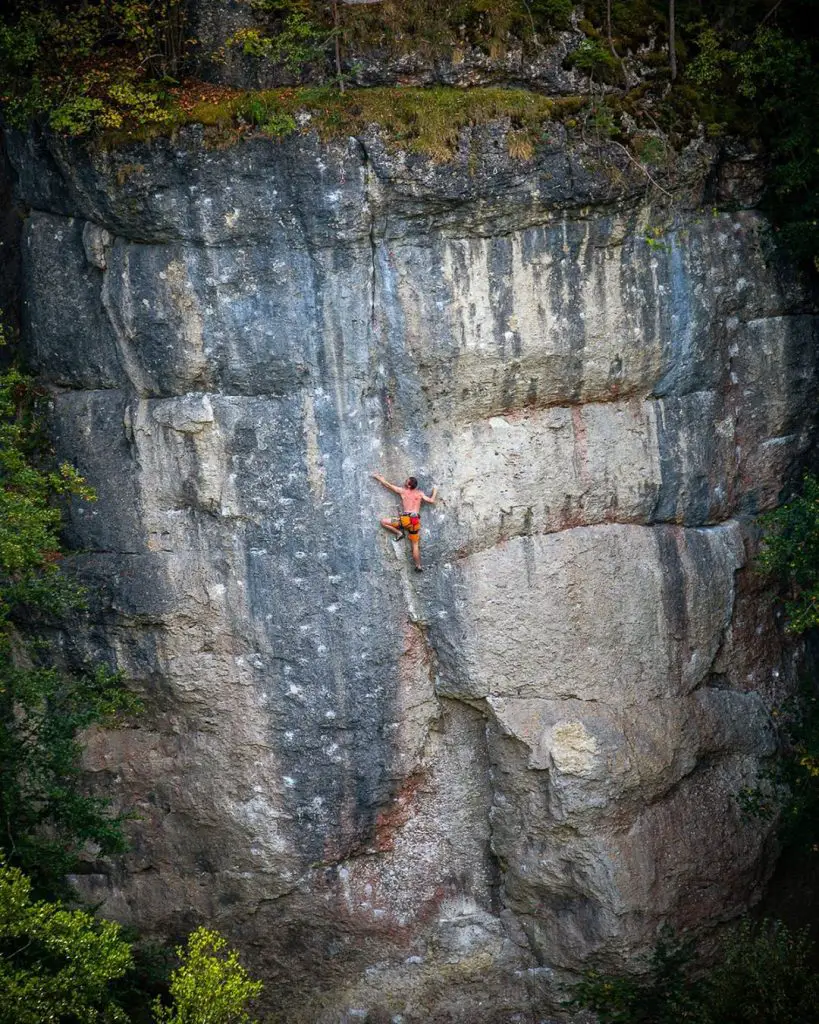 #12 Surfing
You'd think that a landlocked city hundreds of kilometers away from the sea is the worst place for a surfer? I thought so too, but imagine my surprise when on a cold November evening I saw a person on a bicycle carrying a surfboard.
Yes, you heard it right. Turns out in the city with no access to the sea (not to mention the ocean) there are quite a few options for surfing. It's not the kind we are used to, but it's the next best thing – surfing on the artificial wave.
Surfing in Munich happens all year round – even during winter. There's no bad weather, just bad clothing. The most popular place is the Eisbach wave located in the English Garden. It's a very known spot around the world and attracts a lot of people – both riders and tourists.
The Eisbach wave is fast and best suited for experienced surfers, though. Beginners are better off practicing on less challenging and popular spots – the smaller Eisbach wave, the Floßlände and inside the Jochen Schweizer Arena. Several times I even noticed an artificial wave set up in the Munich airport.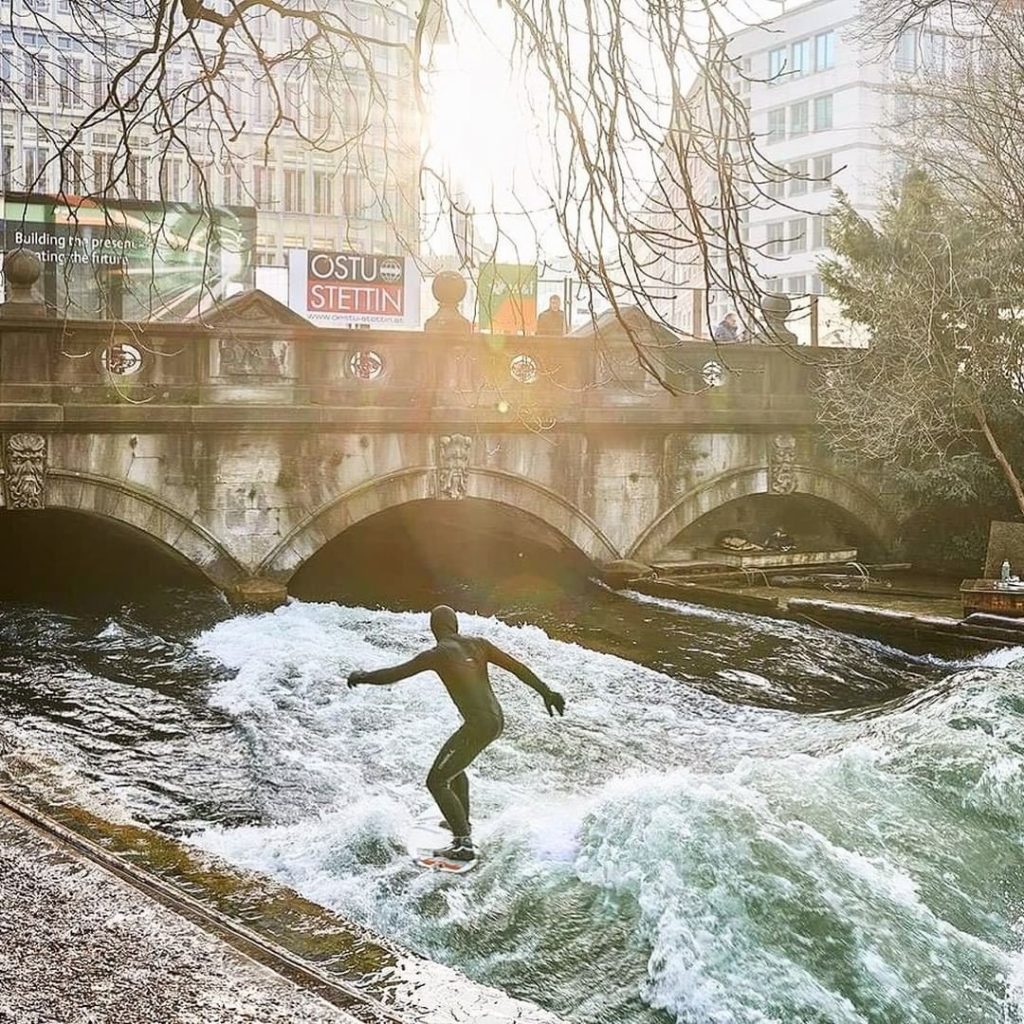 #13 Adventure parks
A great way to enjoy the outdoors and get some exercise is to visit an adventure park. Personally, I always feel every muscle in my body after climbing trees and overcoming obstacles while hanging many meters above the ground.
There are lots of adventure parks scattered across Bavaria. Every park typically has routes for all strength levels – from easy and enjoyable to quite challenging.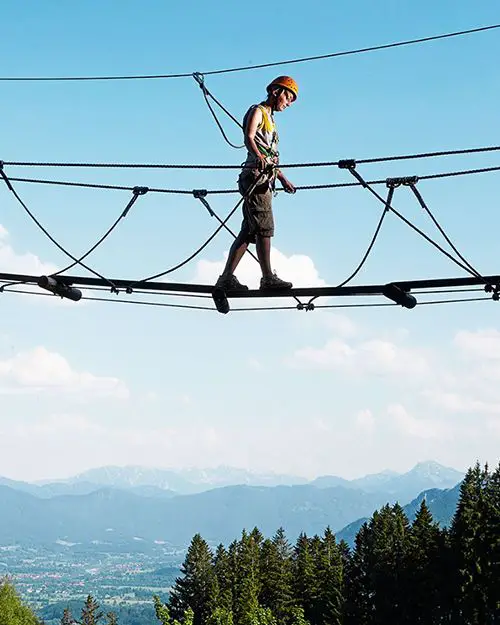 #14 Paragliding
Bavaria offers amazing scenery with forests, crystal clear lakes and mountain peaks towering between those. What's a better way to enjoy it than from the sky?
A tandem paragliding is one of the most thrilling and active things to do in Bavaria. It should be on everyone's bucket list, as it's one of the best ways to experience the beauty of the Alps.
There are many places to enjoy this activity, but the most jaw-dropping thing to do is to fly above the Neuschwanstein Castle – Germany's most prized landmark. Head over to the small town of Füssen and book a flight with any of the schools there.
#15 Canyoning
There are many mountain gorges and waterfalls across Bavaria, which is a great opportunity for canyoning.
To me this word was absolutely new when I first heard it. But it turns out that canyoning is essentially a process of moving through a 'network' of waterfalls and gorges using various techniques. It's a combination of hiking, going down on a rope, sliding down waterfalls and cliff jumping. So, kind of like a natural water adventure park.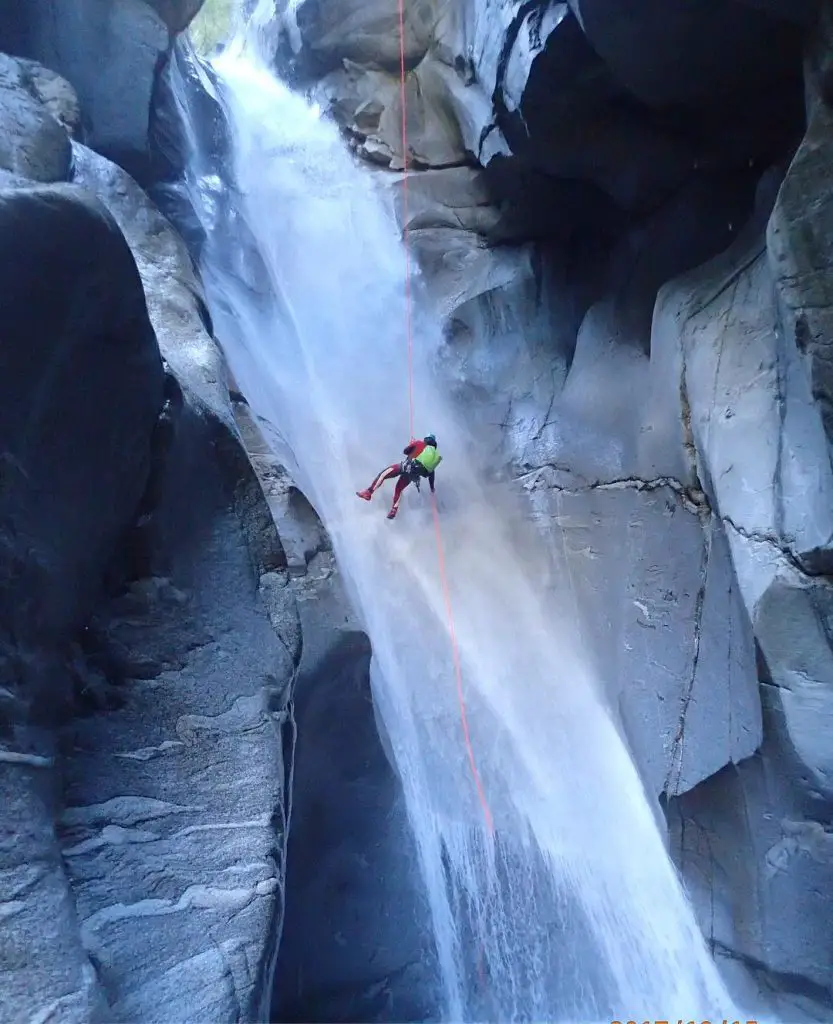 These are the most exciting and active things to do in Bavaria. Let me know in the comments below if I'm missing any.
Did you find this information useful? Share the post with others using the buttons below.
Andrejs
Andrejs is a certified IRONMAN coach and a former professional athlete who created The Athlete Blog as a way of sharing his training experience with the world. His journey across different sports inspired him to develop a training methodology that, apart from results, also focuses on being healthy, happy and full of energy. You can read his personal story
here
.