Skiing In Davos During World Economic Forum – Possible? Worth It?
End of January is the time of the year when all attention of business and political world turns to a small Swiss town of Davos. This skiing village high in the mountains is the meeting point for world's top leaders to discuss current economic trends, important world problems and future state of the world. With all of this buzz skiing in Davos during World Economic Forum might seem like a bad idea.
And it's a valid concern. Davos is home to around 10k people, but during the few days in January that number doubles or probably even triples. Why would anyone go there for something other than the event?
But we tried anyway.
Sure, there are tons of press and security at every corner. Hotels are fully booked. Prices probably are higher than usual. But then again, it's Switzerland, it's always expensive.
The best part about it, however, is that very few of these people will switch their suits and dresses to down jackets and grab a pair of skis. Which is why for us skiing in Davos during World Economic Forum turned to be one of the best days on the slopes. Ever.
Let's start from the beginning.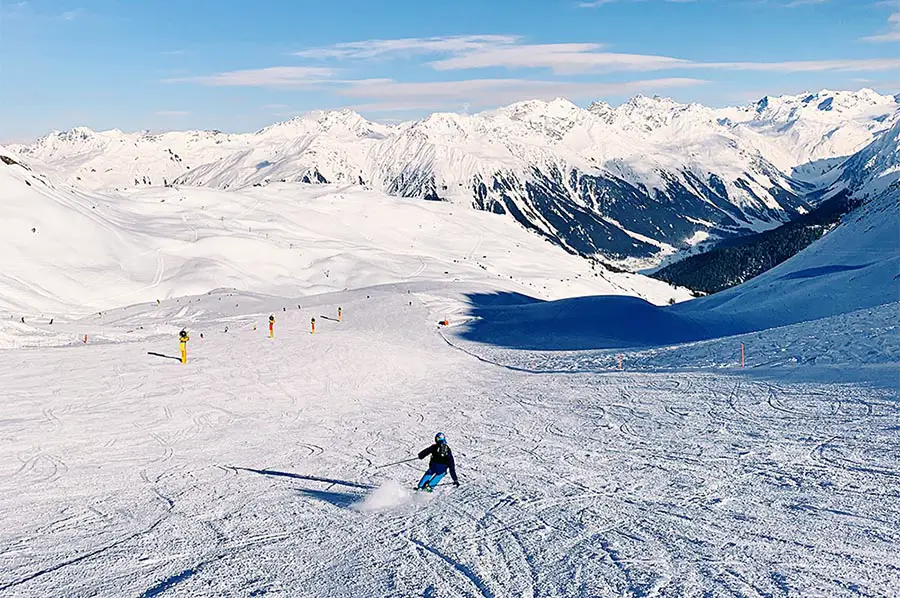 Skiing in Davos during World Economic Forum
The idea to come to Davos came a couple of weeks earlier when Kristine learned she had to go to Lucerne for a business trip. The weather forecast looked promising, so we decided to extend the trip into a skiing weekend.
The plan was to tackle 3 big skiing resorts on our way back to Munich and spend a day at each of them. Davos on the first day, followed by Ischgl and St. Anton.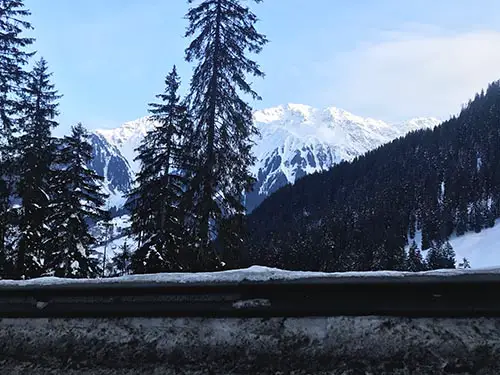 To be honest, we have completely forgotten about the World Economic Forum and only learned about it shortly before leaving. When booking the accommodation.
As you might imagine, everything around Davos was fully booked – the only thing that remained was a room on Airbnb that went for 800 euros per night. No thank you.
Instead, we spent the night in a village with an interesting name Murg (translates to 'nightmare' in Latvian) and drove to Davos the next day.
There are quite a few areas for skiing in Davos, but we decided to go all in and try the biggest one. Our final destination was Davos Dorf (Davos village) from where a cool funicular tram would take us up to the Davos Parsenn resort.
The plan was to go for the belly of the beast – as far as security would let us. But also – if not successful – to stop at earlier resorts or even turn around.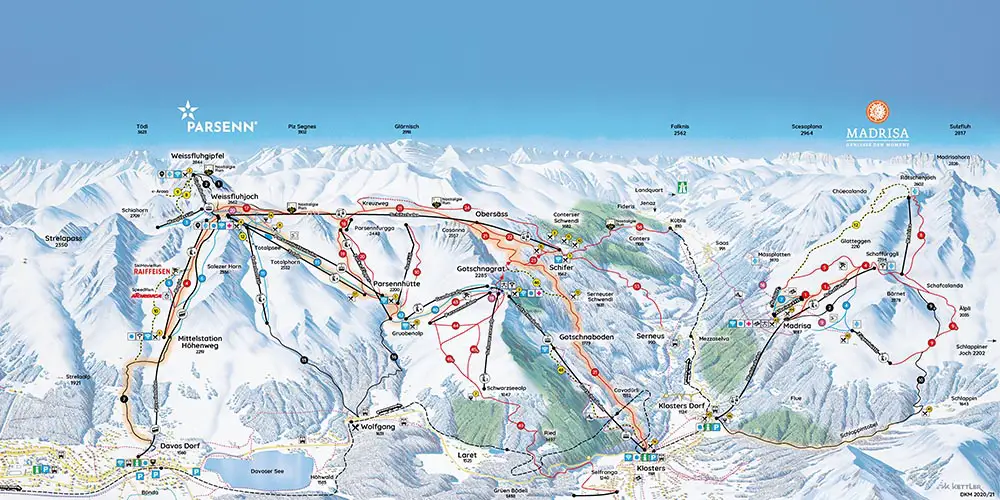 Lots of security
Until the very last moment we were 80% sure they would turn us around and wave good bye at the first security check.
That checkpoint came already 30km away from Davos. There was a bit of traffic and our white VW Golf looked very noticeable among a group of exclusively black minibuses. 2 armed policemen approached us and I mobilized all of my German knowledge.
'Ski fahren?' (going skiing) – asked one of them. Ja, natürlich. Schönes Wetter! (of course, the weather's perfect) – I answered. And with a look of complete ignorance they let us through. That was it – there were a couple of more checks and a lot of armed people on quad bikes along the way, but nobody stopped us or asked any more questions.
Fortune favors the brave ones.
As we entered Davos village, there were no traffic jams and quite a few free parking spots, which was a surprise for us.
We left our car 100 meters away from the ski lift. It did cost us 10 Swiss franks for the day (cash only), which resulted in a 20-minute quest around the town for an ATM. But most importantly – we reached our destination.
It felt almost too easy. Only the weather was 'a bit' cold – around -15 °C.
Read also: 15 Outdoor & Active Things To Do In Bavaria For Thrill-Seeking People
Great infrastructure
Actually, about the prices. Davos is quite expensive compared to other resorts in the Alps. But you do see what you pay for.
As we put on our boots and went to the ski lift we were surprised to see a spacious tram instead of old-fashioned gondolas.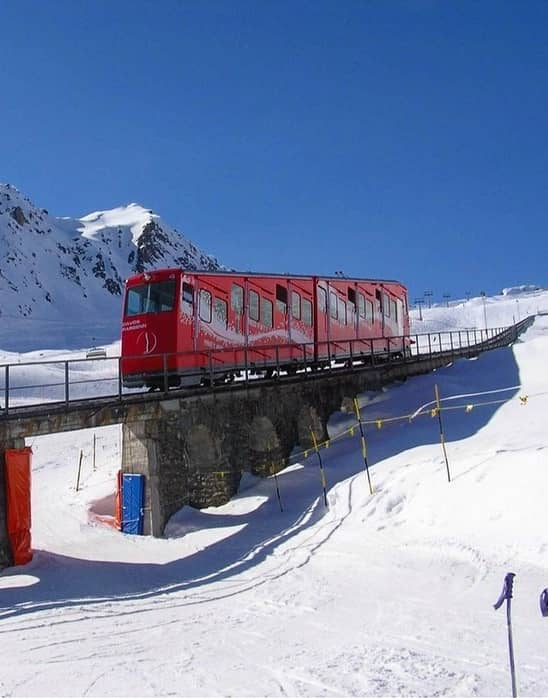 And once we were at the top, we could enjoy the beauty in all its glory. Sugary-white mountain peaks everywhere you look. Champs-Elysees-wide tracks perfectly maintained. Fresh mountain air feeling our lungs. All of that good stuff.
And almost nobody in sight.
Davis Parsenn is not a big resort, but we still found plenty of variety. Enough to feel like explorers, but not too large to get side-tracked from skiing.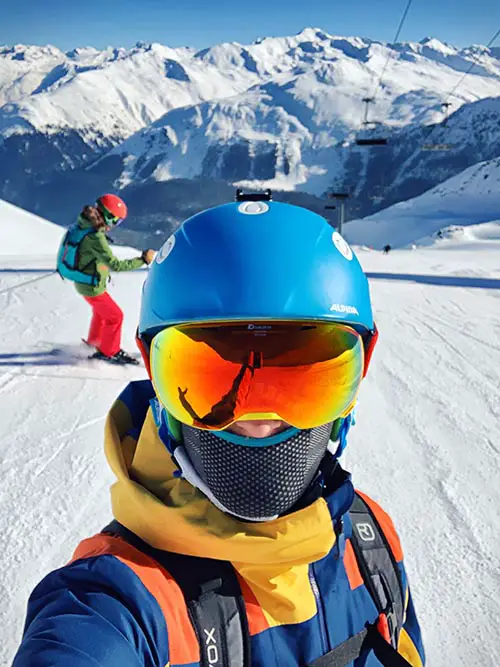 The only downside we found throughout the day was probably the restaurants. Most of them were nearly empty and in general lacked that energetic atmosphere that Hüttes in Austria are known for. It's good that Ischgl was on our agenda the next day.
Perfect conditions and empty slopes
With all of the driving and preparation we reached the top only after 10am. In skiing world it is equal to sleeping in until noon.
However, even 'this late' in the day slopes were hardly used. We could still see the marks from a snow groomer and it almost felt like we were the only ones there.
January is the middle of the season in the Alps, so you can expect plenty of snow. On top of that, Davos is quite high up in the mountains (Parsenn was around 2.600m above sea level), so the conditions here should be great most of the time.
For us the temperature dropped to -20 °C and even though the sun was shining it was rather cold when the wind was blowing.
But neither that nor a call from work that I got around lunchtime could spoil the fun that day. It's not often that you get all three factors aligned – sunny weather, great snow condition and few other skiers. So, we used it to the full that day!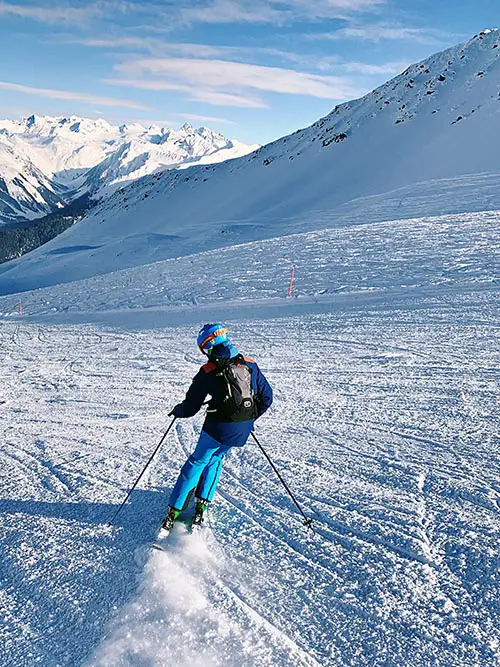 The best part about skiing in Davos during World Economic Forum was that the village itself is packed, but the slopes are nearly deserted. There we no queues for the lifts, slopes remained in perfect condition throughout the day and the views were just gorgeous.
It was truly a perfect day in the mountains. The one you hope for when thinking about going skiing.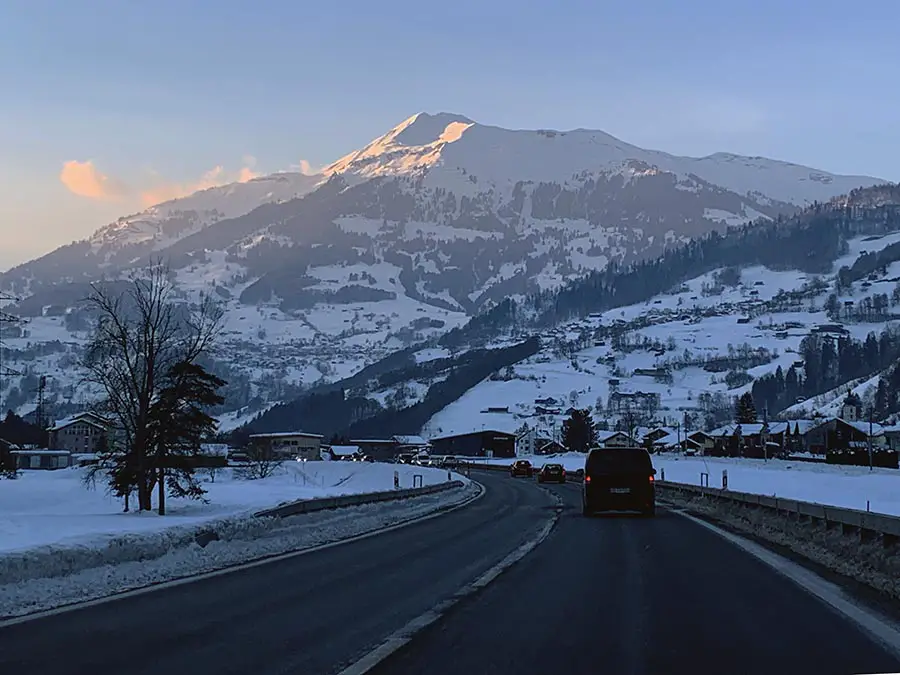 So, is skiing in Davos worth it?
Absolutely!
After skiing almost until the sun came down it was time to leave Davos and head onwards. It felt a bit sad to leave, because the day indeed turned out perfect. It had everything you need for a great adventure – a challenge (to get inside), a place to explore and a great company.
I'm certain had we planned this trip in advance we wouldn't go skiing in Davos during World Economic Forum. So, traveling without a clear plan turned out to be the best decision for us. Sure, it involved some driving, but it was a small price to pay for such a perfect day. And compared to that 800 euro airbnb room it was a bargain.
Ischgl has welcomed us with lots of snow the next day. So much, in fact, that we had hard time getting out of the parking lot in the morning.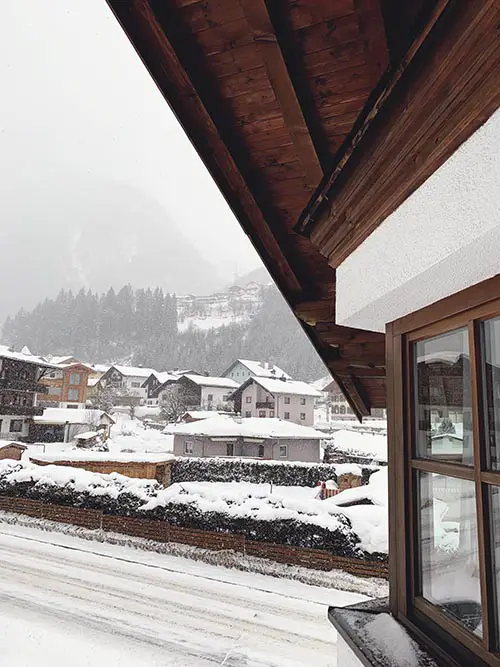 Did you find this information useful? Share the post with others using the buttons below.
Tags In
Andrejs
Andrejs is a certified IRONMAN coach and a former professional athlete who created The Athlete Blog as a way of sharing his training experience with the world. His journey across different sports inspired him to develop a training methodology that, apart from results, also focuses on being healthy, happy and full of energy. You can read his personal story
here
.