Simple Open Water Swimming Equipment Checklist For First Timers
Swimming in lakes, seas, oceans and other open spaces can be very exciting. But in order to safely explore such places, you must be a confident swimmer with good experience being in the water. And, of course, have the necessary open water swimming equipment.
If you are not a regular or experienced swimmer, you may benefit from taking swimming lessons first or signing up to a local open water swimming group. Doing so can help you practice in a safe and supportive environment. But besides that, you'll want to make sure that you have all the necessary equipment.
Essential open water swimming equipment checklist
Open water swimming can be done all year round. In the bitterness of cold winter air and steaminess of the summer heat. Aside from producing endorphins, relieving anxiety and depression, open water swimming can have a number of health benefits, too.
Regularly braving the water (especially cold one) can increase your fitness levels, muscle strength and can even act as exposure therapy, helping your body become less inclined to have physical and mental symptoms of stress. Not to mention the weight loss that it promotes. It's no surprise that outdoor swimming is rising in popularity.
You might be wondering what do I need for open water swimming, which is why I'm sharing a list of my essential open water swimming equipment below. It will make the experience safer and more enjoyable for you.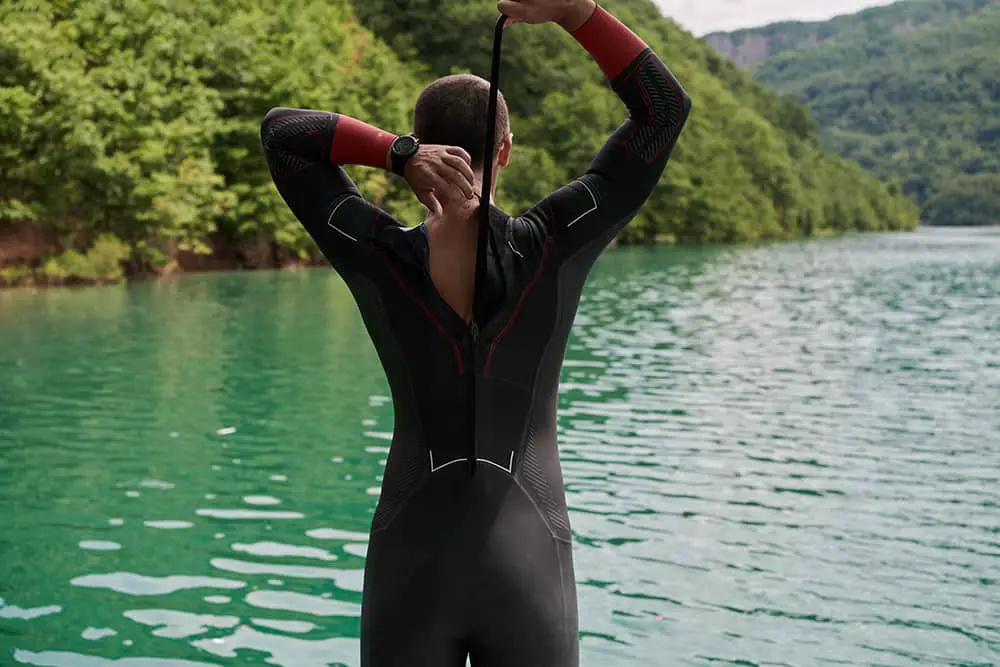 #1 Wetsuit
The first thing on my list is perhaps the most annoying one.
If you haven't swam in open water, chances are you are used to the comfort that regular swimming costumes provide. A wetsuit is a type of a swimsuit that is adapted for water sports and open water swimming. It provides additional buoyancy and protects the body from any external objects.
Wearing a wetsuit isn't as important during summer but it's non-negotiable during winter swimming. It acts as a barrier between the body and the water, which in turn provides insulation and helps to regulate heat. As the temperature drops, the water becomes unbearable without a thermal wetsuit (along with swimming shoes and a cap).
The best material to search for when looking for a wetsuit, booties and swimming caps is neoprene because it is entirely waterproof. Finding the perfect wetsuit may require some time as you try on multiple options. But finding something you can be comfortable in is well worth the effort.
A life changing tip in regards to wetsuits is using hair conditioner or vaseline when getting in and out of your wetsuit. This makes the process easier, so you can get in the water (and into dry clothes) quicker.
#2 Goggles
Goggles is an important piece of swimming equipment, as they allow you to keep your eyes open without water constantly splashing on them. This provides greater comfort and can give you a better understanding of your surroundings, too.
Here are some qualities to look for when purchasing swimming goggles:
Ensure the goggles fit comfortably around you eyes
Choose the correct size – elastic band should not dig into your skin, but the goggles shouldn't be falling off
Look for mirrored lenses, as they reflect the sun glare on the water and improve visibility
Read also: Ironman Checklist – Must-Do Things During Ironman Race Week
#3 Tow Float
Open water can be a scary place due to its unpredictability. This is why using a tow float can be very helpful.
A tow float is essentially an inflatable piece of equipment that provides you with extra buoyancy in the water. It is not meant to hold you above water like life vests or inflatable armbands do, but it can be used for brief breaks to allow you catch your breath.
The bright colours will allow others to see you in the water in case of emergency. This also lets passing boats and swimmers know you are there so you can avoid any accidents.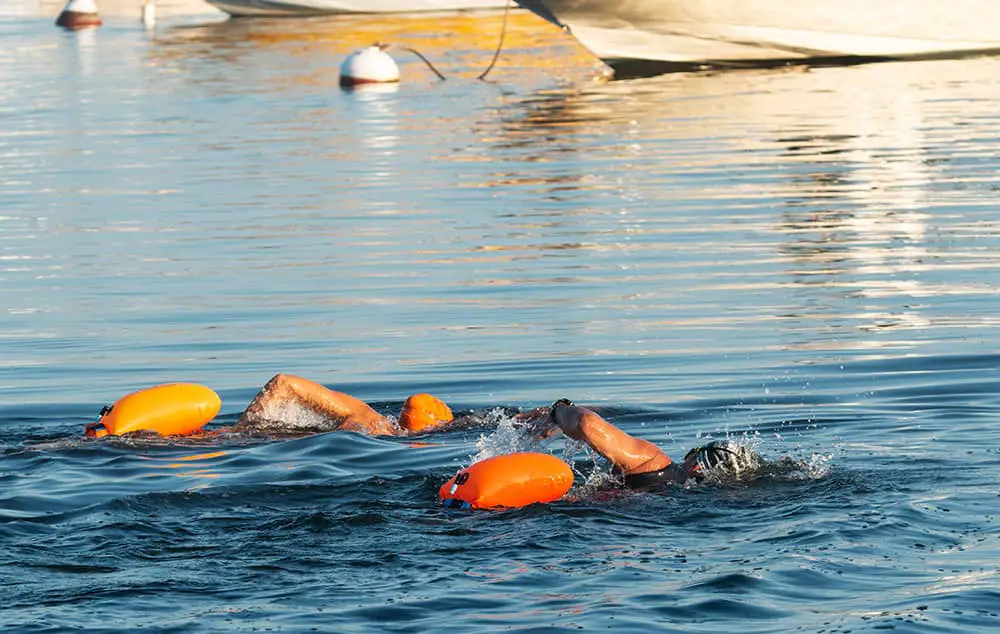 #4 Dry Bag
The logistics of swimming in a lake or any other spot is drastically different to a pool. In particular, there are no designated lockers or safe spaces to store things. Yes, you can take risk and leave your valuables at the shore or in the bushes. But it is easy to get disoriented when swimming and forget where you put them in such a large space. Or have them stolen.
While a tow float provides safety, a dry bag offers practical functions. It can also be attached to your wrist or waist while you're swimming and within the bag you can store such things as an emergency whistle, your phone or your car & house keys.
Similar to a tow float, a dry bag is also brightly coloured and inflatable.
Read also: Flying To Run A Race? Beat Jet Lag With These Expert Travel Tips
#5 Towel
The last thing on my essential open water swimming equipment list is a nice, big, cosy towel to wrap up in when you leave the water.
There are no special towel requirements, just bring your favourite one – the larger the better. Often people choose to bring tiny hand or face towels to dry off with. The small size of those towels makes them very portable. However, smaller towels mean it takes longer to dry, which can make you uncomfortable and cold.
As a bonus point, make sure you bring some cosy clothes to change into as you dried off. And treat yourself to a comforting warm drink.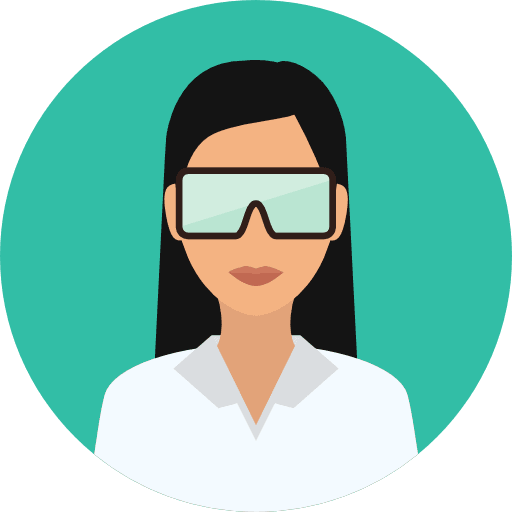 Jade Farrar
Jade is a passionate writer, triathlon lover and open water swimming enthusiast. She enjoys writing about these subjects to share her wealth of knowledge and experience to help encourage others to participate in the sports.
Tags In