Running In Jakarta On A Car Free Day – Hot, Tough, But Fun
It was the second week of my 6-month-long work assignment in the capital of Indonesia. I finally felt acclimatized to a 7 hour time difference and decided it was time to start doing something active again. So, on a bright Sunday morning I decided to go running in Jakarta.
This assignment was before all of my marathon and Ironman training. Back then running was just a way for me to get outside, breathe fresh air and exercise. It's funny how all 3 of those things are luxury in Jakarta.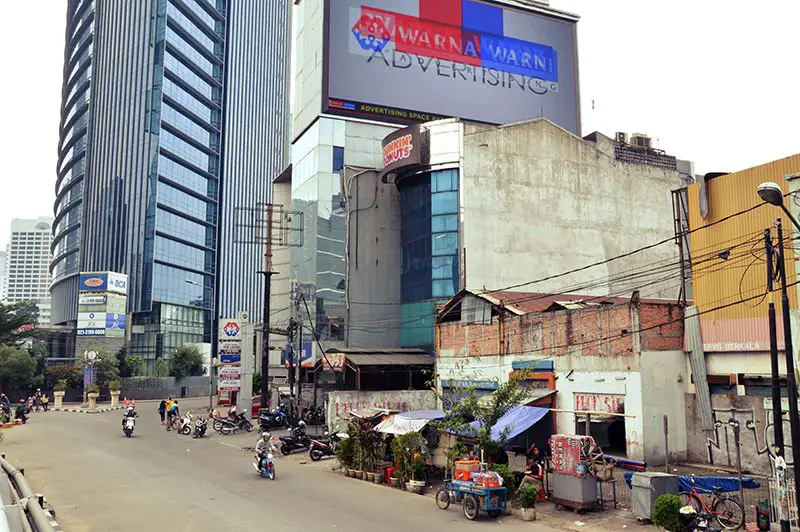 In every way, Jakarta is unlike any European city. It is bustling with energy and a shot of Asian unstructuredness. And while that's great for experiencing a cultural shock, it's not so good for people who want to exercise.
The problem with running in Jakarta
I planned to take the first 2 weeks to acclimatize to the weather and the new time zone, as well as get to know the city before jumping into any routine.
Usually I do that by exploring as much as I can on foot. However, Jakarta turned out to be nearly unwalkable. Hot, humid and polluted August air only allowed to stay outside for no more than an hour. And even during that hour all you dream of is an air-conditioned taxi or, better yet, a mall.
My initial thought was that Jakarta as a city was not planned for pedestrians.
In fact, it probably was intentionally designed to punish runners. The concept of a sidewalk was either not known to locals or not fully understood. There always seem to be some obstructions on the way, large holes one can fall into or the path just ends abruptly.
Here's an example of a great idea with poor execution. What starts as a beautiful and wide sidewalk …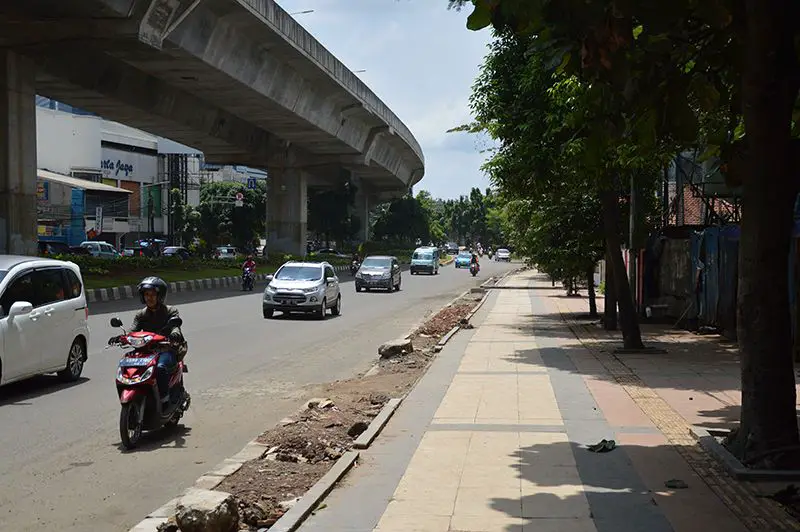 Quickly turns into an obstacle course full of giant holes into the center of the world …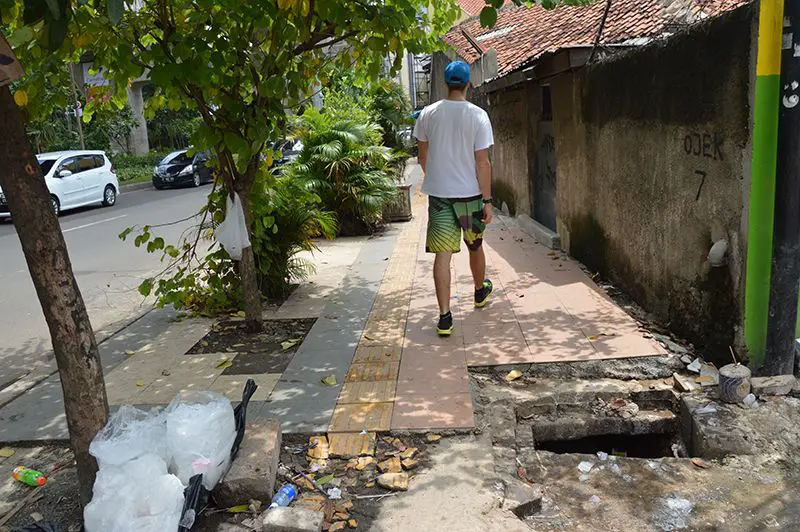 And, without any warning, ends and forces potential runners onto the driveway. Notice how police doesn't even care about me walking on the highway in the opposite direction of traffic. Just an average Tuesday in Jakarta.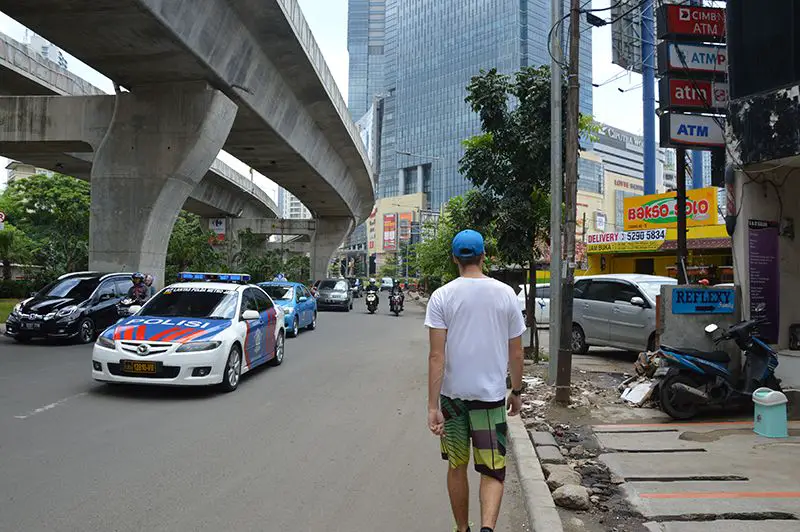 But then, all of a sudden, what remains of a sidewalk re-appears – but only for additional 50 meters. As if the only goal is to meet runners' demand for fried goods.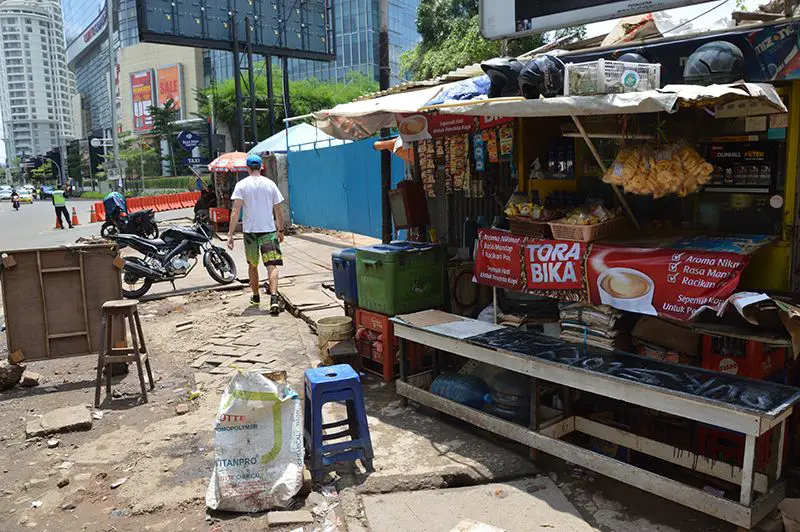 As I learned later on, there are some trails and options for running in Jakarta after all. Not as accessible as in New York City, of course, but still, I was happy to learn that there is still hope.
In my view, one of the coolest options for running in Jakarta is doing it on the main roads on the car-free day.
Jakarta car-free day
Jakarta is home to 10 million people and is among the cities with the worst traffic in the world. Thanks to that and that love-hate relationship with sidewalks, pollution here goes through the roof.
It took me once a full hour of sitting in a taxi to go the distance equivalent to 7 minutes of walking. But due to smog and lack of sidewalks it's not really walkable.
As an experiment to improve the ever-worsening pollution situation back in 2007 Jakarta introduced a car free day. At first it took place just several times a year. But over time it turned into an epic weekly meet-up for thousands of sport enthusiasts or those longing for company and fresh air.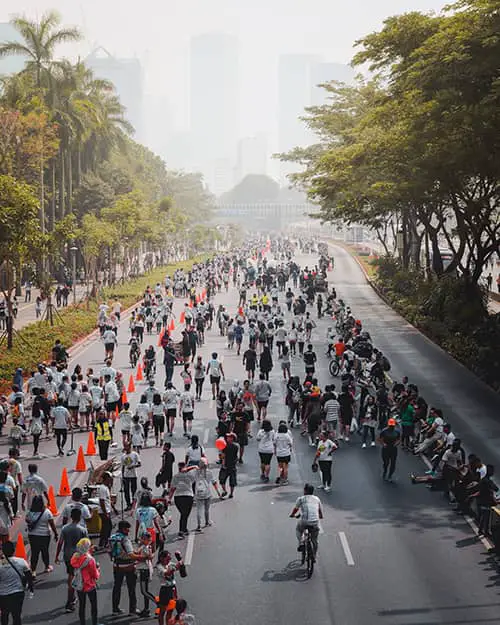 Now every Sunday morning 2 roads that run through the heart of Jakarta's central business district – Jalan Sudirman and Jalan M. H. Thamrin – are closed for all motorised traffic (except public buses).
It's essentially the same road, just changes its name at one point.
The route spans from Patung Pemuda Membangun square in the south of Jakarta all the way to the National Monument (MONAS) in the heart of the city. It's a 16 km out and back loop and is more than enough to enjoy running in Jakarta.
Jakarta car-free day is a surreal sight to witness. The city's most developed area that on weekdays is jammed with traffic and buzzing from constant honking all of a sudden becomes calm. Instead, all that noise turns into chatter, laughter and, very often, music.
It's a fascinating opportunity to experience Indonesia's friendly atmosphere and diverse culture. Altogether, all the colors, numerous activities and energetic people create an impression of a mini-carnival passing through the center of the city.
Read also: Hiking Mount Rinjani – On Top Of Indonesia's Second Highest Volcano
Besides that, car free day in Jakarta is also the largest open air market in the city. By the roadside thousands of street vendors are selling all sorts of goods – from food & drinks, to electronics, arts, crafts and even tribal accessories.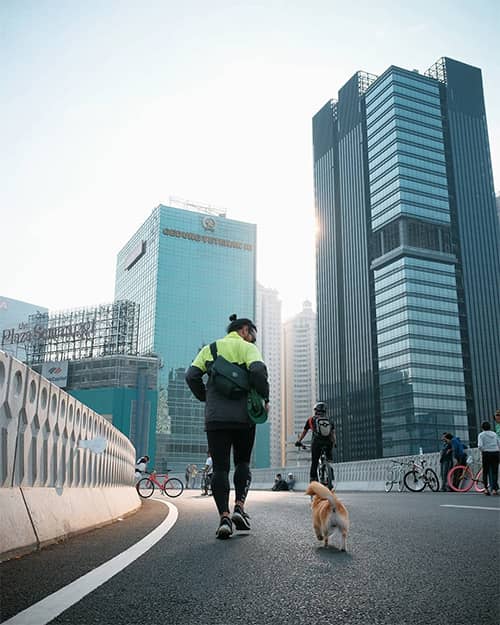 Car-free day in Jakarta is also a unique way to see the city from a different perspective. The road passes beneath the business district's impressive skyscrapers and the fact that roads are empty of traffic makes the view and experience even more one of a kind.
But then again, it takes just one turn away from the main road to get a feeling that you've teleported to a totally different place. The one which doesn't resemble a megacity, but rather a small village somewhere in the middle of the island of Java.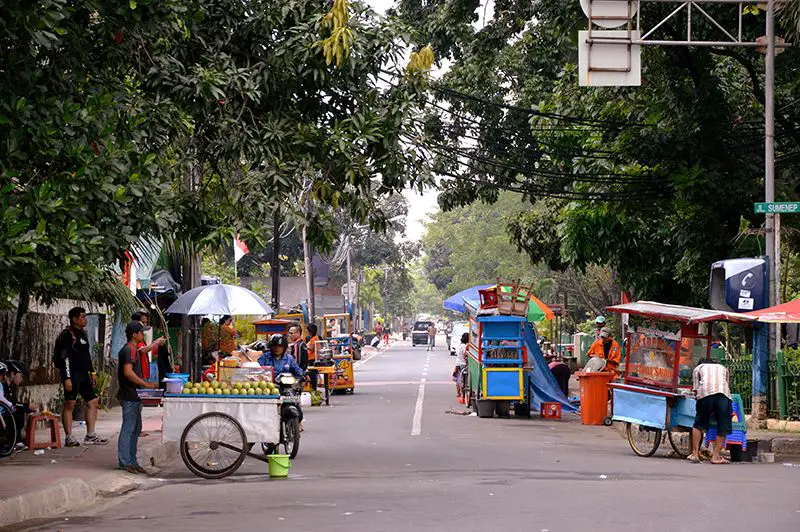 Running in Jakarta on a car-free day
But back to that second week of my Indonesian adventure.
Jakarta car free day is not actually a full day. It takes place every Sunday morning between 6am and 11am. Inexperienced as I was, I left my apartment – which was close to Plaza Semanggi – at 8am. Sounds early, but by local measures it's an equivalent of sleeping until lunch.
By that time only a few runners were left on the streets, as the main training action takes place just after sunrise. The weather is much cooler then, as I learned soon enough.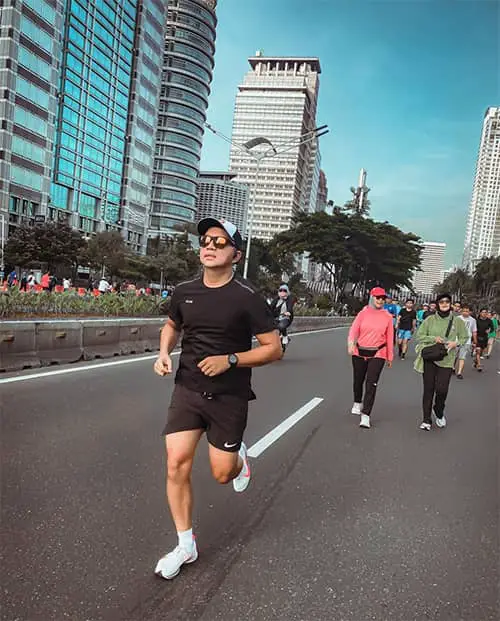 It's hard to describe the feeling I had after taking first steps outside that morning. After almost 2 weeks of non-stop chaos it was all of a sudden quiet. An occasional motorbike would drive past, but besides that – nothing. It was something similar to the feeling I had while running the New York City marathon. In a weird way, I felt energized by the atmosphere and at peace at the same time. And that's in one of the busiest cities in the world.
I didn't have much of a plan that day – and neither did my running training had much structure. The idea was to just get out the door and go.
Read also: 8 Inspirational Sports Movies To Watch When You're Feeling Down
I wanted to see more and take the most of the opportunity of running on empty streets. In fact, that excitement fueled me more than a hearty breakfast I had that day. So, naturally I tried to run faster and cover more ground. What I didn't consider, however, was that it was my first time running in subtropics.
Immediately I felt how hot and humid it was outside. And even though the jet lag I experienced had passed and I felt fresh, an additional two weeks of heat adaptation wouldn't be a bad thing.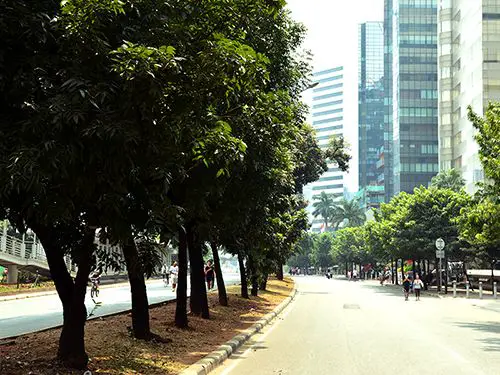 There were significantly fewer crowds that day, yet I had a strong feeling I was the only foreigner there. People kept pointing at me to their friends and sometimes even made a gesture as if asking me to take a picture with them. Really strange feeling, to be honest – I wondered if that's what celebrities feel every day.
Later my colleagues at work explained that many people come to Jakarta from neighboring islands where they don't typically see foreigners. To them getting a picture with one is good fortune.
My initial plan was to run all the way to the National Monument, walk around the park and then run back. But I didn't quite make it. In the first 20 minutes I was feeling really hot and already out of water. I had to slow down, my head ached, I felt dizzy and all of that in less than an hour. Those were the same overheating symptoms I had during my first triathlon in Kraichgau.
So, I turned around shortly before the Welcome Monument and was just trying to survive on the way back.
Read also: Top 10 Endurance Athlete Diet Mistakes And How To Avoid Them
Emotions and feelings
The thing is, I couldn't slow down too much or change to a walk. I felt if I'd done that then all the street vendors and people asking for a picture would simply not let me through.
But even despite my suffering I appreciated how awesome the whole experience was – both the atmosphere and the views around. How extraordinarily friendly Indonesians are. And how lucky I am to have this opportunity to enjoy it.
In a way this experience made me a little closer to the city that sets its own rules and keeps strangers at a distance.
In between frequent trips to Bali and traveling around Southeast Asia, I tried not to miss an opportunity to enjoy a car-free day in Jakarta. But knowing how hard running in Jakarta actually is I did find a gym for my everyday exercise after this, which is another funny story.
Did you find this information useful? Share the post with others using the buttons below.
Tags In
Andrejs
Andrejs is a certified IRONMAN coach and a former professional athlete who created The Athlete Blog as a way of sharing his training experience with the world. His journey across different sports inspired him to develop a training methodology that, apart from results, also focuses on being healthy, happy and full of energy. You can read his personal story
here
.