TCS NYC Marathon Race Report – Running My Dream Race
I remember watching the NYC marathon on TV back when I was a kid. I didn't really know what it was back then, but the helicopter view of the start and the Verrazano-Narrows bridge alone blew my mind. The view was unreal – it seemed to almost float over the water.
After getting goosebumps and all I continued to watch and get inspired by runners, spectators and the city to the point when I wanted to be there.
So yeah, this is a story of a dream. With lots of extra practical details.
Fast forward 15 years to Sunday, November 5, 2017 there I was. Living the dream at the start line of the TCS NYC marathon 2017.
TCS NYC marathon race report
Back in 1970 NYC marathon was a boring four-lap race in Central Park. Struggling for attention, it was re-planned in 1976 to cover all five boroughs of the city – Staten Island, Brooklyn, Queens, Bronx and Manhattan.
It made it more exciting, for sure, but not any easier. In fact, all the bridges and hills made it even tougher, as it seems to go up and down the entire time. The total race elevation is whopping 290m.
That's like climbing to the 90th floor of Empire State Building while running a marathon. Or, you know, the top of Eiffel Tower in Paris.
Staten Island and pre-start
My day started early, as I left the apartment in Manhattan at around 5:15am. I was concerned about having breakfast almost 5 hours before the race, so took some snacks with me. Luckily, there were bagels and energy bars at the start village in Staten Island, so I needn't have to worry.
Unless you have a private helicopter, NYC marathon starts waaay before the cannon fires. Getting to the start line alone takes forever.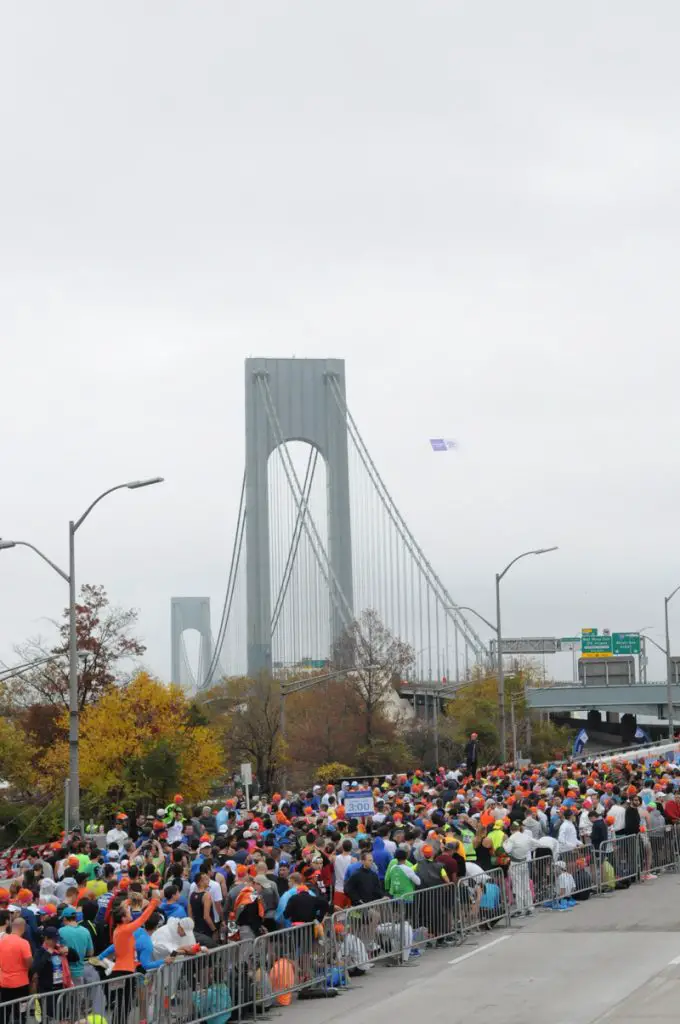 The start of the TCS NYC marathon is supposed to take your breath away. The cannon fire, Frank Sinatra's song "New York, New York" in the background and the view of the city's skyline – all that.
Instead, starting just meters behind professional men I only heard the cannon and 5 seconds of the song. Not much of a skyline as well – the morning was quite foggy.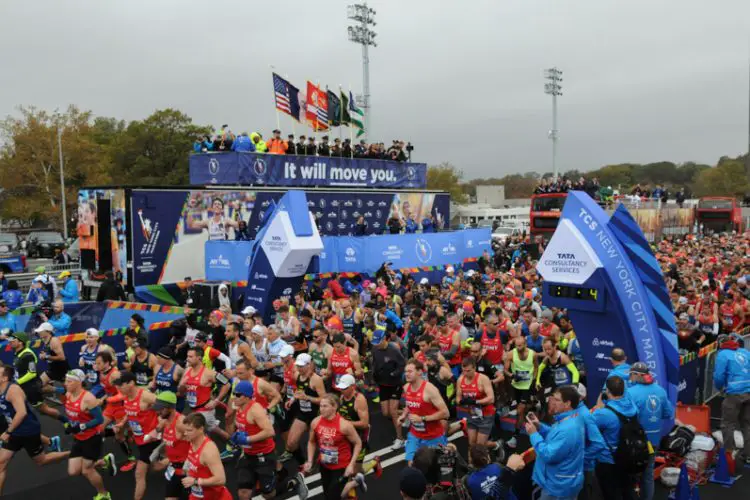 Still, I enjoyed the start experience a lot. Probably, because I was tired of waiting in line the whole morning. But mostly because I was very excited to finally do something I dreamed of since I was a kid.
I had a mental time travel to 15 years ago when I saw the race for the first time and almost thought it was on another planet.
I've read a couple of blogs on the NYC marathon pacing strategy and took the advice to slow down for the first 2 kilometers. The bridge at the start is the biggest ascent of the race.
With all of the excitement and nostalgia I wouldn't even notice running up an equivalent of a 12-story building.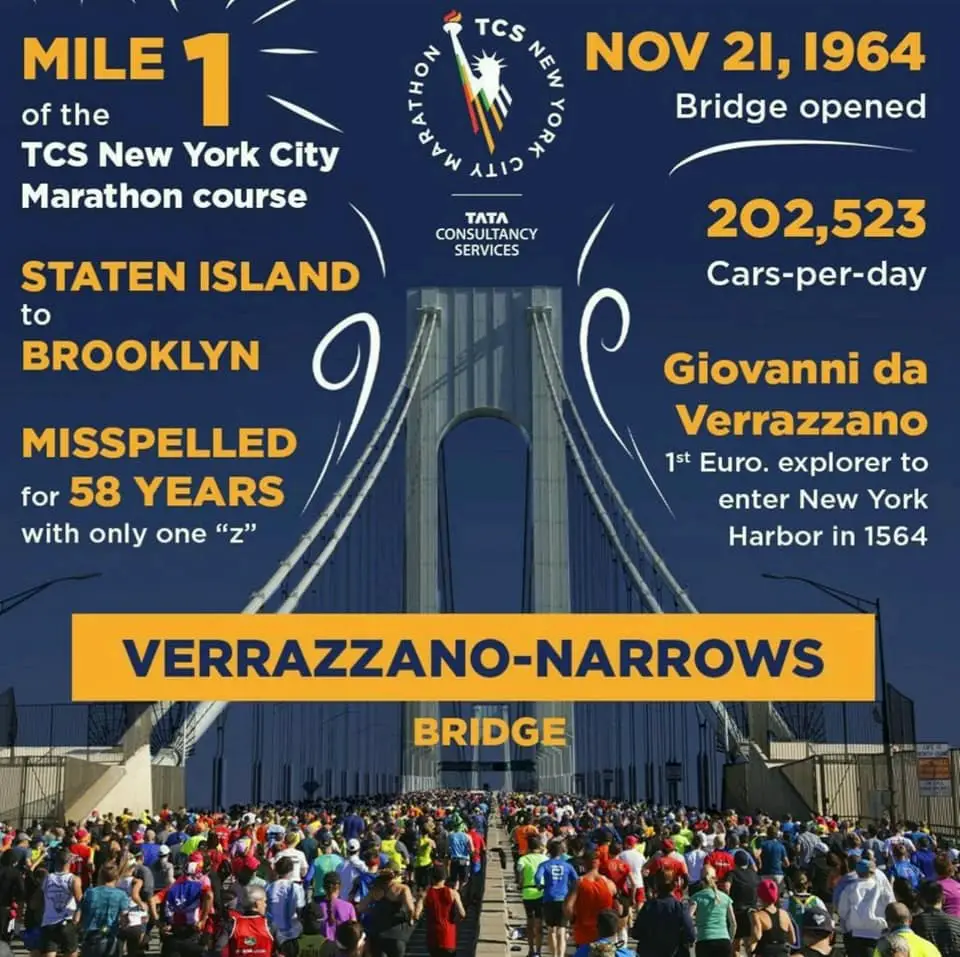 Brooklyn & Queens – 3K to 25K
Coming down the bridge into Brooklyn I was thrown into different reality. Suddenly there were crowds of people cheering despite the rain. It seemed that whole New York is out. Incredible.
From that point onward (except for bridges to Manhattan and Bronx) it was as loud as a football match.
Running further into Brooklyn I saw places turned party spots. People opened doors and windows to their houses and had fun with, probably, total strangers.
At one point I even saw massive speakers outside the church and people dancing.
Some shopkeepers would hand out bananas and water from their shops to runners. Free of charge.
It was hard to resist the temptation to go faster with all the adrenaline, but I promised myself to stay around the same effort level throughout the marathon. That one rule helped me to stay focused and avoid getting carried away.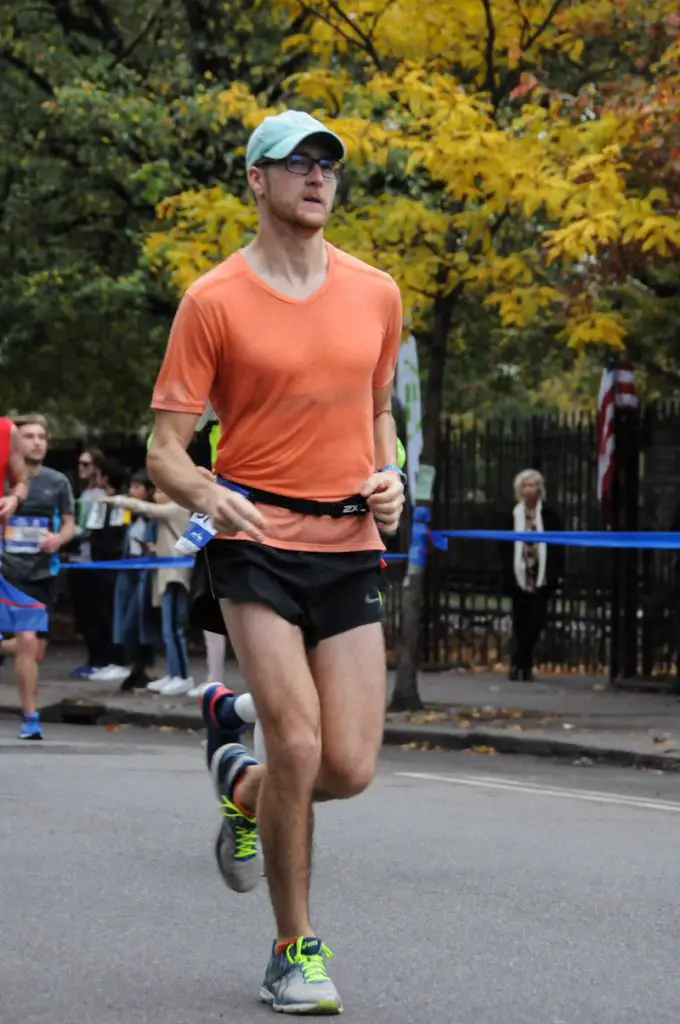 Shortly before halfway I felt first signs of fatigue, though.
I was running up, what I thought was the beginning of the Queensboro bridge (second largest climb of the race). It felt hard, but as I turned my head to the left I saw another bridge 3-4K away. And it was at least double the height.
To say I was demotivated at that point would be an understatement. That part of the race was mentally the most challenging for me. It's like a time bomb.
You understand that for the next 1.5 hour there's gonna be a lot of suffering. And that's about to start in just 15 minutes.
That bridge to Manhattan turned out to be my 2 slowest kilometers of the race. It literally felt as if I was walking uphill.
Manhattan and the Bronx – 25K to 37K
My legs recovered a bit on the downhill and I got my motivation back.
And just in time for the best bit.
As promised, First Avenue was very loud and jam-packed with spectators. It was touching to see people stopping due to cramps and everybody around cheering "don't stop, you got this!".
Related: Exploring New York City – 9 Iconic Manhattan Running Routes
That was the 30K mark – just over 2 hours into the race. At that point body starts running out of glycogen and runners hit "the wall".
The whole First Avenue stretch was just like Brooklyn. Long, straight and up & down the entire time.
In the middle of this action I started to feel low on energy. I had only 2 gels with me (both were gone before the Queensboro bridge) and I was really looking forward to the fueling station.
At this point I've consumed around 20g of carbs per hour which was not enough for my effort.
I already mentioned how everyone seemed to try to participate in the marathon, right? Well, Manhattan brought it to the next level.
I picked 2 gels from a police officer and some bananas from a child trying to get as much energy as I could.
In the Bronx I continued my sugar rush, looking for bananas at every turn like a crazy monkey.
It felt quiet at first, compared to what was happening just a couple of minutes ago in Manhattan. But as I made the turn deeper into the Bronx the party was there. Not the most packed one, but definitely the loudest.
Bronx was short, though. So, after waving to a nice lady carrying a poster "Last damn bridge" I was back to Manhattan for the final push.
Central Park – home stretch
After all the gels and my banana quest through Bronx I was focused on finishing strong.
I felt good until the last 4K of the race when I got to the 3rd largest climb of the race. At that time you'd think it's almost over and the finish line is right there. Trust me, when you're running uphill for 1.5 kilometers after covering 40 it feels it'll never come.
It's like that time when I was climbing a volcano. I see the summit, but it doesn't get any closer.
That climb was brutal and took all power I had left in my legs. As I turned into Central Park, there were just 2K left. Most of it was downhill, but not enough to recover because of smaller hills along the way.
Nobody had the energy for that – it was the point when I saw lots of people walking.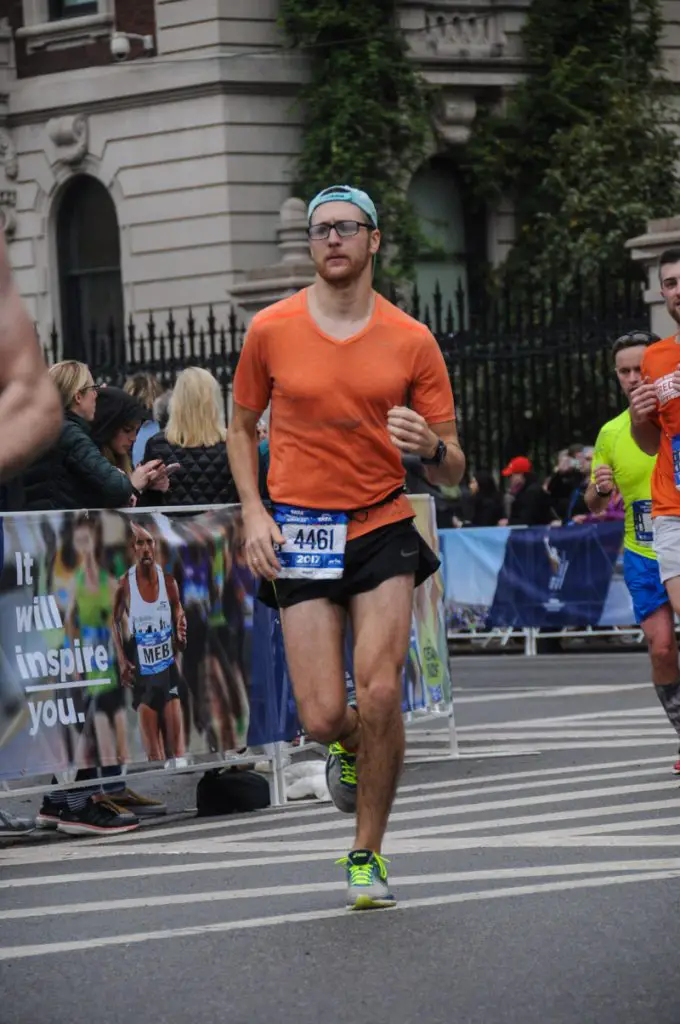 As I made the turn out of the park, I was surprised I was still running. I didn't feel my legs, nor did I really see what was happening around.
Those were pure emotions and willpower that carried me through that last mile. I had absolutely nothing left in the tank.
It wasn't painful. Thanks to my training there was no pain compared to my first marathon. Instead, my legs were going numb, as those hills took their toll.
Once I crossed the finish line – I could barely stand.
After 15 years of waiting my expectations were high for this race. But crossing the finish line of TCS NYC marathon was exactly as amazeballs as I imagined.
My training & results
My training was similar to last year's when I trained for my first marathon in Munich. The only difference was that I excluded short intervals until exhaustion (to avoid muscle fatigue) and added more longer tempo efforts.
This time I also paid more attention to nutrition and especially the timing of it. The biggest change for me was that I stopped eating late at night and never worked out on empty tank.
I also stopped eating meat & fish, which was a huge change for me.
In the 2-3 months leading to the marathon I basically had 2 main workouts throughout the week:
Long runs at an easy Zone 2 effort with some 2-3 km segments at marathon effort (Zone 3) towards the end of the run
Hour-long steady runs at marathon effort (Zone 3) with a short warmup & cooldown
The rest of my runs were at an easy effort with short sprints (up to 5sec) and occasional 3 to 6 minute intervals. The only thing I would add to this are long hilly runs to prepare for the New York City marathon course.
I really lacked that extra strength in the second half.
Related: First Time Marathoners – 18 Training, Taper & Race Day Tips
My NYC marathon pacing strategy
I finished in 3:10:40. It's a 9-minute improvement since last year's Munich marathon and New York City marathon is a very hilly course. I'm quite happy with the result.
This time I used the average heart rate from my previous marathon and tried to keep the effort just 1-2 beats under that to have some reserve. I ran through the half marathon mark in 1:32:44, so the second half was whole 8 minutes longer. In New York City most of the challenging hills start at HM mark, which I was not prepared for. I still think on a flat course my pacing would work out to almost even splits.
Still, it's better than last year when I ran second half 15 minutes slower.
Marathon is a test of pure strength
This time I understood this saying even better. The NYC marathon really proves that. In such a long race that it's not only about the endurance you have, but rather how strong is your body to continue running with good form and efficiency for so long.
My fueling strategy
Fueling is something I didn't get right this time. That dip in energy I felt around halfway was the first sign I was not fueling myself properly.
I calculated that by the time I reached 30K I was consuming carbs at the rate of around 20g per hour. So, I was pretty down on energy throughout the middle part of the race. Next time I need to plan my intake at around 50g per hour which would total to around 5 gels for 3 hours.
And finally – electrolytes and, especially sodium. I don't think I got enough from the iso drink at aid stations. I didn't really consider it before the race, but at the finish line it was pretty obvious. My legs were going numb for the last 2K of the race and at the finish my legs were shaking. However, some 10 minutes after I ate a bag of pretzels from the post-race bag I felt energy coming bag and power in the legs quickly returning.
Something to consider for the next race.
NYC marathon lottery – easy way to get into the race
NYC marathon is one of the most popular marathons in the world and there are thousands of people applying for a spot every year. As in all major marathons you can get in either by being fast or through a lottery.
Qualifying time for my age group is 2:53:00 which was too fast for me. So, I applied for a lottery through the official website that ran for several weeks in April. I was lucky enough to be drawn from the first attempt.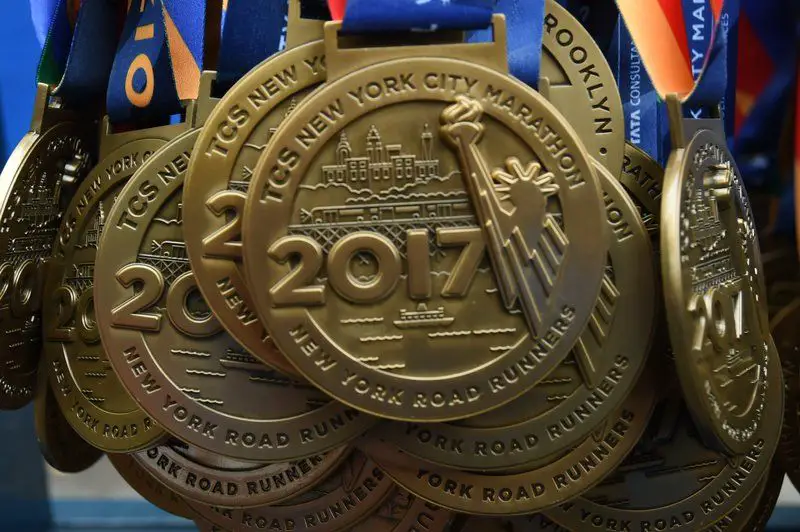 Before applying though it's worth considering that NYC is a very expensive city. So apart from the entrance fee that bites the wallet, food and accommodation are going to bite even more.
I stayed in airbnb, so managed to save some money on food by cooking myself instead of going out.
The weather on race day
The whole week before the marathon the weather was around 20 degrees Celsius and I was not sure what to wear until the last moment. I read it could get windy, so back at home I packed 3 different options. I tried all of them before the race during my training runs.
This time I stayed in Chinatown and did my training runs the East River promenade. With all pre-race excitement I wish I was in Central Park, though.
In the end, the weather was perfect on race day. Exactly 12 degrees, light drizzle and not a strong wind (mostly at the start). I learned my lesson from the last time and didn't overdress this time, which was the perfect choice.
Fueling, pacers and spectator spots
The fueling was good. Every mile there was an iso drink station followed by a water station. Gels, however, were handed out only at 30K mark when it can already be too late – take yours with you.
Pacers are hard to notice on the course. They are carrying a small stick with pace on one side and time on another written in tiny letters. Also, they are running a slightly faster pace with an idea that as long as you have the pacer in sight you are on target to run your goal time.
Spectator are all around the course. Some are formally organized with music, announcements, stage and performances. Some are just house parties, like in Brooklyn. And in some cases it's just lots of people along the course screaming and cheering.
The course is very tough, so it takes careful planning to put your "crew" in spots where you need support the most.
In my case it was in 3 places – Brooklyn around the 10K mark and then in Manhattan on 1 and 5 Avenues (30K and 37K respectively). I can't thank my wife enough for being there for me. It really helped me to split the course into several pieces and focus only on the next smaller bit until I see her again.
We agreed beforehand where my wife will stand and I even wrote exact spots on my hand (like 1 Ave, between 96 and 97 St, etc.) to remember. She also used the The NYC marathon mobile app to track where I was and when to expect me.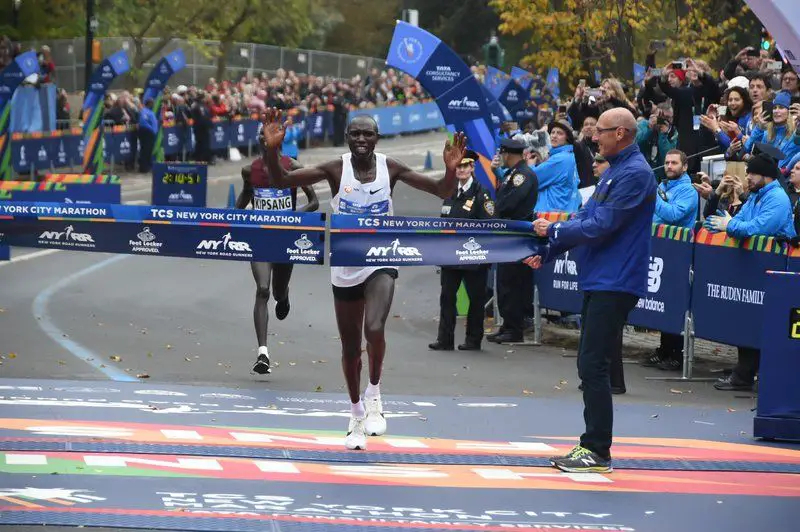 Post-race
If you decided not to check in your bag at the start line (use the poncho option), you will get out of the park quite fast (around 500m after the finish). But you will also need to go to the start with the clothes you are planning to throw out.
I like to come to the start in warm clothes and then get those after the finish. I had a low number thanks to my predicted time, so had to walk almost 1.5 kilometers to get my bag back.
By the time I reached the pick up point, I already ate half of what was in the "recovery bag".
Related: Effective Post Race Recovery – 12 Useful Tips To Assist Muscle Repair
After changing clothes and walking out of the park with my medal around the neck, something I didn't experience before started to happen. Every stranger started congratulating me.
That's so awesome – this doesn't happen in Europe. Even the next day walking around the city I noticed people wearing their medals and total strangers would congratulate them as well.
It seems such an easy thing to do and means so much to other person, yet I never seen it done until now. Amazing.
Did you find this information useful? Share the post with others using the buttons below.
Tags In
Andrejs
Andrejs is a certified IRONMAN coach and a former professional athlete who created The Athlete Blog as a way of sharing his training experience with the world. His journey across different sports inspired him to develop a training methodology that, apart from results, also focuses on being healthy, happy and full of energy. You can read his personal story
here
.