8 Inspirational Sports Movies To Watch When You're Feeling Down
Let's admit it, we all have days when we question ourselves – be it in training or in life. Nobody has it all figured out all the time and everyone experiences a down moment from time to time. Even the most positive among us. So, for these kinds of moments I've put together a list of inspirational sports movies to cheer up and get back on track.
Sometimes we have doubts if we're doing certain things right. Other times we face a setback and struggle to find the right thing to do. Either way, changing the mental state has some sort of magical powers to cure that. It provides a different (healthier) perspective to view the problem from and motivates to take massive action to improve the situation.
Watching inspirational sports movies is a great way to change that mental state. It helps to take yourself out from the current situation and see it in a bigger picture.
Inspirational sports movies
What I like about sport is that it teaches to overcome obstacles and, as a result, grow as a person – both physically and emotionally. Despite being very visual, expressive and results oriented, it's actually a mechanism for self-development. The way athletes train and compete always reflect what happens inside their heads.
For example, when athletes lose or struggle in training, they often face difficulties in other areas of life as well. Relationship problems, stressful job, etc. For them reaching success – winning, personal record or coming back from injury – requires addressing inner demons and changing approach to overcome obstacles.
When the athlete succeeds, he or she triumphs as a person – over fears & doubts – displaying courage in spite of all setbacks.
For those reasons anyone can relate to inspirational sports movies – not just athletes. They always tell the story behind an apparent 'overnight success' and – as it always is – that there isn't one. Winning requires years of training, consistent work and discipline and it's sobering to see that nothing happens just like that.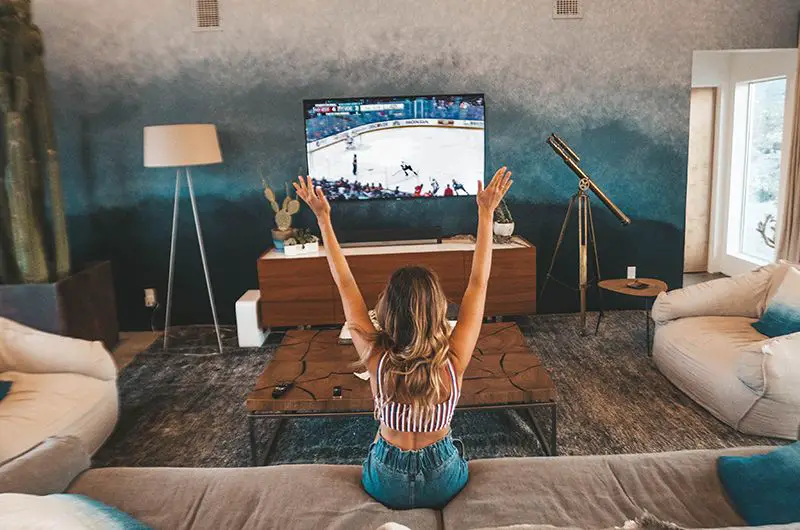 Watching others go through struggles in life helps to understand that nobody is perfect and has figured it all out – even the champions. It's always a lot of work, regardless which area you are in. The road to the 'mountain' of success will always lead through a series of setbacks. The question is do we and how do we pick ourselves up when we fall.
Below I've put together a list of best inspirational sports movies. I believe these carry that message best and make you pumped up to go and achieve your dreams.
Read also: 6 Nutrition Documentaries That Will Change How Athletes Eat & Live
---
#1 Soul Surfer
Soul surfer follows the story of Bethany Hamilton – a surfer from Hawaii who lost an arm in a horrific shark attack accident while in her teens.
Despite the fact that she had to re-learn to do virtually everything in her life with just one hand, Bethany returned to surfing soon after the accident. With courage, perseverance and support from her family she has risen above challenges and fear and went on to become one of the most renowned professional surfers in the world.
This is an unbelievable and true story of never giving up and following what sparks passion throughout your life.
Bethany continues to inspire people all over the world with her story as a pro surfer, motivational speaker and author.
#2 Cool Runnings
Cool Runnings is a comedy inspired by a true story of Jamaica's bobsled team debut at the 1988 Winter Olympics in Calgary, Canada. The movie tells a story of Jamaican track sprinters on their quest to qualify for the Olympics and the courage they demonstrate in doing so.
This is a story about never giving up while chasing your dreams. And even though most of the details in the movie are made up, it's a great tribute to the Olympic spirit – what athletes go through to earn the right to compete in the Olympics is more important than winning.
#3 Eddie The Eagle
Eddie The Eagle is based on a real story that also happened at the 1988 Calgary Olympics in Canada. Back then Michael 'Eddie' Edwards became the first ski jumper since 1928 to represent Great Britain in the Olympics.
But the story behind that is more incredible than the fact itself.
Eddie has dreamed of becoming an Olympian throughout all of his childhood. However, after not making the cut for a downhill ski team he turned to ski jumping. While there were no other competitors in Great Britain, Eddie also didn't have any experience in ski jumping.
This movie also explores the idea how challenges and the transformative journey that athletes take to qualify for the Olympics is much more important than the result. If you liked Cool Runnings movie – you'll love this movie too.
#4 Wimbledon
Wimbledon is a fictional but inspiring story about a struggling tennis player who won a wildcard to compete at the most prestigious tournament in the world – Wimbledon.
Dropping from being 11th strongest in the world to 119th place, he feels his better days are behind him and probably it's time to end his career. But often it's the mental state that holds athletes back – not their physical condition.
The movie shows that often in sports and in life success is just a mental game and often changing your perspective can impact the result. It's also a great example of how many and what kind of thoughts and doubts run through athletes' minds when they are under maximum pressure.
#5 Chasing Mavericks
Chasing Mavericks is a real story of a young American surfer Jay Moriarity. The film follows his grueling training to surf the now famous Mavericks break. All at a very young age of 15.
I think this is one of the most inspirational sports movies and gives a great insight into the life and training of a very narrow group of people – big wave surfers. The film fully immerses viewers fully into the lifestyle and incredible physical and mental demands of the sport. I loved it for the amount of attention it puts on the mental preparation and separating fear from panic.
#6 Goal!
Goal! is a made up story of a talented amateur football player – Santiago – who is a Mexican immigrant living in Los Angeles. After being given a shot of a lifetime to play professionally in a Premier League football club he is thrown into a totally different world than he's used to.
Football fans will love how the movie gives insights into the lifestyle of players and the backstage of football. But most importantly, it vividly shares how young players and athletes struggle to stay true to themselves and their principles with all the mental and peer pressure of professional sports.
#7 Rocky
No list of inspirational sports movies would be complete without Rocky.
A talented boxer Rocky Balboa from Philadelphia works as a debt collector and fights in bars just to make ends meet. He seems to be wasting his talent, but everything changes after he is given a shot of a lifetime when the current heavyweight world champion – Apollo Creed – chooses him at random for a promotional fight.
Rocky fights for everything that is important in his life – his pride and self-respect. The way he refuses to give up despite all the setbacks is extremely uplifting.
It's the story of an underdog that continues through a series of sequels. Each of the movies is filled with motivating training montages and great storytelling.
#8 Karate Kid
Karate Kid follows the fictional story of a boy who moves to Beijing with his mother and is bullied at school for being different. Struggling to fit in he finds a talent for martial arts and uses it to grow his confidence.
Martial arts overall focus a lot on training the mind to be strong – not only the body – and especially on the purpose and intent of training. I like how this movie explores that idea and shares this very interesting lifestyle with the viewer.
The 2010 version is a remake of the original that was filmed back in 1984. It was set up in Los Angeles – instead of China – but the main plot is the same. I personally like the recent version (with Jackie Chan and Jaden Smith) better, as it feels more authentic.
Am I missing something? Comment below which movies inspire you the most
Did you find this information useful? Share the post with others using the buttons below.
Tags In
Andrejs
Andrejs is a certified IRONMAN coach and a former professional athlete who created The Athlete Blog as a way of sharing his training experience with the world. His journey across different sports inspired him to develop a training methodology that, apart from results, also focuses on being healthy, happy and full of energy. You can read his personal story
here
.