44 Places To Explore & Adventurous Things To Do In Bali, Indonesia
Somewhere on the eastern coast of the Indian Ocean, in the middle of Indonesia's beautiful archipelago, lies a paradise island of Bali. There are lots of fun and adventurous things to do in Bali, as the island blows the mind of anyone stepping foot on it with a mix of pristine nature, 'no-stress' approach to life, world's best surfing spots and the mystical culture of believing in spirits.
I love Bali and somehow always return to that magical place. Even after visiting the island at least 5 times while living in Indonesia, I always make an effort to make a stop there if I'm 'in the neighbourhood'.
Every time I come to Bali I find something new and exciting to do or a new place to explore. Honestly, I'm using this post as, sort of, a bucket list for fun & adventurous things to do in Bali the next time I'm around.
Adventurous things to do in Bali, Indonesia
If you're anything like me, there's a high chance you'll find Bali with neighboring Lembongan, Ceningan and Penida an amazing place.
Related: 30+ Best Tourism Websites To Get Inspired & Plan Your Holiday Adventure
Trek a volcano
Climbing a volcano is a great way to appreciate the diverse nature of Indonesia and experience the beauty of the island.
Indonesia is well-known to be a hot country. It's located on a so-called 'Pacific Ring of Fire' and is home to around 30% of the world's volcanoes.
Mount Batur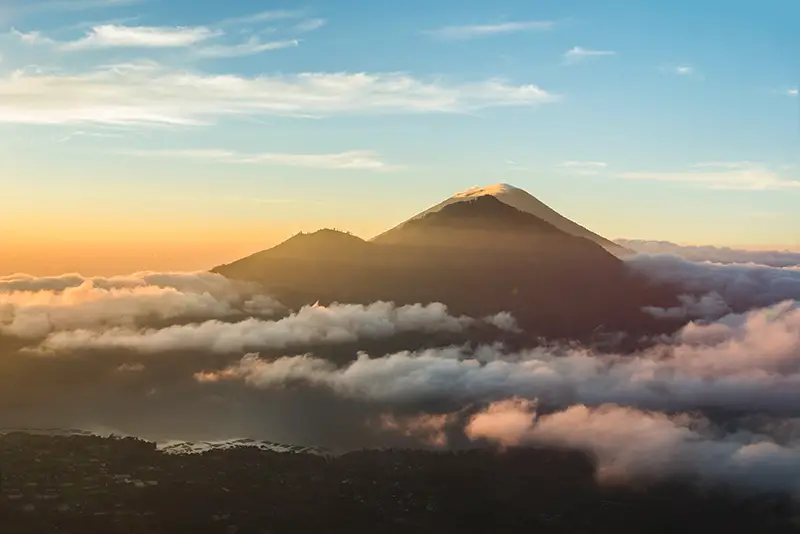 Climbing mount Batur to watch the sunrise is one of the most popular and adventurous things to do in Bali. And for a good reason – the views from the top are very much worth the challenge to get there.
Generally, the tour starts with a very early wake up (~2:00am) and a strenuous ~2-3 hour climb to the top.
Mount Agung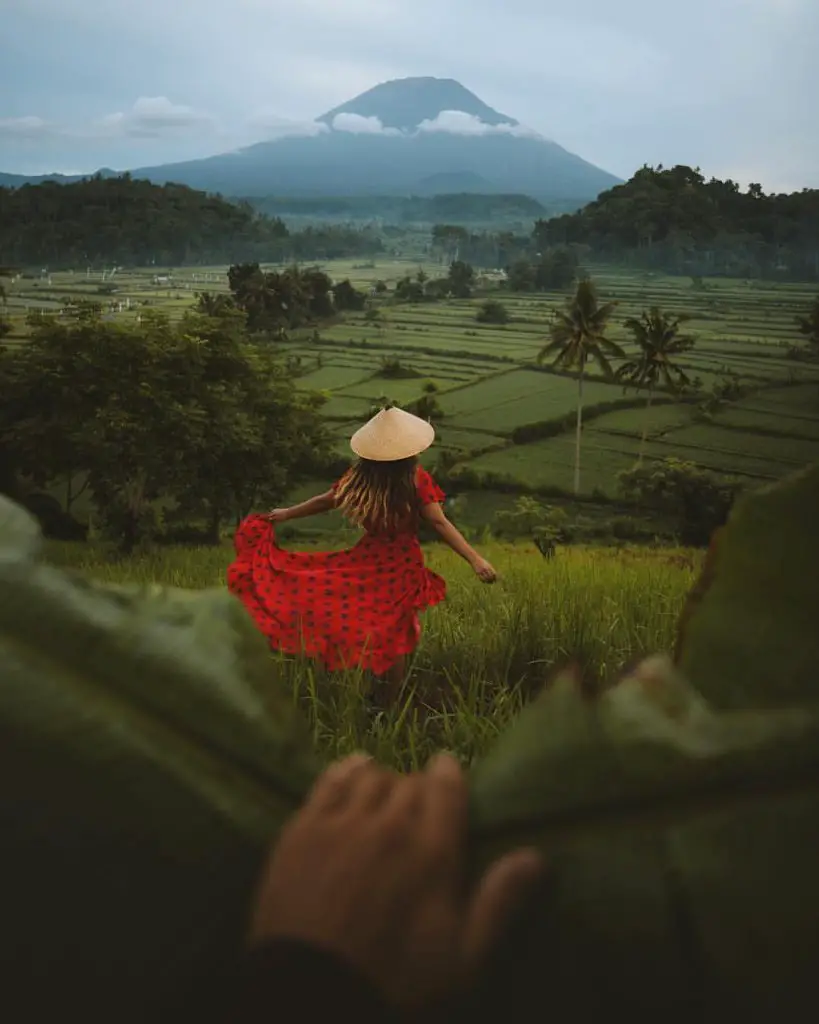 At 3,142 meters above sea level, mount Agung is Bali's highest point and is a much more challenging mountain to climb. Depending on the fitness level and the route, the way to the top can take anywhere from 4 to 8 hours.
Mount Rinjani, Lombok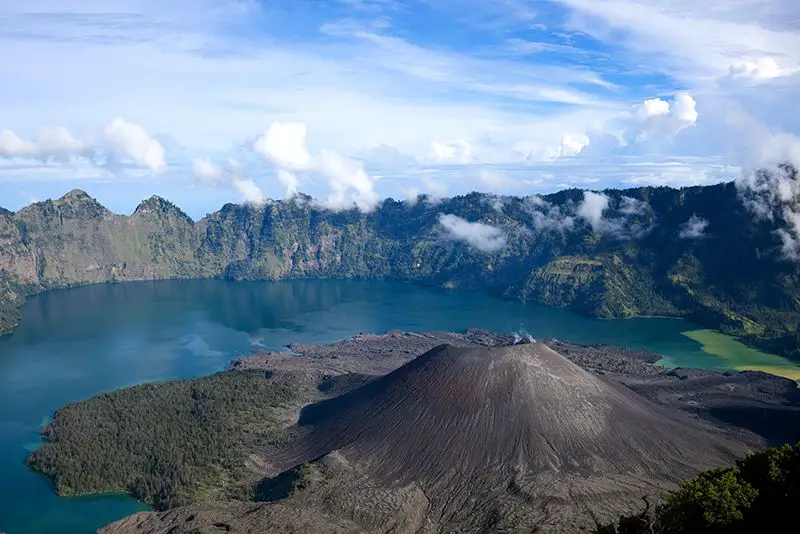 If you have a couple of days, a great option would be to book a 2-3 day tour to mount Rinjani on the neighboring island of Lombok. The whole challenge of multi-day trekking and spectacular volcanic scenery around made it one of the best adventures of my life.
Related: Trekking Mount Rinjani – On Top Of Indonesia's Second Highest Volcano
---
Enjoy cliff jumping in Bali
Jumping from a cliff into the warm waters of the Indian Ocean with spectacular views around might be one of the most adventurous things to do in Bali.
There's something about jumping in the water from a height that's so exhilarating. The rush of adrenaline, the wind and the process of overcoming your fears – all of it is very liberating.
Mahana Point
Mahana Point is a 'hanghout' spot in Nusa Ceningan where besides jumping into the ocean you can also chill out, grab a meal and rent a surf board to catch some waves at the break nearby.
There are two platforms (5 and 10 meters) with the ladder to easily climb back up.
Blue Lagoon cliff jump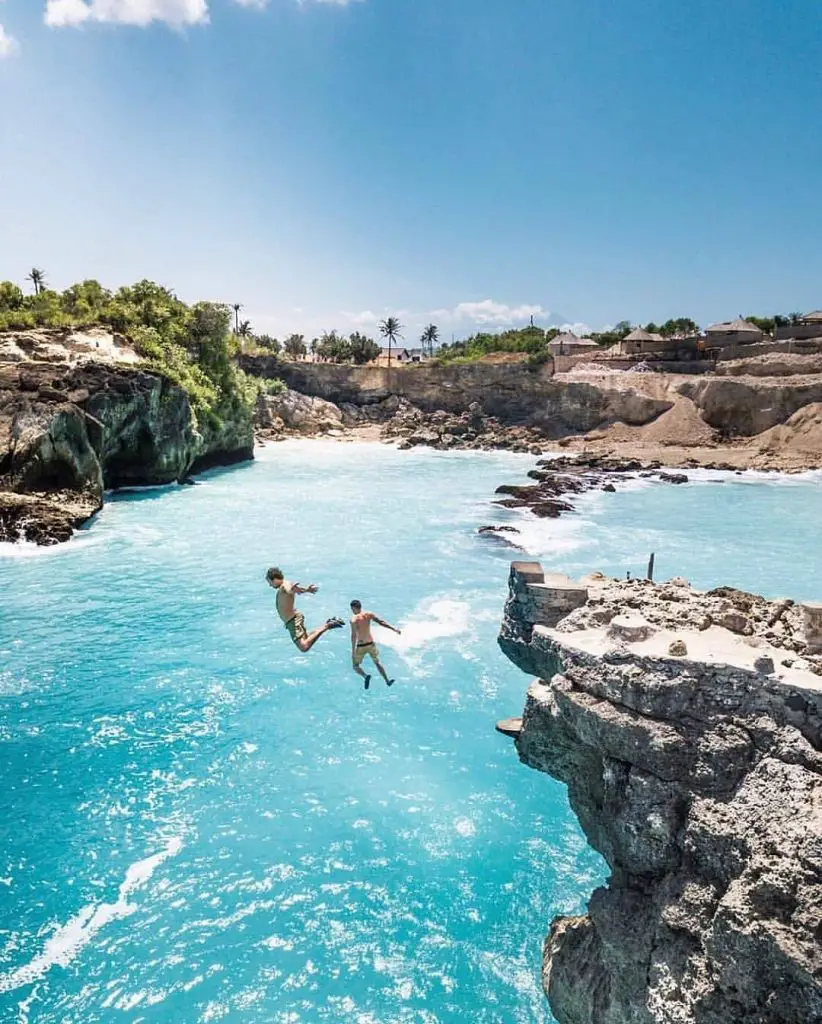 Literally right around the corner from Mahana point there's one more spectacular spot – the Blue Lagoon. It's named appropriately for its water color and besides cliff jumping it's a great place for snorkeling.
Cliff jumps range from 4 to 13 meters and, unfortunately, there's no ladder to get out easily. The only way out is to climb a small cliff, so it's best to jump when the swell is not high.
Cliff jumps at Secret Gardens of Sambangan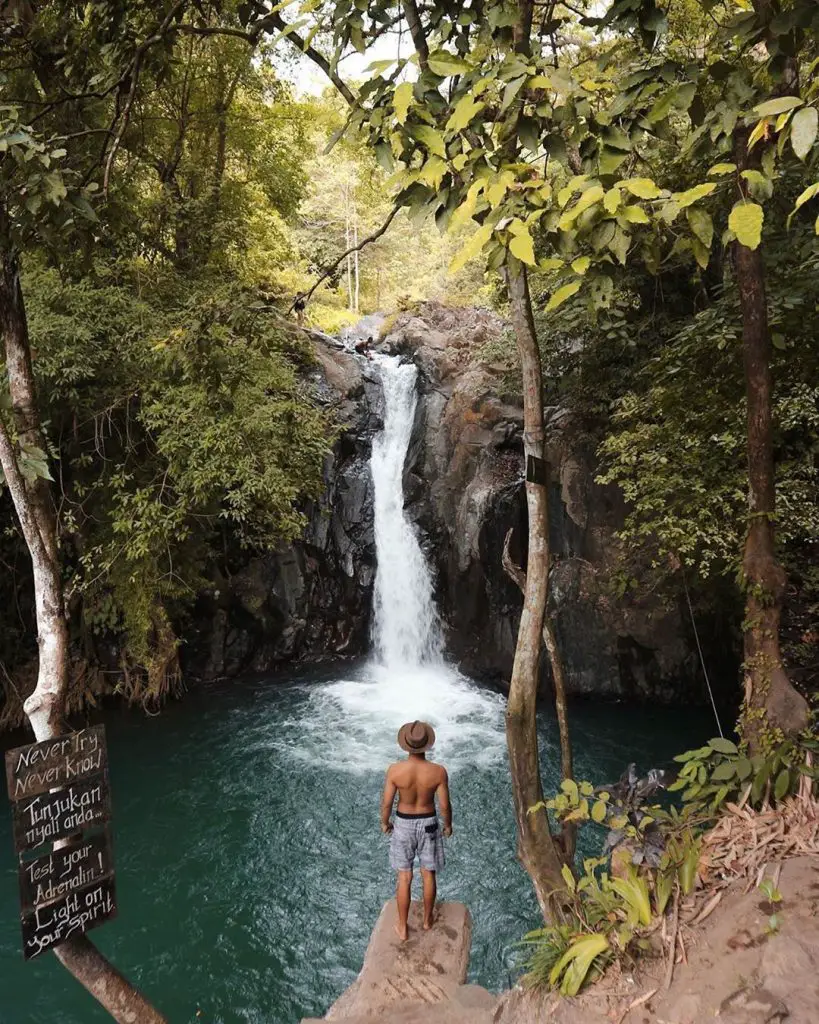 Located in the North Bali, Secret Gardens of Sambangan is a group of waterfalls and a popular tourist destination. Popular among those who make the long trip (~2.5 hrs from Canggu) to North Bali in the first place.
There are a total of 3 different cliff jumps (5, 10 and ~13 meters) and several water slides.
Devil's Tear cliff jump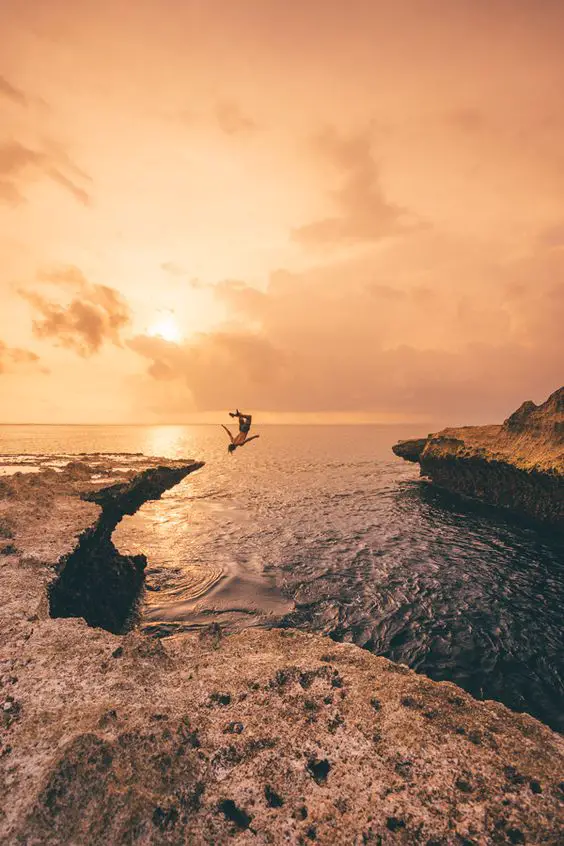 Devil's Tear is a great sunset spot in Nusa Lembongan. On a calm day one can enjoy a jump from a ~4 meter high cliff. On days of big swell the waves crash against the rocks and make the activity too dangerous.
---
Dive or snorkel
Bali is a great place to explore the underwater in the search of cool places. Warm waters of Indian Ocean make it a perfect spot for both diving and snorkeling.
Underwater Buddha Garden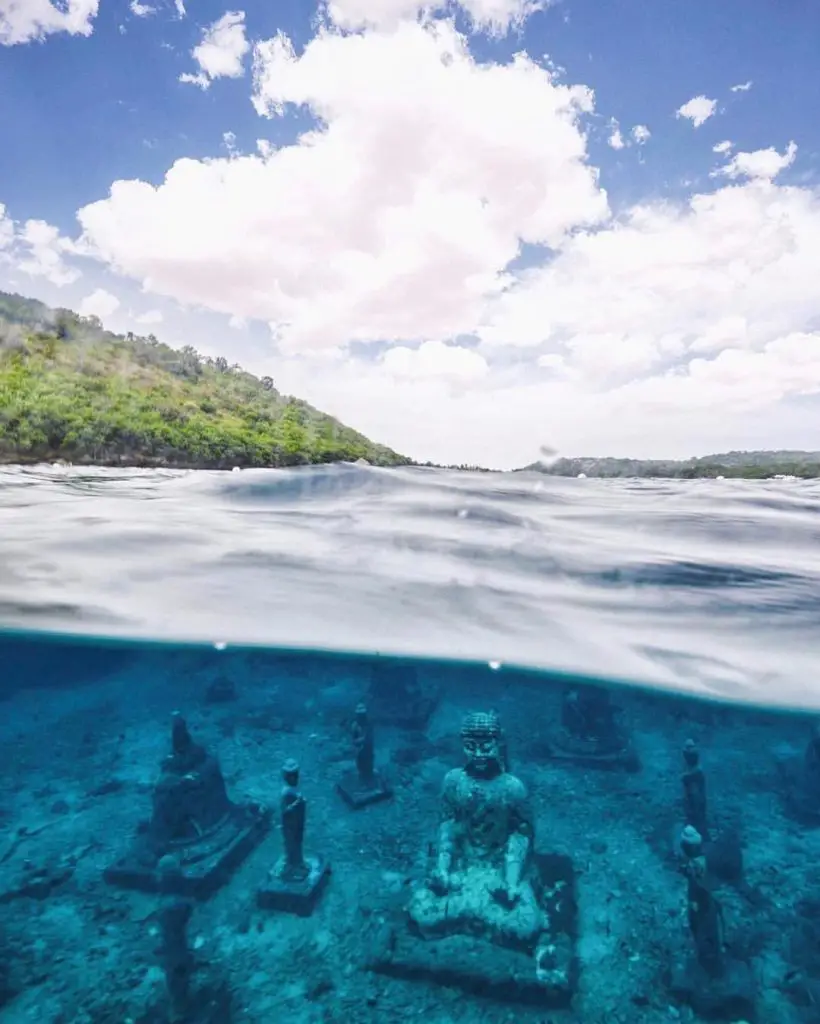 Just off the coast of Nusa Ceningan lies an underwater art exhibit featuring a Buddha and different stupas. It's located just several meters underwater which makes it perfect for snorkeling.
The exhibit is actually an inspiration from a larger conservation project – Pemuteral Temple point. That one is located in North Bali and you have to dive 15-30 meters to see it.
Tulamben shipwreck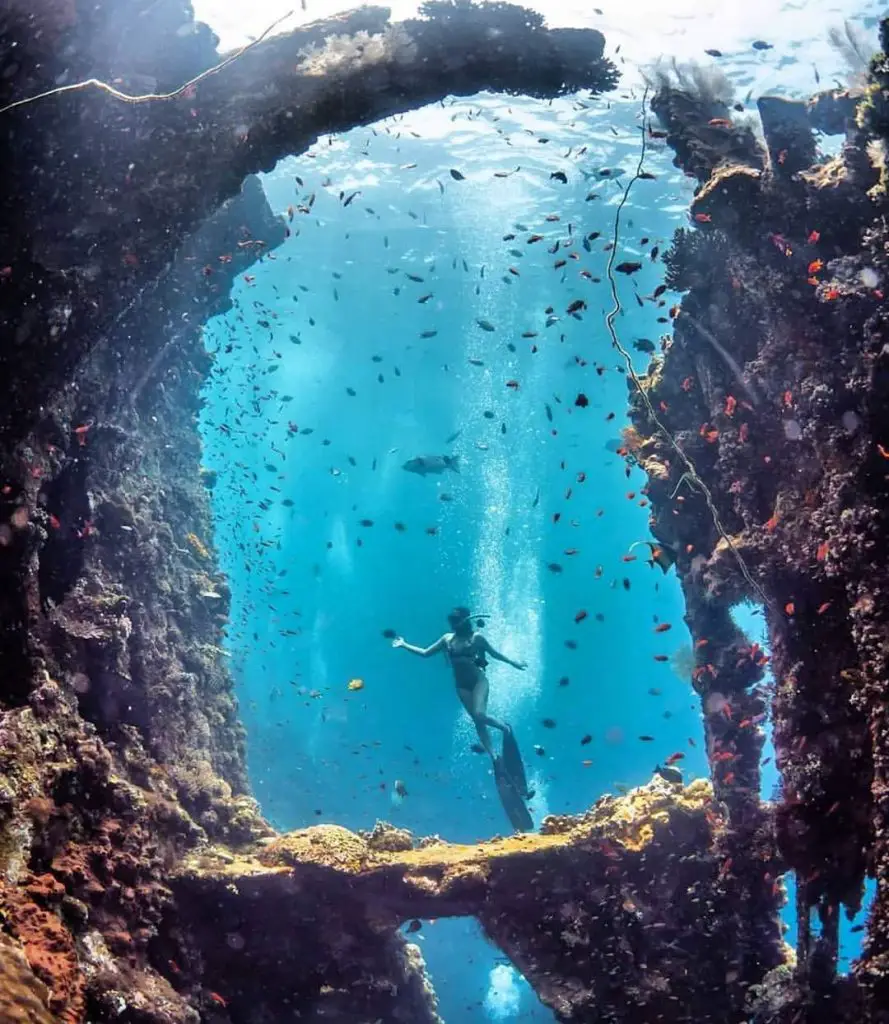 In 1963 the USS Liberty ship was hit by a Japanese torpedo and now lies on the sea bed 9 to 30 meters deep. The wreck is one of the most famous dives on the island and definitely one of the most adventurous things to do in Bali.
Despite the depth, the wreck is visible for snorkelers as well with the highest point being just 5 meters deep.
Amed & Jemeluk Bay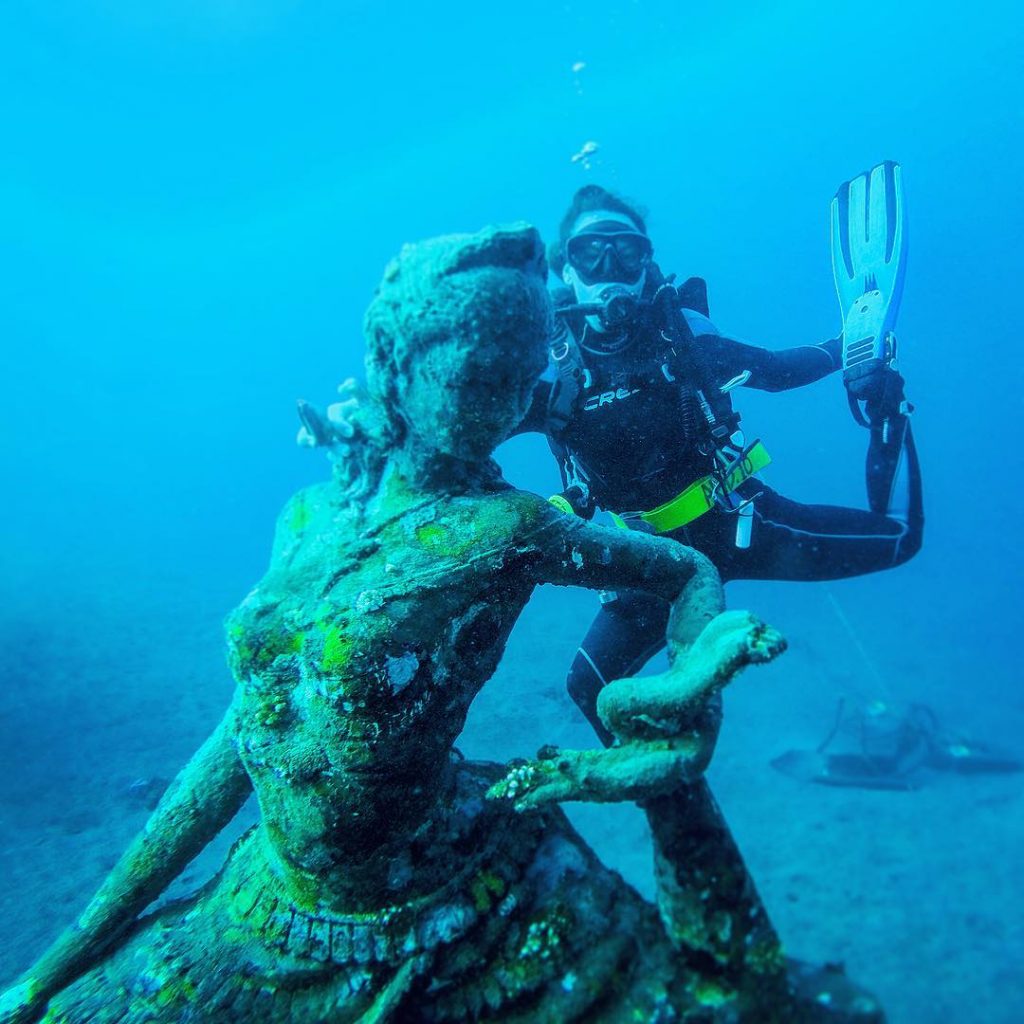 Several kilometers to the southeast is a quiet fishing village Amed with unique black sand volcanic beaches. In the past local diving organizations sank objects and statues nearby to provide a base for corrals to grow. Since then Amed and Jemeluk beaches became popular diving and snorkeling destinations.
The feature of the site is an underwater post office (5 meters underwater) where, supposedly, you are able to mail your waterproof postcard anywhere around the world.
Gili islands
If you're planning to dive, a good idea would be to hop over to Gili islands for a couple of days.
Gili islands is a group of 3 islands just off the coast of Lombok. It's one of the most popular diving destination across all Asia and many people travel there to take diving courses, extend their knowledge or just enjoy the amazing underwater life.
---
More fun, active & adventurous things to do in Bali
They say the best way to experience nature is to do something active outside. That's 100% true for Bali – the best emotions you experience are when you are doing something with your body.
Join a surf camp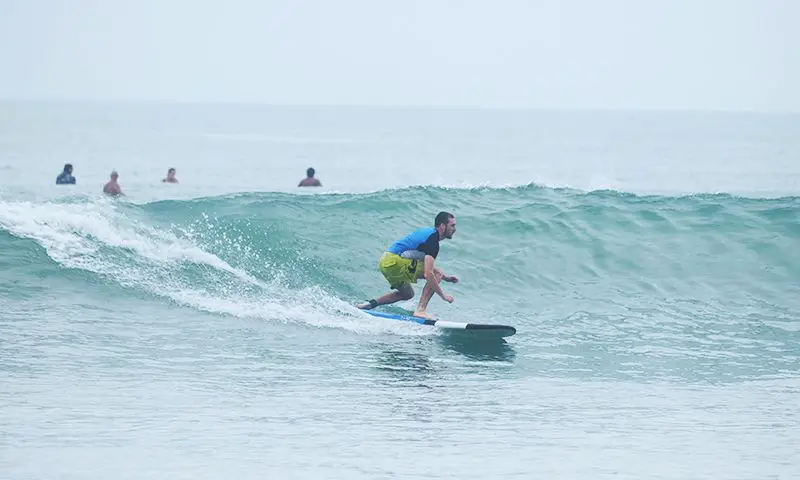 Bali is a global 'hotspot' for surfing. The swells here are pretty consistent and there's good surf in both dry and wet seasons. From beginner-friendly beaches in Kuta and Canggu to world-class spots in Uluwatu – everyone will find their wave here.
Book a class or, better yet, stay for a week in an organized surf camp. Great vibes and the best times are guaranteed. Lapoint in Canggu is one of the most popular camps on the island. After staying with them in Sri Lanka I can't recommend it enough.
Take a yoga retreat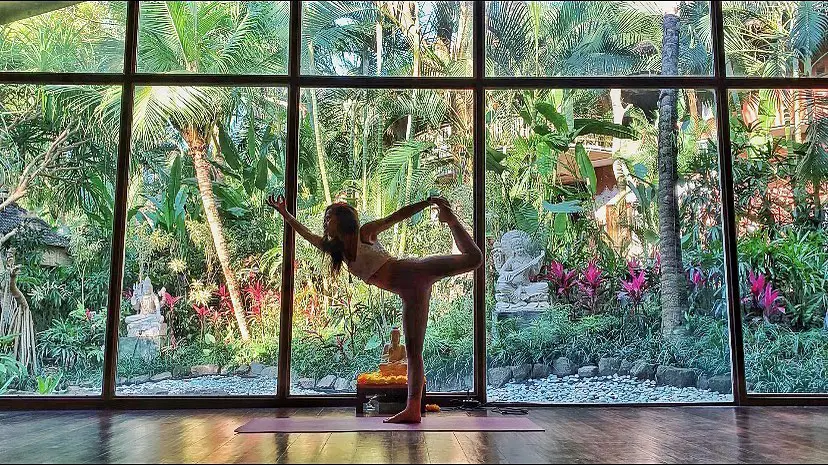 With its tranquil and zen atmosphere, Bali is the place for relaxation, self-discovery and meditation. And what's better for that than yoga?
Ubud – the cultural & spiritual capital – is full of various hotels and yoga studios offering different packages. Yoga Barn, in particular, is one of the most famous yoga retreats on the island.
Abyss Zipline in Ceningan Island Resort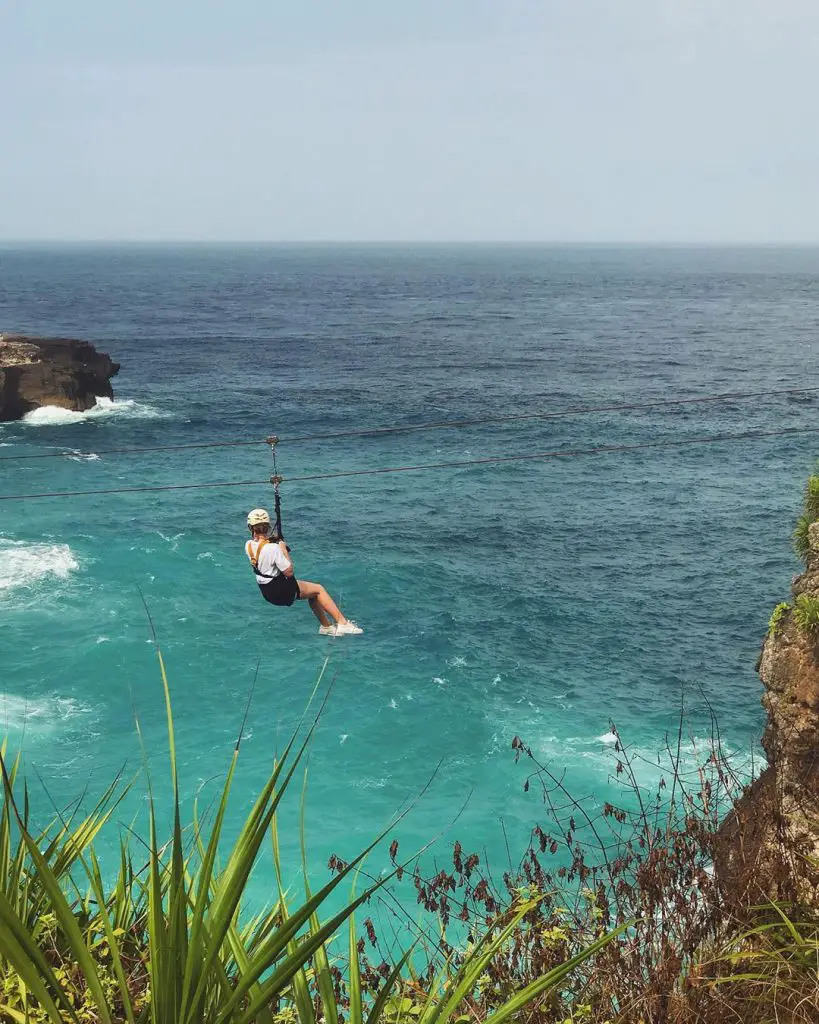 Stretched between the cliffs and above the ocean Abyss Zipline in Nusa Ceningan takes the ziplining experience to a whole new level.
This zipline is not that long. However, the views around and below compensate that fully. After ziplining come back for a lunch in the restaurant and a dip in the infinity pool nearby.
Treetop Adventure Park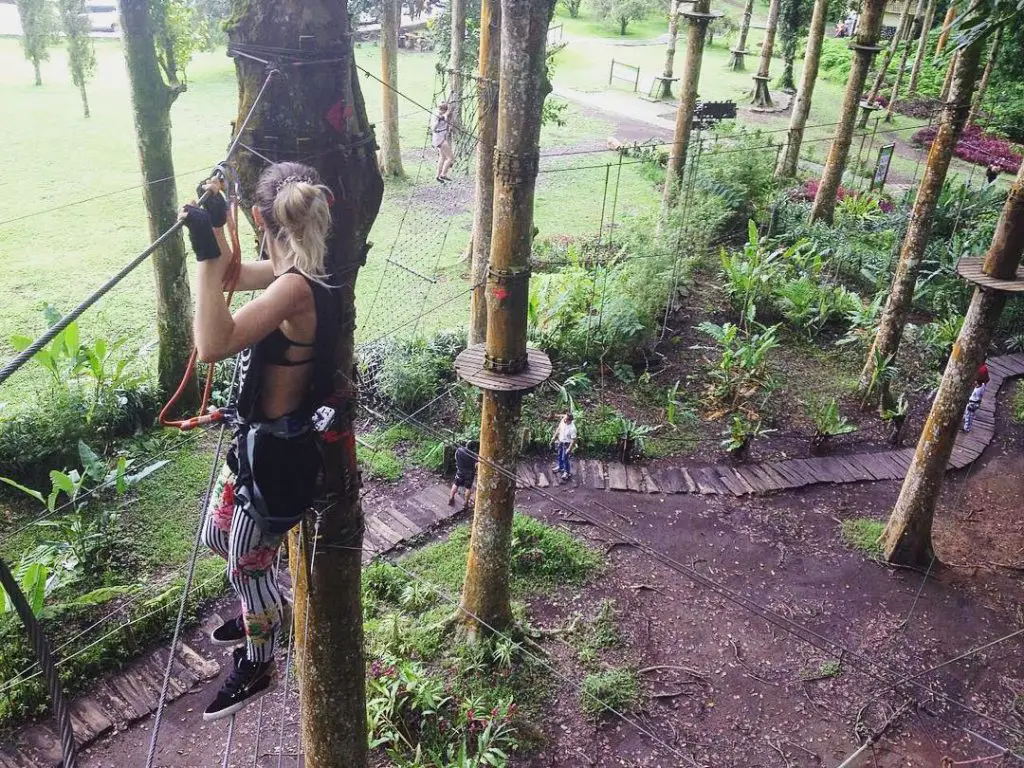 A series of tightrope courses suspended high above the ground in the sub-tropics. How much more fun & exciting can it get?
Courses range from suspended bridges to Tarzan jumps and are connected via the system of ziplines. Definitely one of the adventurous things to do in Bali for the whole family.
Explore Bali on a dirt bike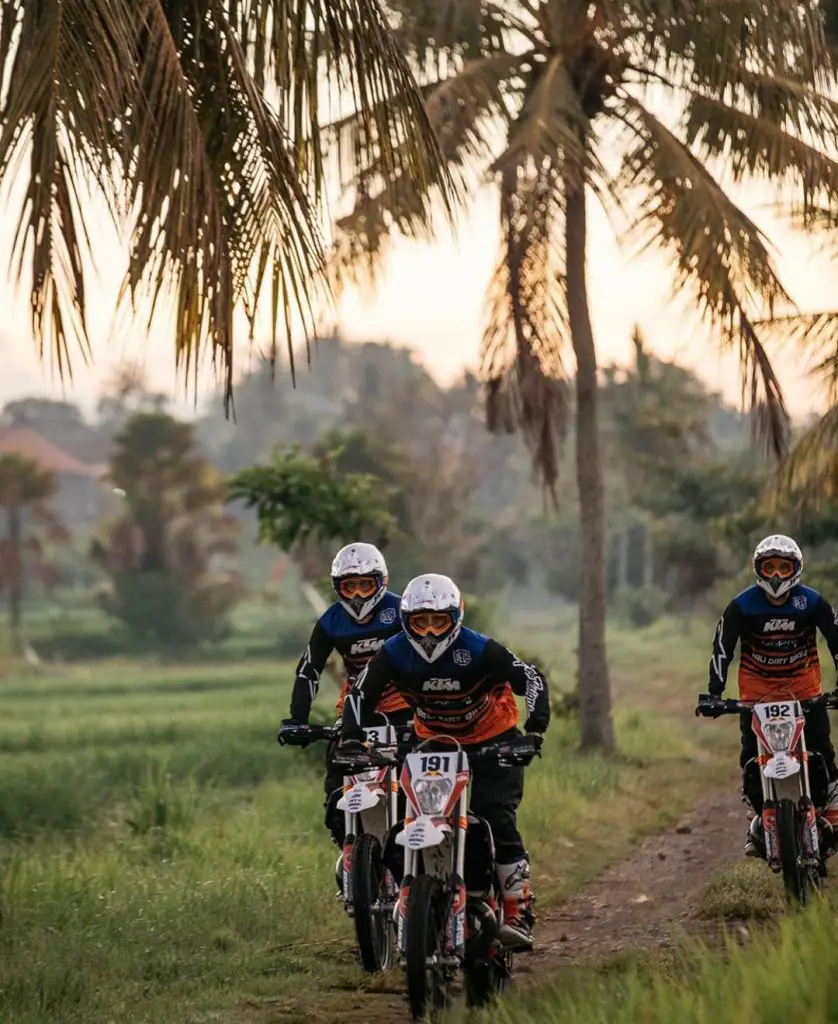 The title says it all. Dirt biking through forests and beaches of Bali is a pretty badass (and effective) way to see the epic nature of the island. Definitely one of the most adventurous things to do in Bali.
Join a bootcamp class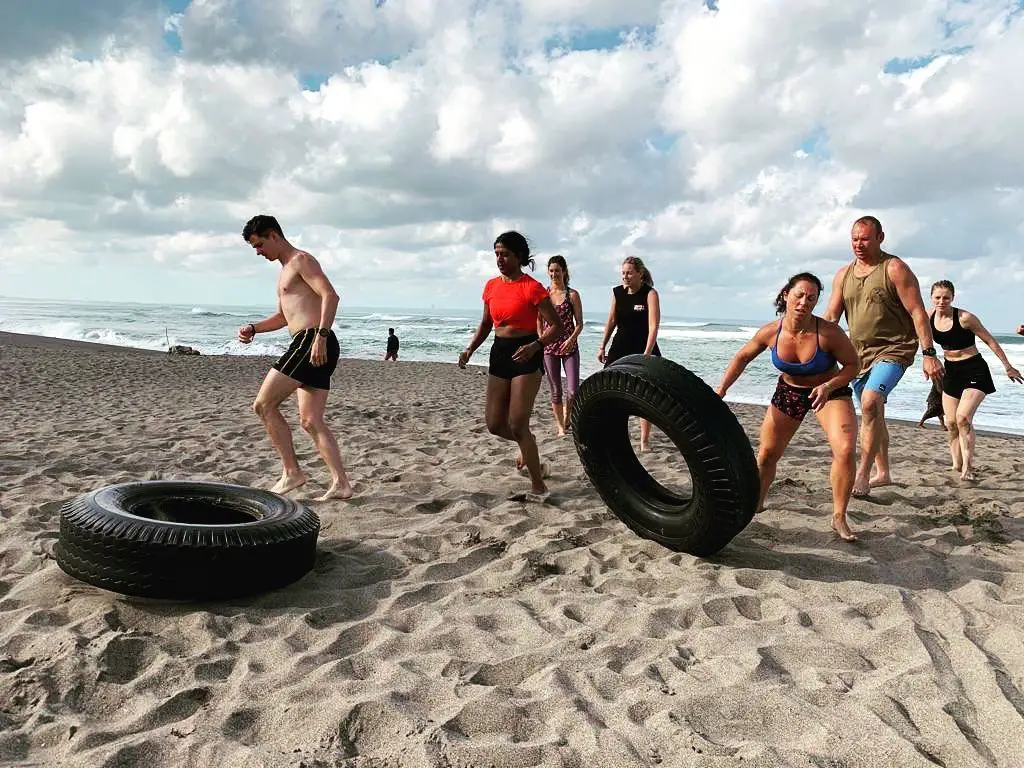 Much like taking a surfing or yoga class, joining a bootcamp or dropping in on a single session is a great way to enjoy the outdoors. And spend time in a good company.
Definitely a much more fun alternative to a workout in the hotel gym.
---
Spectacular places to explore in Bali
Those who came to the island for culture & beautiful scenery will be in paradise. Well, like everyone else, really. Exotic Balinese traditions, rituals, temples and, of course, the nature is simply fascinating.
I know it can be tough to go exploring in 30-degree heat and near 100% humidity, but it's sooooo much worth the effort.
Best waterfalls in Bali
Waterfalls is where Bali's true beauty is hidden. Most of the waterfalls are located in North Bali and it can take ~3 hours from Kuta or even Canggu (one way) to drive to some of the waterfalls. So, it makes sense to book a hotel and devote a couple of days to explore as much as possible.
Also, even though many tourists stay around Kuta, Canggu & Ubud, waterfalls are pretty popular on the island. It's best to come as early in the morning as possible to avoid the crowds.
Sekumpul Waterfall
The Sekumpul waterfall seems too good to be real and should be at the top of anyone's 'waterfall to do list'.
It's actually 7 different waterfalls converging into three visible ones, hence the name Sekumpul. Due to various sources it's hard to tell what's the actual height. However, the maximum height is said to be ~80 meters.
If you have the time, visit the spectacular Lemukih as well. It's just 2 kilometers away.
Banyumala Twin Waterfalls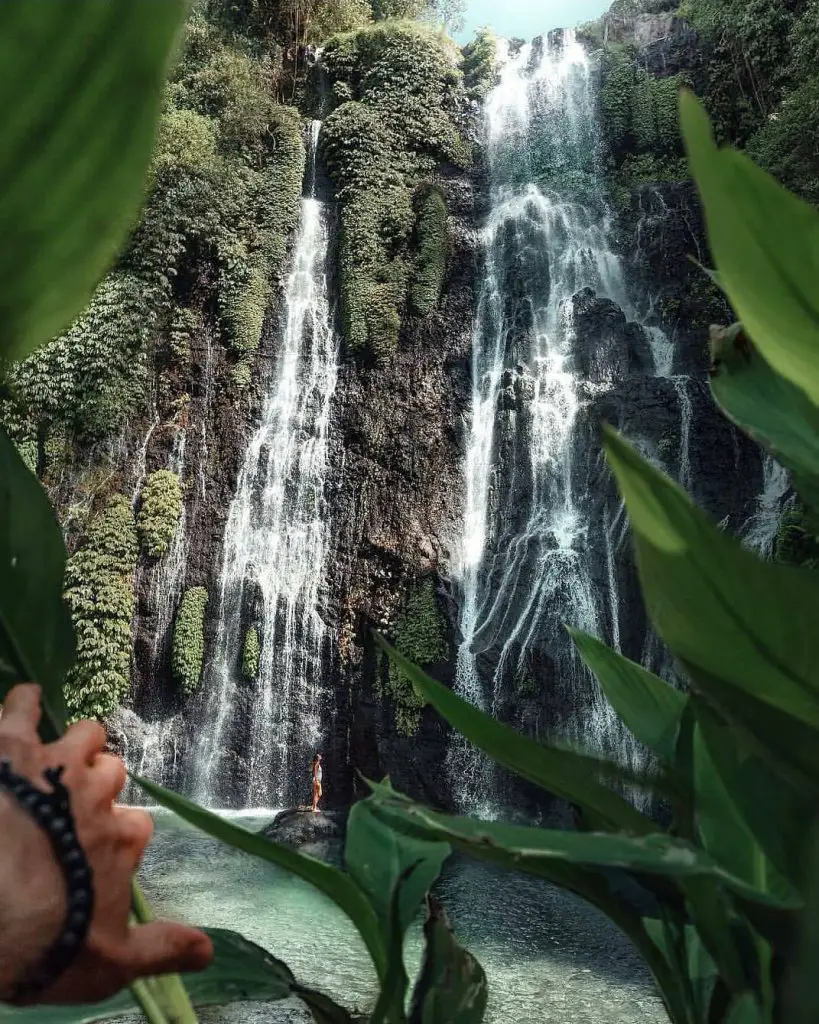 Banyumala twin waterfalls is exactly what you'd expect – two different streams separated by a cliff. The strength of the waterfall is not as big as Sekumpul's, so one can actually jump and enjoy the natural pool at the bottom of the waterfall.
Tibumana Waterfall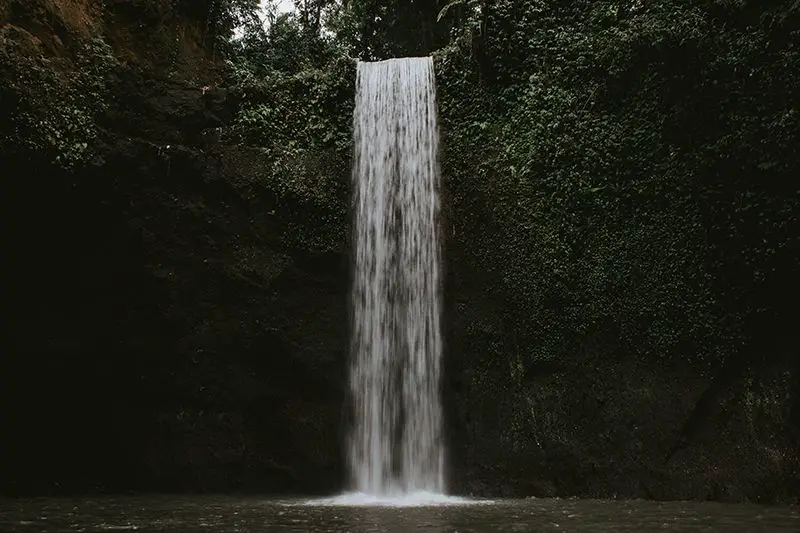 Tibumana waterfall has it all. It has the 'perfect' shape, as well as the natural pool at the bottom is great for swimming and taking pictures. And it's not far from Ubud – what more do you need?
Tukad Cepung Waterfall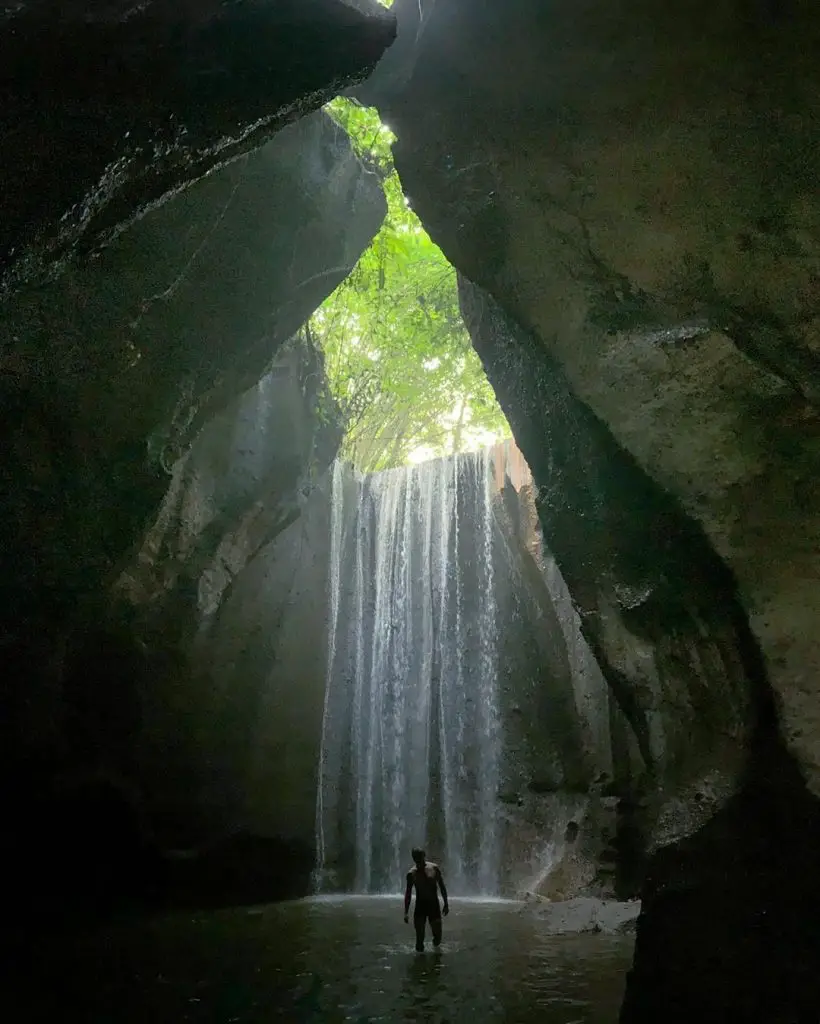 Tukad Cepung waterfall is a very unique spot in Bali. It's located in a 'gorge' and on a sunny day besides the water falling down one can also notice sun rays shining through the top of the waterfall.
Aling Aling waterfall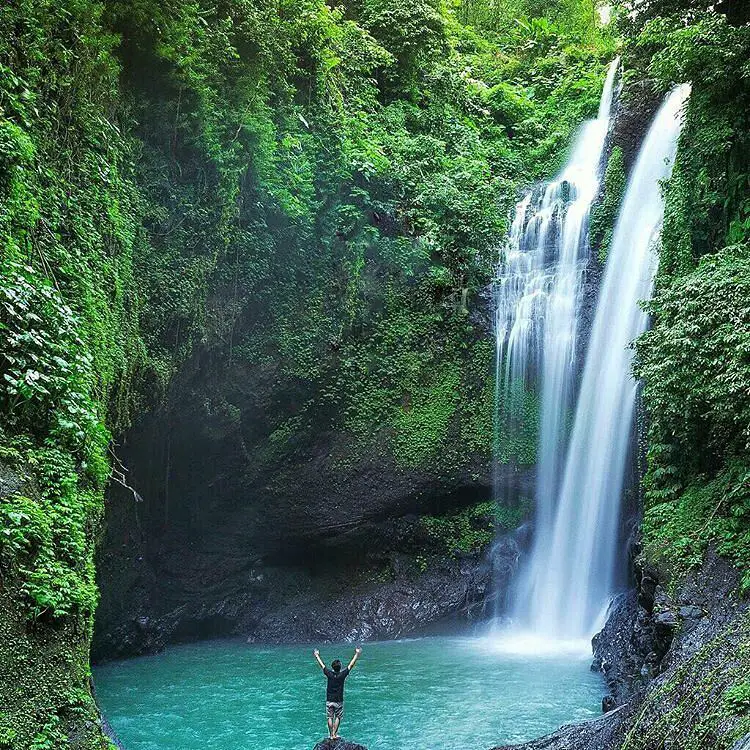 The 35-meter-high Aling Aling waterfall is located in Sambangan Secret Gardens. It's the only one of the group where you can't jump or swim in, because locals believe the water to be holy. It's a pretty spectacular place for pictures, though.
Git Git is another spectacular waterfall that is 'just around the corner'. It's 15 minute drive away, but is well worth the detour.
Nung Nung Waterfall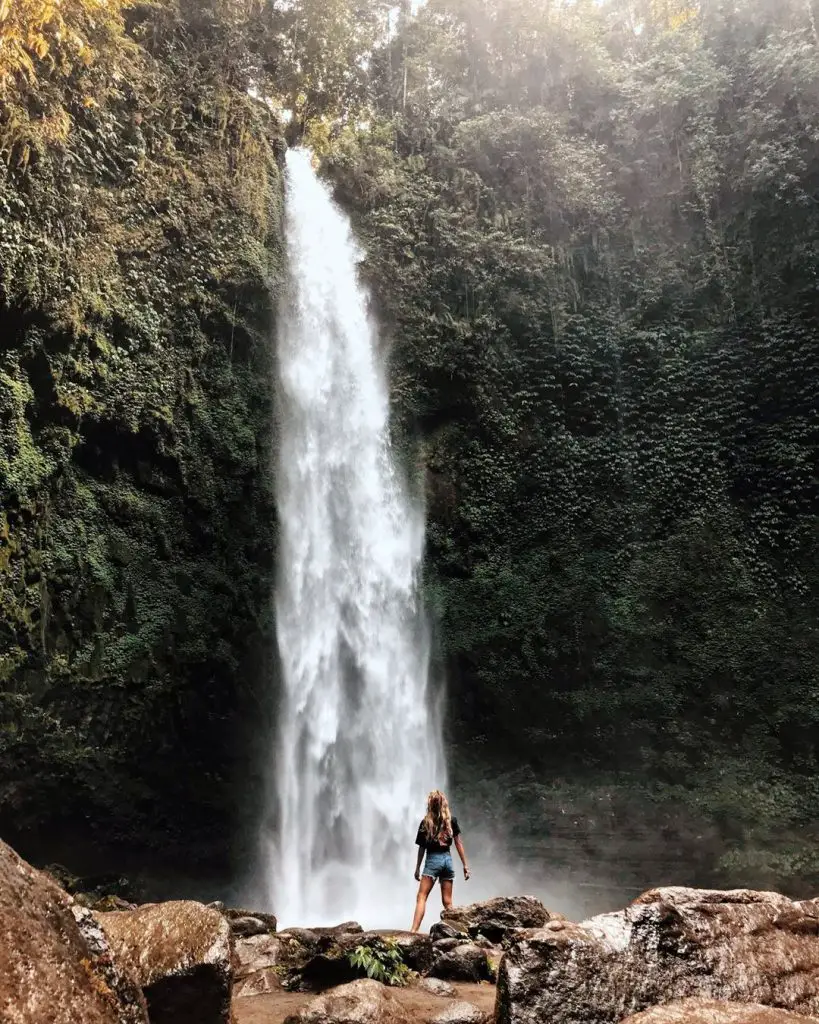 Nung Nung waterfall is tough to get to, because it involves a steep 20-minute trek down lots of stairs (which you'll have to climb back). But boy is it worth it.
At ~60 meters it's one of the highest waterfall's in Bali (if not THE highest). The water discharge is so strong that you can hear it before you can see it. Also, the resulting current is so strong that very few attempt to swim in the natural pool at the bottom of it.
Melasti beach waterfall, Tanah Lot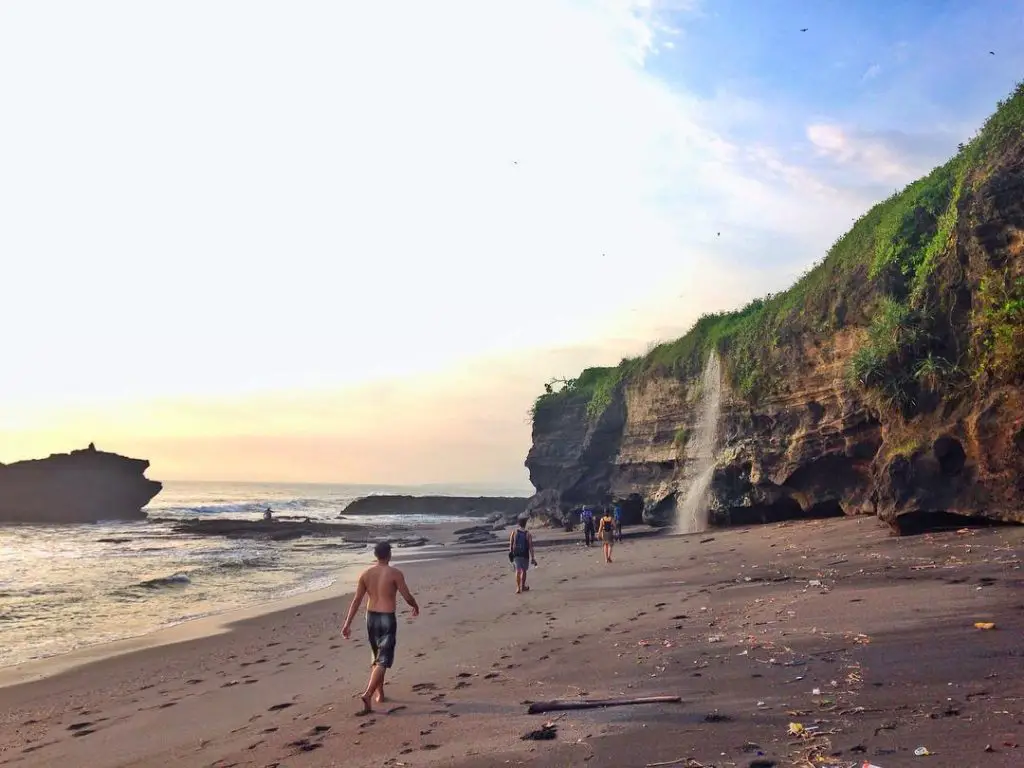 5 minutes to the North from the very popular Tanah Lot temple there's a small but very beautiful waterfall coming down to the beach.
The beach is called Melasti and draws much less attention than the neighboring temple. This beach is not to be confused with Melasti beach in Ungasan with limestone cliffs and white sand, though.
Leke Leke Waterfall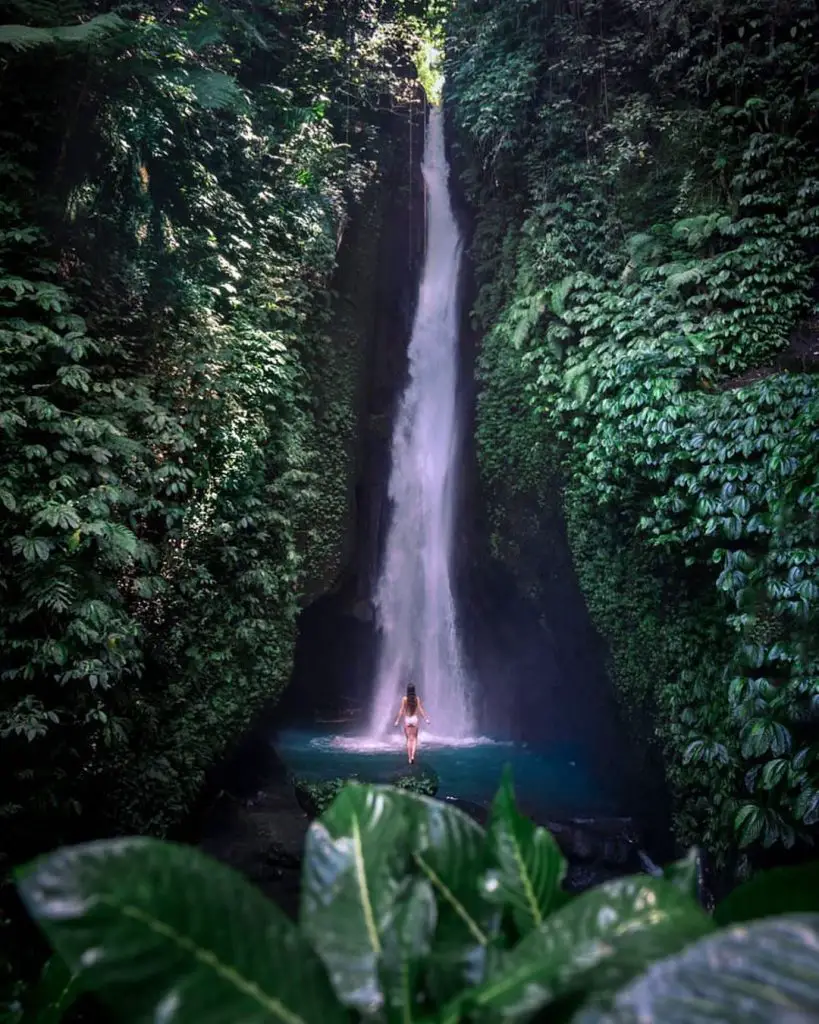 Leke Leke waterfall almost feels as if it's hidden in the jungle. First, it takes ~20 minutes to trek through a lush Balinese forest to get to the waterfall. And the waterfall itself is, kind of, hidden between the two cliffs with water stream rushing down and making a natural pool in the middle.
Kanto Lampo waterfall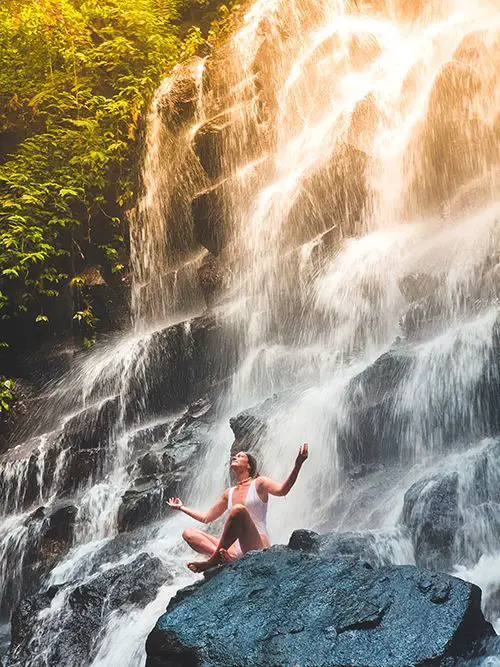 Kanto Lampo waterfall is seasonal and during the rainy season (October to March) the water levels are high, which makes it difficult to reach the waterfall.
This waterfall is not so strong, which makes it possible to get close to it and make some nice pictures.
---
Eye-catching and hidden beaches in Bali
Bali wouldn't be a tropical paradise without its beaches. Some are well-known and, kind of, obvious. Some you need to spend some time to find and reach. Which makes them so much special.
Driving or hiking to beaches hidden from the eyesight are also adventurous things to do in Bali.
Melasti Beach, Ungasan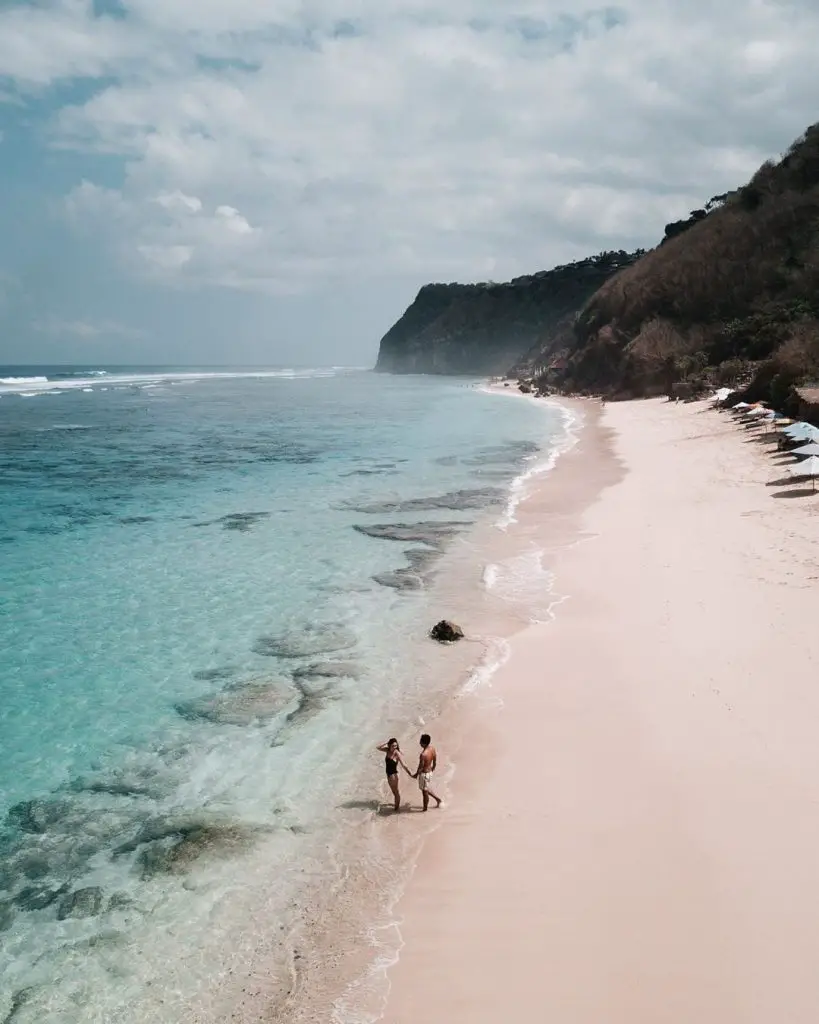 Melasti beach is famous for its beautiful white sand and being surrounded by stunning high cliffs. Few people actually make the trip to Ungasan and then down the winding roads among limestone cliffs to get to the beach.
Those looking for adventurous things to do in Bali, this is a perfect area for paragliding. Once at the beach you'll notice many flying in the distance.
Nyang Nyang Beach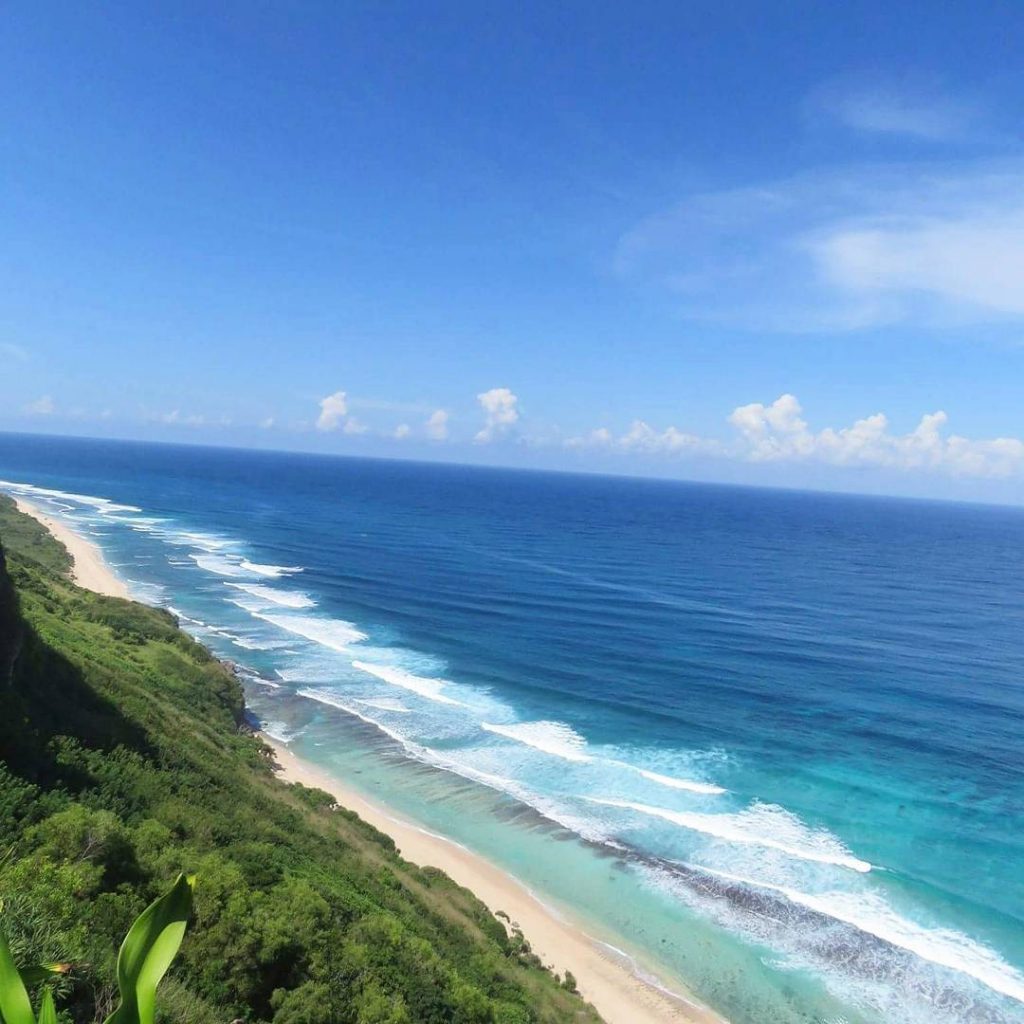 The feature of Nyang Nyang beach is an abandoned vessel that seemed to have ran aground a long while ago. White sand and green mountains on the back only add to the feeling of being 'lost in the wilderness'.
The beach is located just south of Uluwatu temple, but requires a 20 minute trek down the mountain to reach.
Kelingking Beach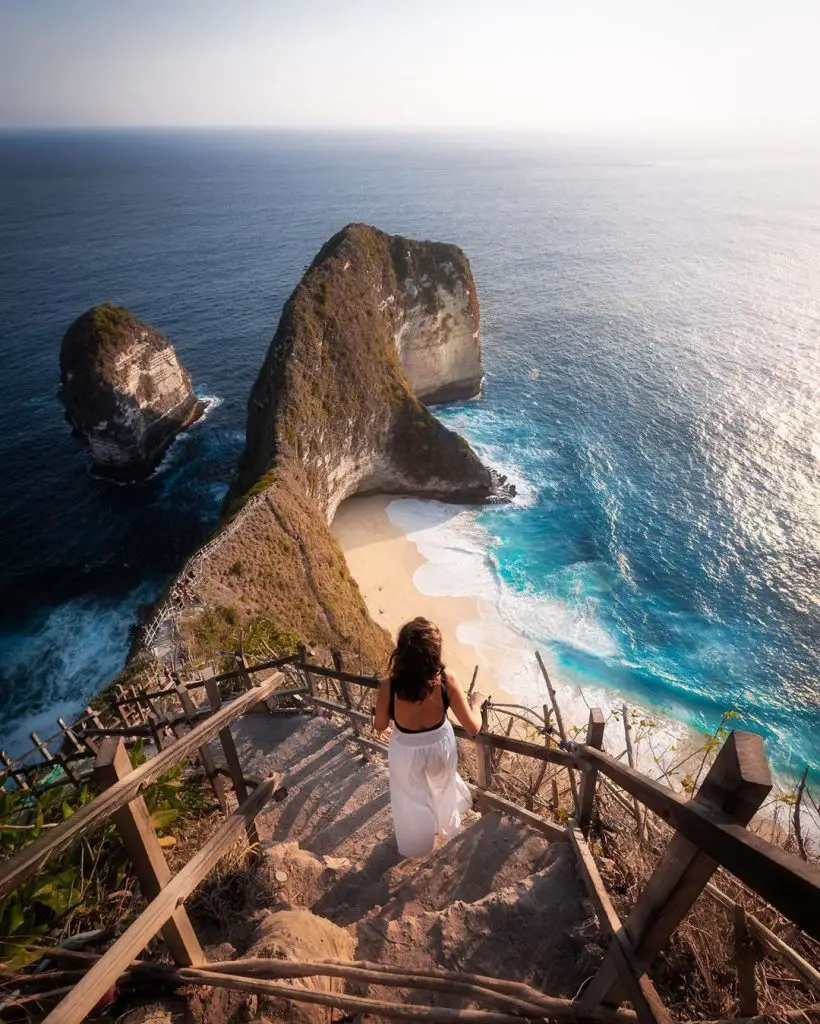 Kelingking viewpoint in Nusa Penida is not for the faint of heart. Towering 120 meters above the sea level, it provides a stunning view on the cliffs in the shape of Tyrannosaurus Rex
Those who have the mental strength and endurance to go down a very steep and dangerous road will be almost alone and rewarded with picture-perfect views from the beach.
Crystal Bay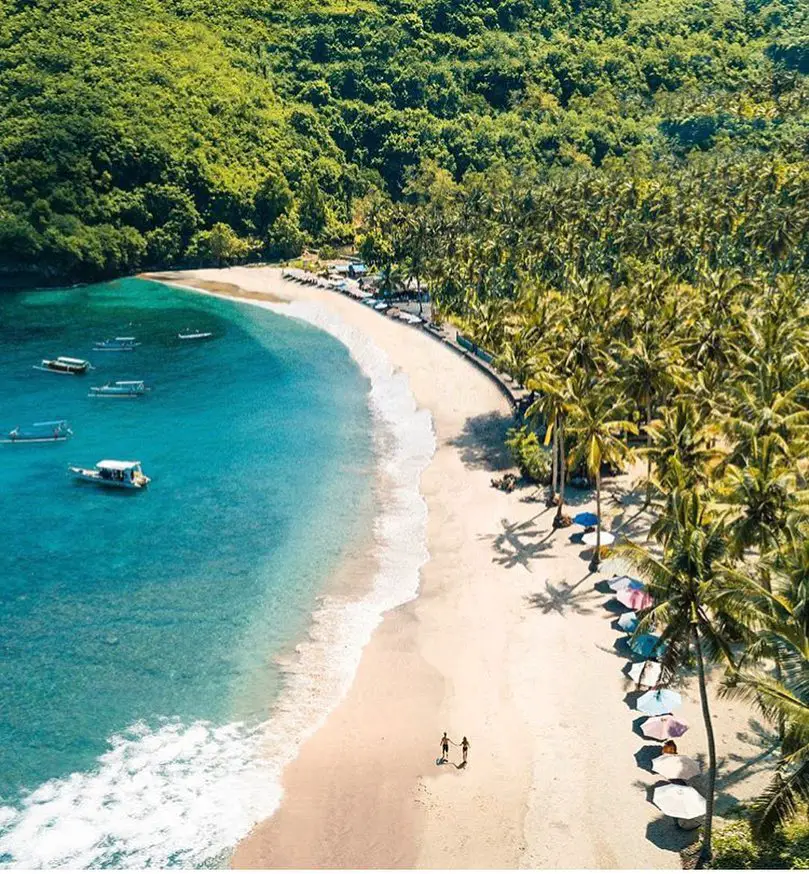 Despite its isolation, Crystal Bay is easily accessible. Palm trees lining up the road to the beach and the beach itself make the view very picturesque. Crystal Bay takes its name from crystal clear blue waters and is one of the best spots in Nusa Penida for snorkeling and diving.
Tegal Wangi Beach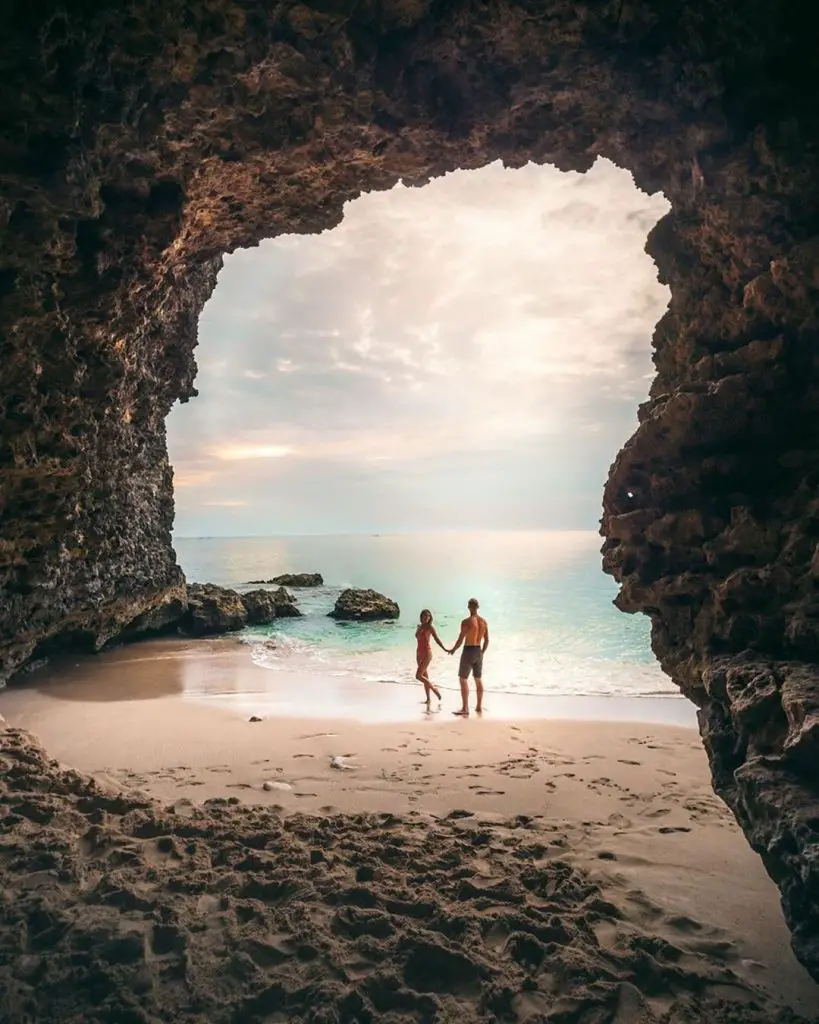 Tegal Wangi Beach is one of the most spectacular hidden beach in Bali. Its shore is full of small natural rock pools which you can lie in during low tide. The feature of the beach is a small cave which is perfect for romantic photographs.
The beach is located right next to a luxurious Ayana Resort in Jimbaran and that's, probably, why it's more known among wedding photographers than locals.
Diamond beach & Atuh beach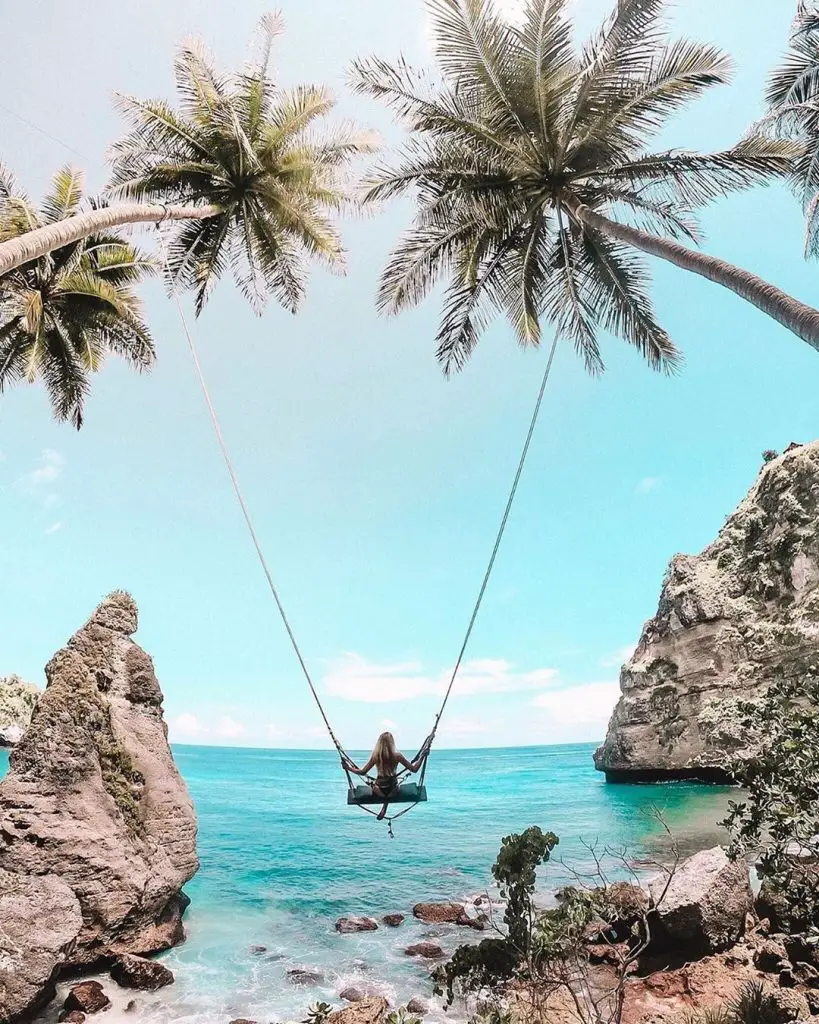 Atuh beach and Diamond beach are located on the East Side of Nusa Penida and are separated by 'just' a cliff.
The view from above on both beaches is one of the most striking views imaginable with turquoise waters, high cliffs and the waves crushing in the distance. At the bottom of Diamond beach one can enjoy a swing with all that amazing view.
Suwehan beach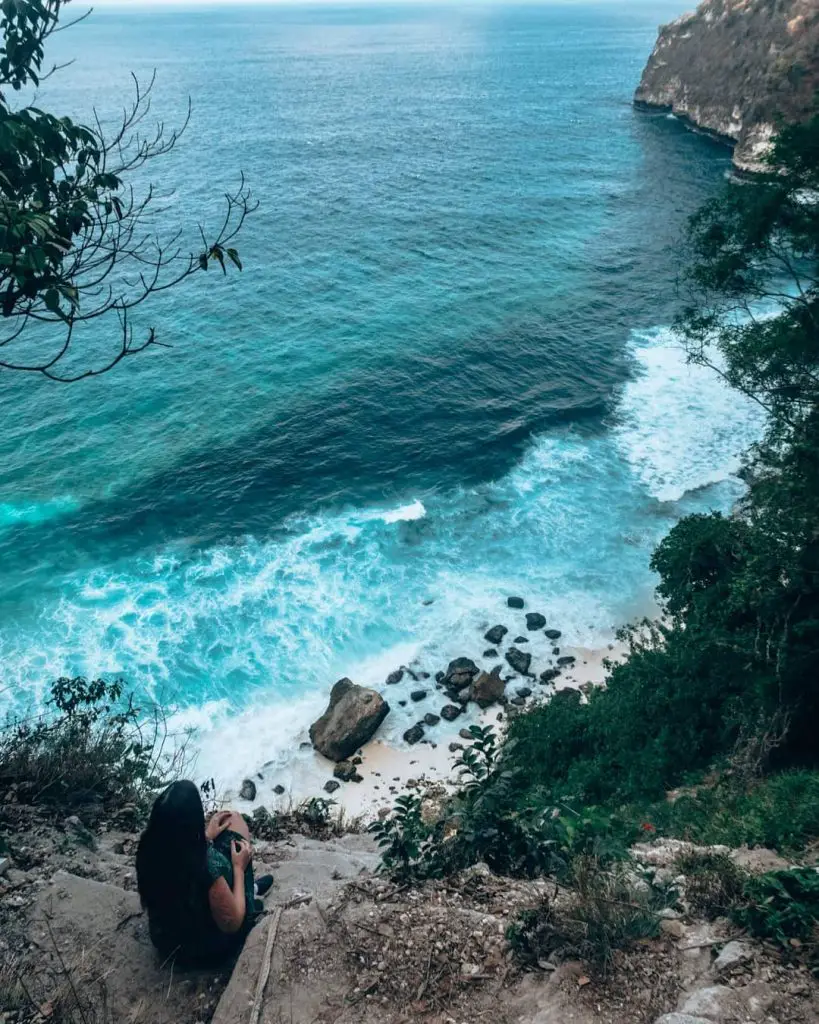 A little while away from Diamond and Atuh beaches is Suwehan beach which is no less remarkable.
The beach is really short and during high tide is almost completely submerged. So, it's best to check in advance.
---
Other cool places to explore in Bali
Hopping on a scooter to explore the island might be one of the most adventurous things to do in Bali.
Uluwatu
Bali is known for its culture of believing in spirits and its beautiful temples. The most spectacular, in my view, is Uluwatu temple – Pura Luhur Uluwatu in Balinese. It's located at the southwestern tip of the island on top of a 70-meter-high cliff and provides amazing views of the Indian Ocean below.
Uluwatu temple is one of the 7 sea temples located around the coastline of Bali that protect the island from evil spirits that are believed to live in the water.
Suluban Cave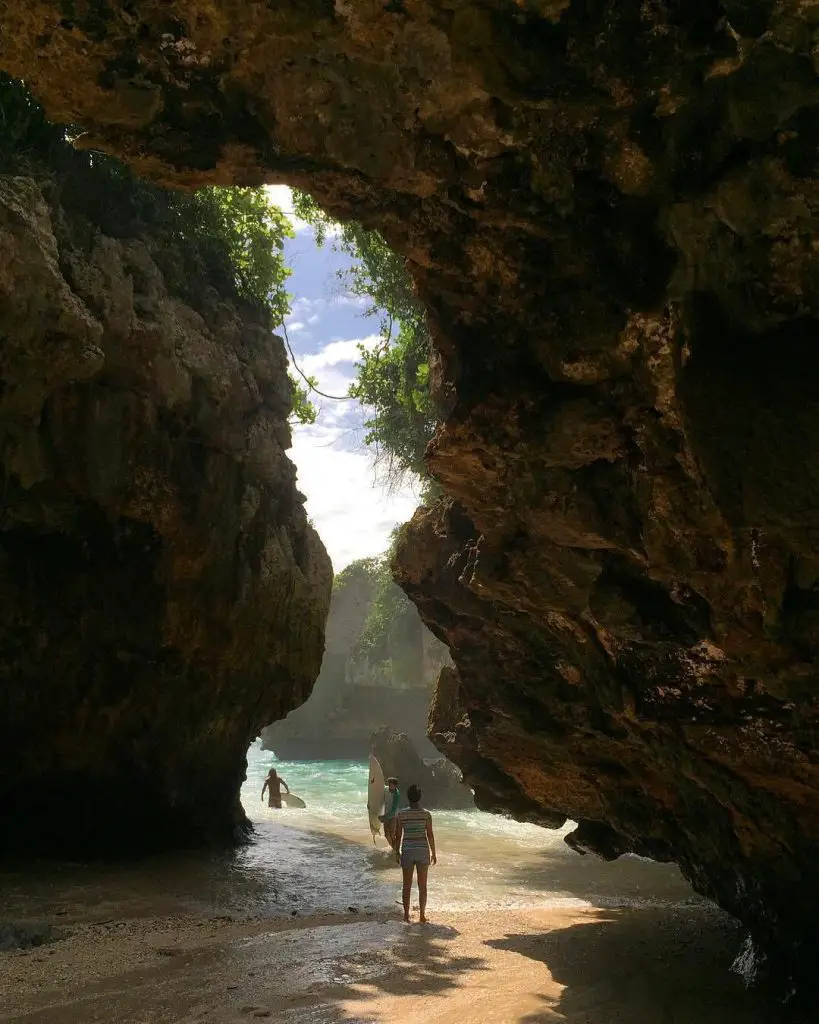 Just North of Uluwatu temple is one of the most popular surfing spots – Suluban Beach. However, the cave that surfers use to get to the ocean is a place to see as well.
Lempuyang Temple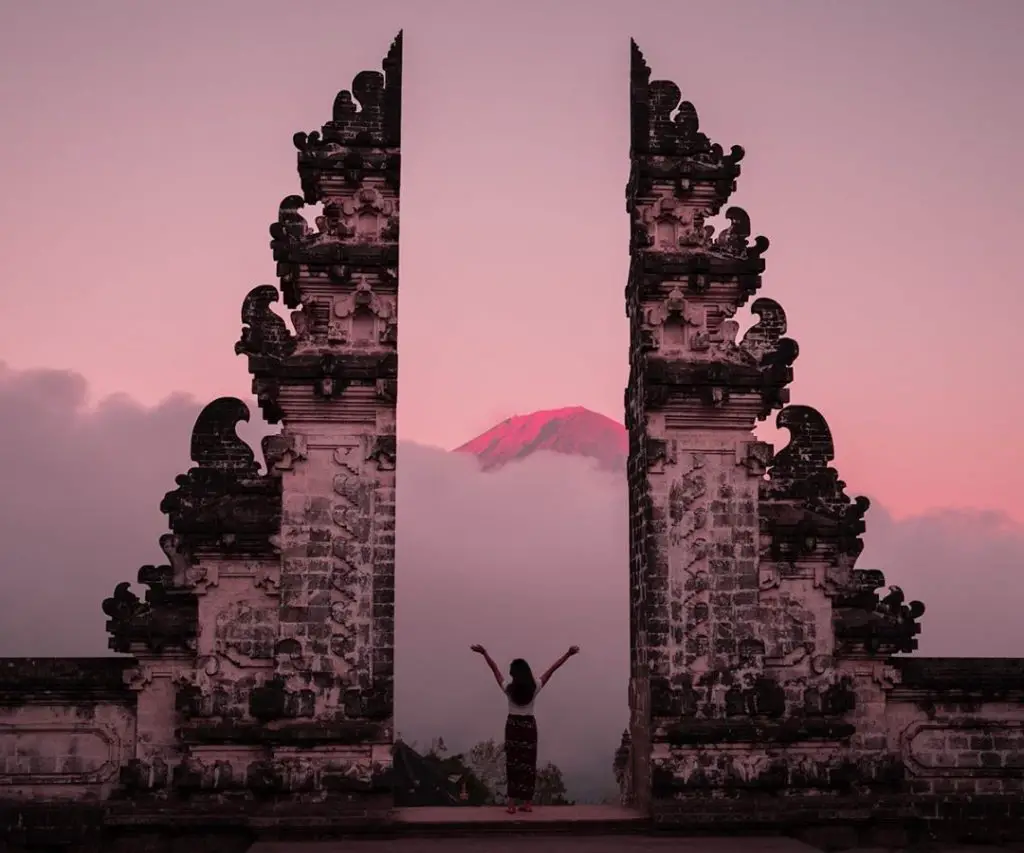 Lempuyang temple is another spectacular temple to visit. Being located in North Bali it doesn't get too crowded like Uluwatu and Tanah Lot. Still, it's best to visit the temple early in the morning to avoid the crowds and the midday heat.
The feature of the temple is the Balinese gate that provides a great view on mount Agung in the distance.
Broken Beach and Angel's Billabong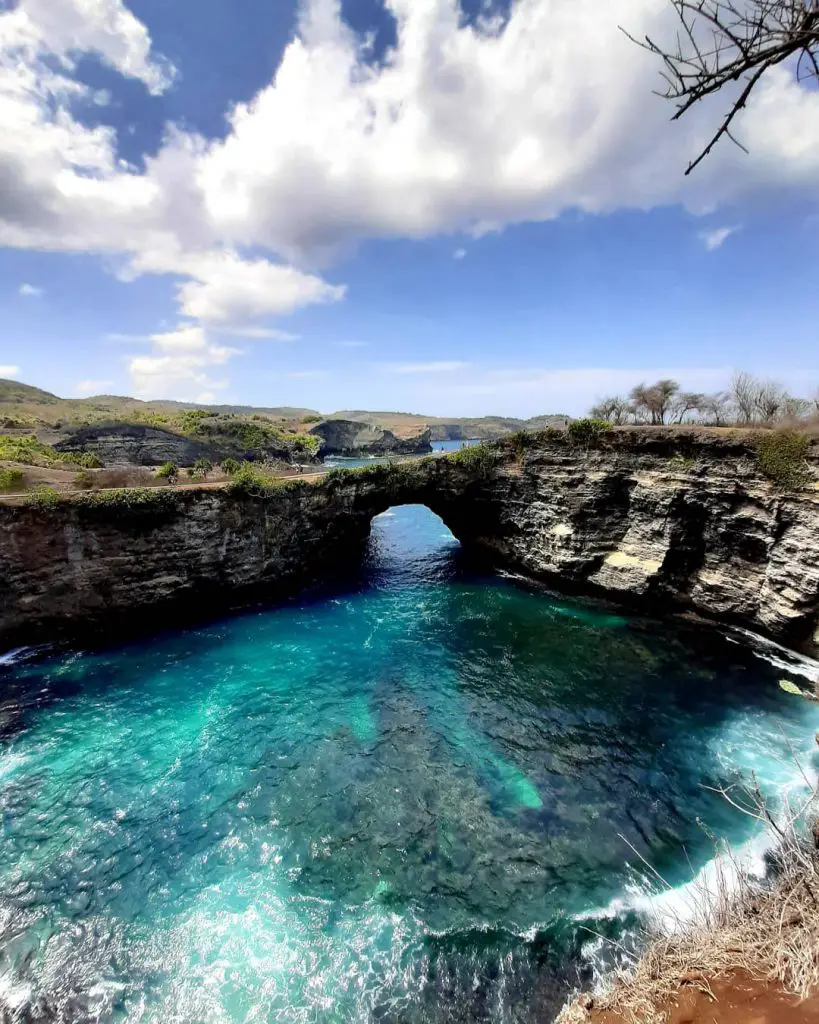 Broken Beach – or Pasih Uwug in Balinese – is an almost circular cove in Nusa Penida. The reason it's called broken is because of a little arch that allows the water to flow in and out to the ocean, creating a unique sight.
A couple of hundred meters away from Broken beach is an area called Angel's Billabong – a calm natural pool between the rocks separated from the waves of the Indian Ocean. A great place to dip in and make some photos.
Tegalalang Rice Terraces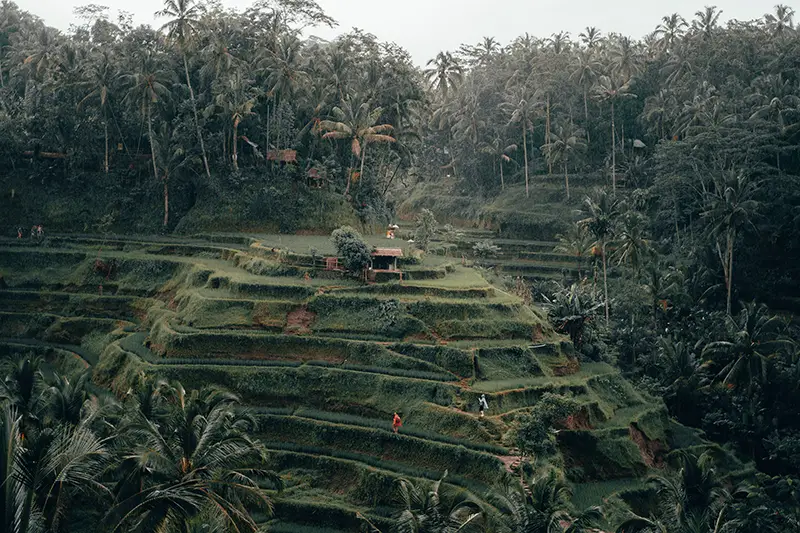 Rice fields are very unique to Bali. Smaller version of these can be seen all around the island, but it's the big plantations that provide that amazing view. Tegalalang Rice Terraces is one such place – besides admiring the beauty with a coconut in your hand you can also take a walking tour.
Just South of this rice terrace is a place called Terrace River Pool Swing where you can enjoy swinging with a view on the rice fields.
Jatiluwih Rice Terraces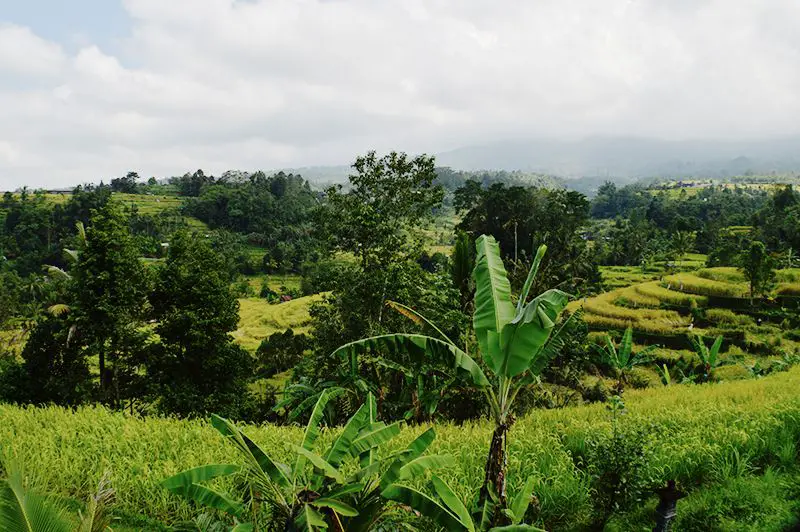 Jatiluwih is a huge open area with many different rice terraces in sight. It's not as 'concentrated' as Tegalalang, but with mountains in the background it provides an equally breathtaking view.
Zen Hideaway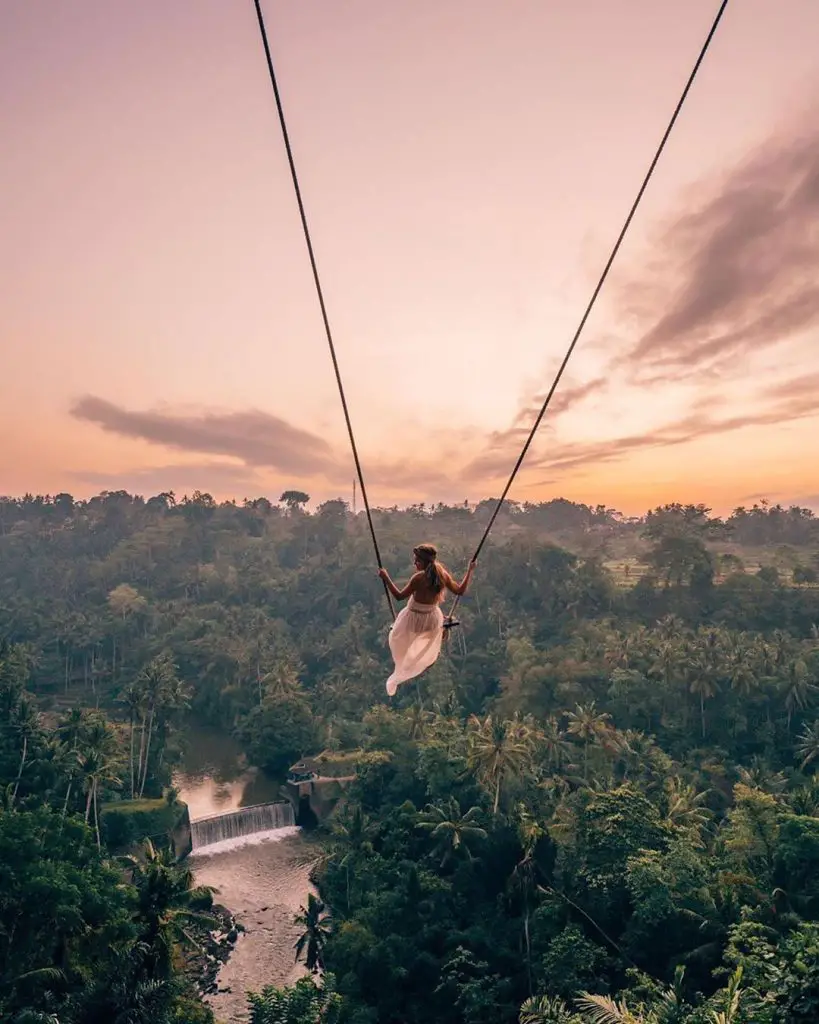 Zen Hideaway is a small villa in the middle of a rainforest close to Ubud. Appropriately named, this 'jungle paradise' offers rooms for rent through Airbnb that provide epic views of the jungle.
The villa has also a swing, but those who don't want to stay overnight can visit the Bali Swing park nearby. The park offers different kinds of swing (single, tandem, bed-swing) and is one of the most fun and adventurous things to do in Bali.
Campuhan Ridge Walk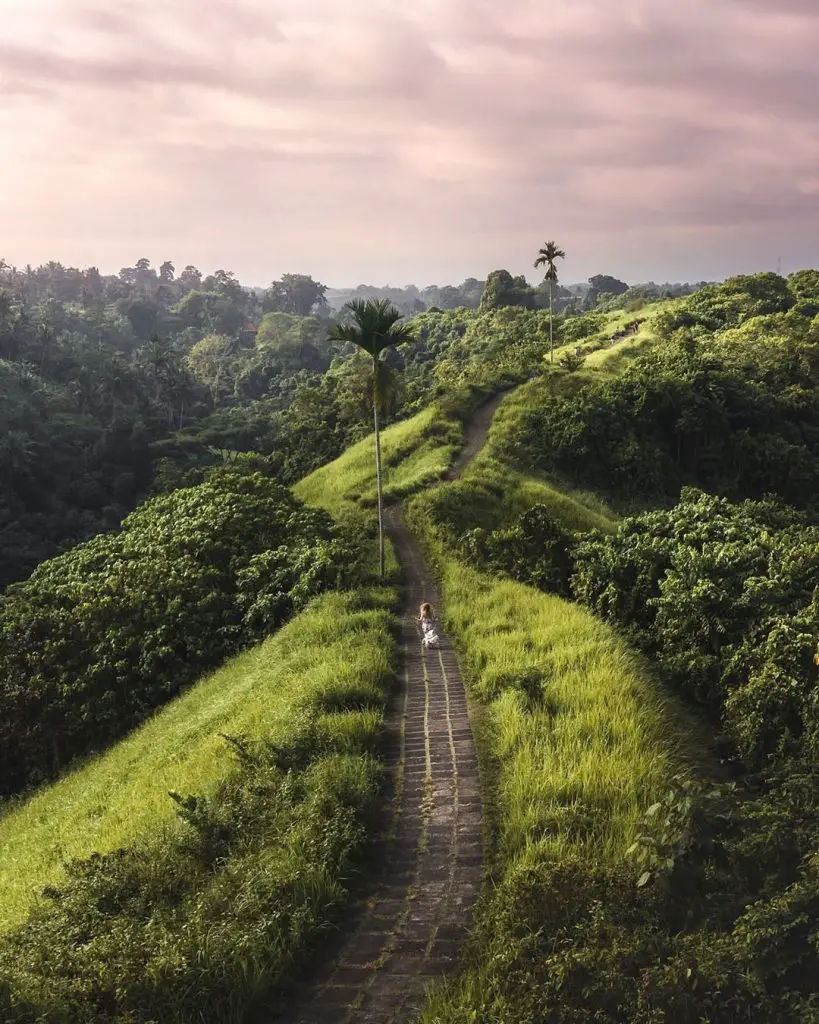 Campuhan Ridge walk is a scenic 9 kilometer long hiking trail just outside Ubud. The route goes along the Sungai Wos river and provides a stunning view on the lush mountain valley.
Hiking in tropical heat can be pretty exhausting, so this place is best enjoyed early in the morning or shortly before sunset.
Handara Gate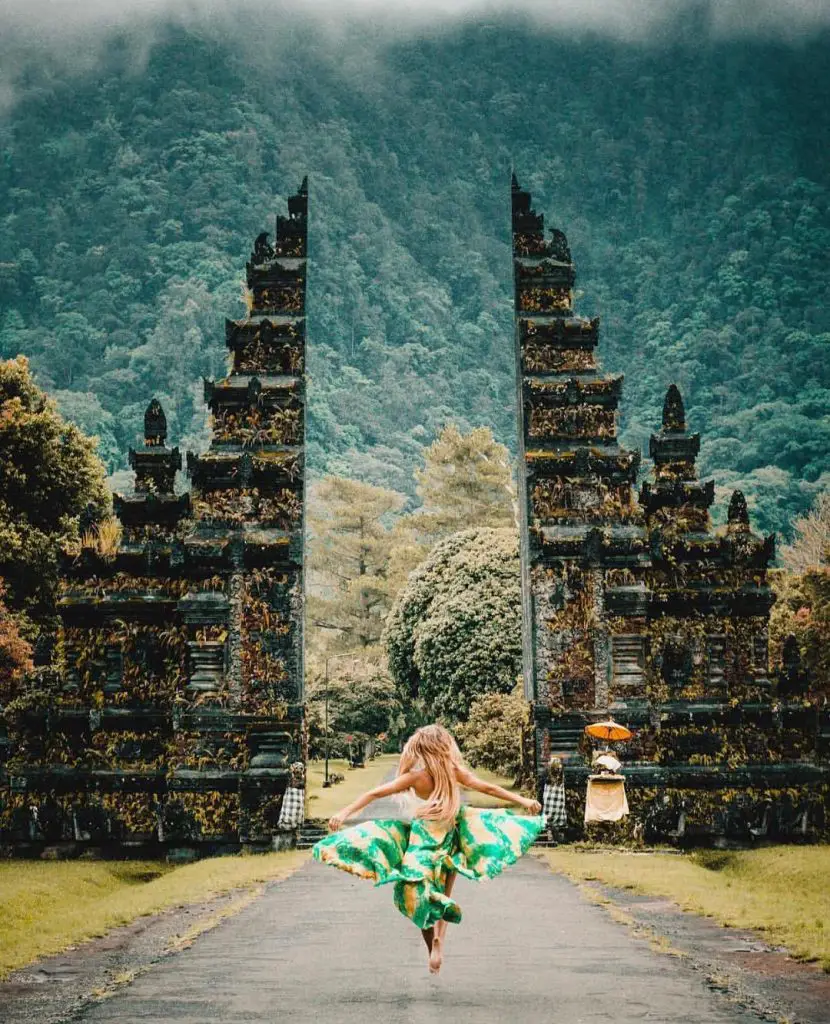 The Balinese gate to a mountain pathway has become one of the hottest spots for Instagram posts. The 'mountain pathway' is actually a golf resort and the gate marks the entry to the territory, so there's not much more to do.
Handara Gate is located in North Bali and it's a great idea to combine it with a trip to the waterfalls. Also, if you're in the area, head over to the place called Hidden Hills Wanagiri to enjoy spectacular views at Wanagiri Swing.
Did you find this information useful? Share the post with others using the buttons below.
Andrejs
Andrejs is a certified IRONMAN coach and a former professional athlete who created The Athlete Blog as a way of sharing his training experience with the world. His journey across different sports inspired him to develop a training methodology that, apart from results, also focuses on being healthy, happy and full of energy. You can read his personal story
here
.