44 Places To Explore & Adventurous Things To Do In Bali, Indonesia
Somewhere on the eastern coast of the Indian Ocean, in the middle of Indonesia's beautiful archipelago, lies a paradise island of Bali. There are lots of fun and adventurous things to do in Bali, as the island blows the mind of anyone stepping foot on it with a mix of pristine nature, 'no-stress' approach to life, world's best surfing spots and the mystical culture of believing in spirits.
I love Bali and somehow always return to that magical place. Even after visiting the island at least 5 times while living in Indonesia, I always make an effort to make a stop there if I'm 'in the neighbourhood'.
Every time I come to Bali I find something new and exciting to do or a new place to explore. Honestly, I'm using this post as, sort of, a bucket list for fun & adventurous things to do in Bali the next time I'm around.
Adventurous things to do in Bali, Indonesia
If you're anything like me, there's a high chance you'll find Bali with neighboring Lembongan, Ceningan and Penida an amazing place.
Related: 30+ Best Tourism Websites To Get Inspired & Plan Your Holiday Adventure
Trek a volcano
Climbing a volcano is a great way to appreciate the diverse nature of Indonesia and experience the beauty of the island.
Indonesia is well-known to be a hot country. It's located on a so-called 'Pacific Ring of Fire' and is home to around 30% of the world's volcanoes.
Mount Batur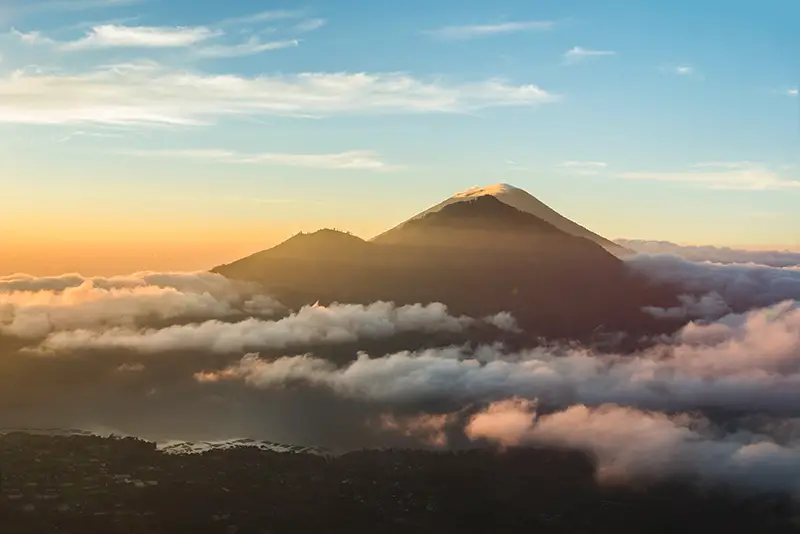 Climbing mount Batur to watch the sunrise is one of the most popular and adventurous things to do in Bali. And for a good reason – the views from the top are very much worth the challenge to get there.
Generally, the tour starts with a very early wake up (~2:00am) and a strenuous ~2-3 hour climb to the top.
Mount Agung
At 3,142 meters above sea level, mount Agung is Bali's highest point and is a much more challenging mountain to climb. Depending on the fitness level and the route, the way to the top can take anywhere from 4 to 8 hours.
Mount Rinjani, Lombok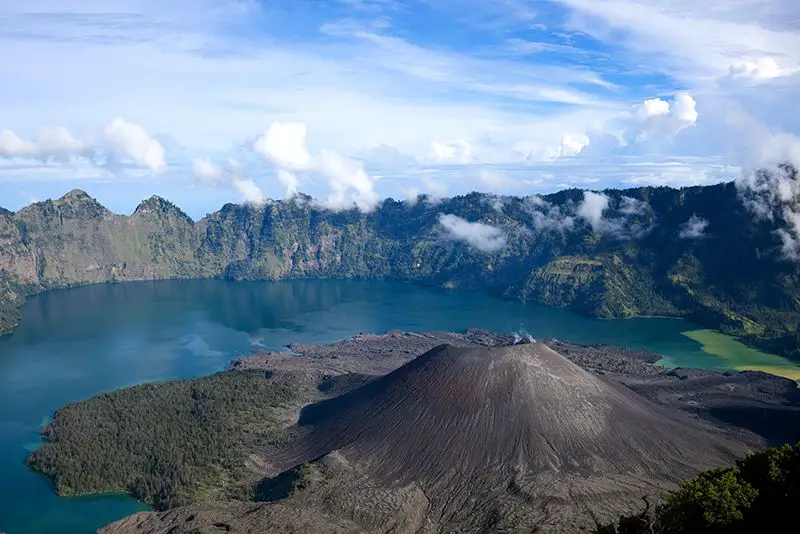 If you have a couple of days, a great option would be to book a 2-3 day tour to mount Rinjani on the neighboring island of Lombok. The whole challenge of multi-day trekking and spectacular volcanic scenery around made it one of the best adventures of my life.
Related: Trekking Mount Rinjani – On Top Of Indonesia's Second Highest Volcano
---
Enjoy cliff jumping in Bali
Jumping from a cliff into the warm waters of the Indian Ocean with spectacular views around might be one of the most adventurous things to do in Bali.
There's something about jumping in the water from a height that's so exhilarating. The rush of adrenaline, the wind and the process of overcoming your fears – all of it is very liberating.
Mahana Point
Mahana Point is a 'hanghout' spot in Nusa Ceningan where besides jumping into the ocean you can also chill out, grab a meal and rent a surf board to catch some waves at the break nearby.
There are two platforms (5 and 10 meters) with the ladder to easily climb back up.
Blue Lagoon cliff jump
Literally right around the corner from Mahana point there's one more spectacular spot – the Blue Lagoon. It's named appropriately for its water color and besides cliff jumping it's a great place for snorkeling.
Cliff jumps range from 4 to 13 meters and, unfortunately, there's no ladder to get out easily. The only way out is to climb a small cliff, so it's best to jump when the swell is not high.
Cliff jumps at Secret Gardens of Sambangan
Located in the North Bali, Secret Gardens of Sambangan is a group of waterfalls and a popular tourist destination. Popular among those who make the long trip (~2.5 hrs from Canggu) to North Bali in the first place.
There are a total of 3 different cliff jumps (5, 10 and ~13 meters) and several water slides.
Devil's Tear cliff jump
Devil's Tear is a great sunset spot in Nusa Lembongan. On a calm day one can enjoy a jump from a ~4 meter high cliff. On days of big swell the waves crash against the rocks and make the activity too dangerous.
---
Dive or snorkel
Bali is a great place to explore the underwater in the search of cool places. Warm waters of Indian Ocean make it a perfect spot for both diving and snorkeling.
Underwater Buddha Garden
Just off the coast of Nusa Ceningan lies an underwater art exhibit featuring a Buddha and different stupas. It's located just several meters underwater which makes it perfect for snorkeling.
The exhibit is actually an inspiration from a larger conservation project – Pemuteral Temple point. That one is located in North Bali and you have to dive 15-30 meters to see it.
Tulamben shipwreck
In 1963 the USS Liberty ship was hit by a Japanese torpedo and now lies on the sea bed 9 to 30 meters deep. The wreck is one of the most famous dives on the island and definitely one of the most adventurous things to do in Bali.
Despite the depth, the wreck is visible for snorkelers as well with the highest point being just 5 meters deep.
Amed & Jemeluk Bay
Several kilometers to the southeast is a quiet fishing village Amed with unique black sand volcanic beaches. In the past local diving organizations sank objects and statues nearby to provide a base for corrals to grow. Since then Amed and Jemeluk beaches became popular diving and snorkeling destinations.
The feature of the site is an underwater post office (5 meters underwater) where, supposedly, you are able to mail your waterproof postcard anywhere around the world.
Gili islands
If you're planning to dive, a good idea would be to hop over to Gili islands for a couple of days.
Gili islands is a group of 3 islands just off the coast of Lombok. It's one of the most popular diving destination across all Asia and many people travel there to take diving courses, extend their knowledge or just enjoy the amazing underwater life.
Heart Rate Zone Training
Have questions about heart rate training? Need help with your new & fancy sports watch? Ready to take your training to the next level?
---
More fun, active & adventurous things to do in Bali
They say the best way to experience nature is to do something active outside. That's 100% true for Bali – the best emotions you experience are when you are doing something with your body.
Join a surf camp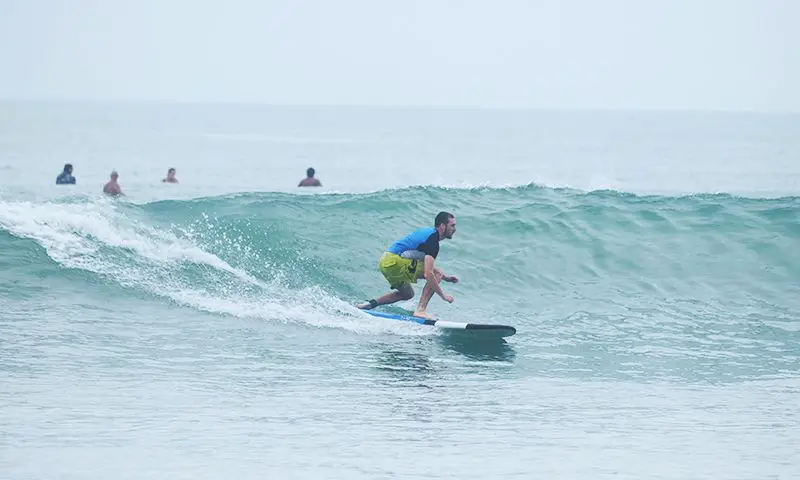 Bali is a global 'hotspot' for surfing. The swells here are pretty consistent and there's good surf in both dry and wet seasons. From beginner-friendly beaches in Kuta and Canggu to world-class spots in Uluwatu – everyone will find their wave here.
Book a class or, better yet, stay for a week in an organized surf camp. Great vibes and the best times are guaranteed. Lapoint in Canggu is one of the most popular camps on the island. After staying with them in Sri Lanka I can't recommend it enough.
Take a yoga retreat
With its tranquil and zen atmosphere, Bali is the place for relaxation, self-discovery and meditation. And what's better for that than yoga?
Ubud – the cultural & spiritual capital – is full of various hotels and yoga studios offering different packages. Yoga Barn, in particular, is one of the most famous yoga retreats on the island.
Abyss Zipline in Ceningan Island Resort
Stretched between the cliffs and above the ocean Abyss Zipline in Nusa Ceningan takes the ziplining experience to a whole new level.
This zipline is not that long. However, the views around and below compensate that fully. After ziplining come back for a lunch in the restaurant and a dip in the infinity pool nearby.
Treetop Adventure Park
A series of tightrope courses suspended high above the ground in the sub-tropics. How much more fun & exciting can it get?
Courses range from suspended bridges to Tarzan jumps and are connected via the system of ziplines. Definitely one of the adventurous things to do in Bali for the whole family.
Explore Bali on a dirt bike
The title says it all. Dirt biking through forests and beaches of Bali is a pretty badass (and effective) way to see the epic nature of the island. Definitely one of the most adventurous things to do in Bali.
Join a bootcamp class
Much like taking a surfing or yoga class, joining a bootcamp or dropping in on a single session is a great way to enjoy the outdoors. And spend time in a good company.
Definitely a much more fun alternative to a workout in the hotel gym.
---
Spectacular places to explore in Bali
Those who came to the island for culture & beautiful scenery will be in paradise. Well, like everyone else, really. Exotic Balinese traditions, rituals, temples and, of course, the nature is simply fascinating.
I know it can be tough to go exploring in 30-degree heat and near 100% humidity, but it's sooooo much worth the effort.
Best waterfalls in Bali
Waterfalls is where Bali's true beauty is hidden. Most of the waterfalls are located in North Bali and it can take ~3 hours from Kuta or even Canggu (one way) to drive to some of the waterfalls. So, it makes sense to book a hotel and devote a couple of days to explore as much as possible.
Also, even though many tourists stay around Kuta, Canggu & Ubud, waterfalls are pretty popular on the island. It's best to come as early in the morning as possible to avoid the crowds.
Sekumpul Waterfall