Hiking Mount Rinjani – On Top Of Indonesia's Second Highest Volcano
They say a sense of adventure is all you really need for an experience worthy of a good story. I sure had plenty of that while hiking mount Rinjani – an active volcano dominating the paradise island of Lombok in Indonesia.
I would go as far as saying it was one of the best adventures I ever had.
It wasn't one particular thing that made the whole experience special for me. Instead, it was a combination of many factors – tropical climate, wild volcanic nature, local people, views of ocean around you, the challenging route. And much more.
Hiking mount Rinjani was also the first experience of such kind for me. And what a location I chose for it.
What makes hiking mount Rinjani so special?
Well, the fact that you're trekking a volcano is already spectacular. And not just any volcano, but an active one.
Indonesia is an overall 'hot' country. It sits on the 'Ring of Fire' and accounts for 140 out of 450 world's volcanoes. Peaking at 3,726 meters above sea level, mount Rinjani is the 2nd highest volcano in Indonesia. Nice place for an adventure, isn't it?
It dominates the small paradise island of Lombok that is otherwise full of sandy beaches, romantic sunsets and world-class diving spots. For the local Sasak tribe and Hindu people the mountain is sacred and one can witness religious activities done on the mountain.
The Ring of Fire
The Ring of Fire is an area of ~40,000 kilometers along the coast of the Pacific Ocean where 75% of the world's volcanoes are located and 90% of earthquakes occur.
Mount Rinjani is actually 2 volcanoes in one.
The 'mountain' itself is a result of Samalas eruption back in 13th century. The explosion created a massive caldera that is approximately 6-by-8.5 kilometers large and ~200 meters deep.
The explosion was one of the largest in thousands of years and scientists refer to it as "the most powerful volcanic blast since humans learned how to write". The eruption resulted in a global cooling effect, leading to longer and colder winters, as well as many other climate-related changes around the world.
In fact, many believe the Samalas eruption was one of the factors that has led to the Little Ice Age – a period of global cooling that lasted several centuries.
But there's more to it.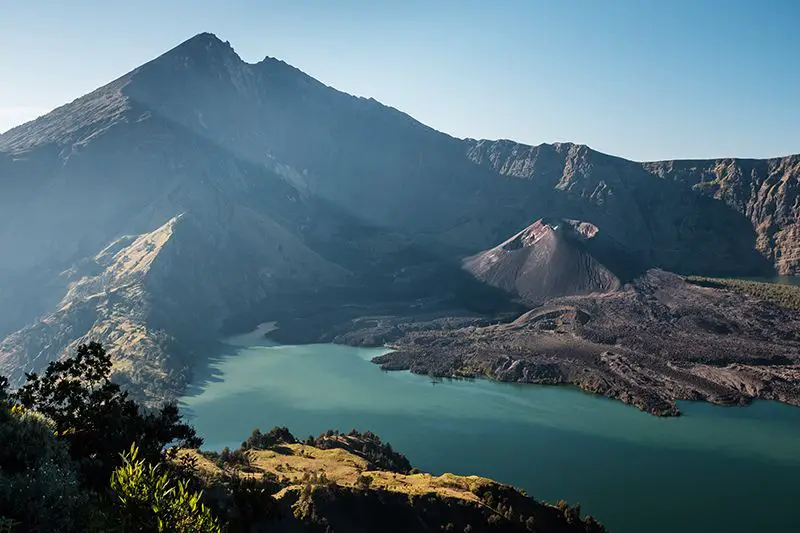 Since then eruptions got much less violent and focused in a single area within the crater of mount Rinjani. That area has even received its own name – Gunung Barujari, meaning recently completed mountain in Sasak/Lombok native language.
In recent history Barujari has been very active and is able to blow without warning. In fact, in October 2015, a major eruption forced locals and trekkers to evacuate – less than a year after we completed the trek.
My experience hiking mount Rinjani as part of an organized tour
Enough with geology lessons. Let's get to the actual story.
Since this was our first experience of such kind we decided to book a tour. It's by far the easiest and most popular option trekkers choose.
During the trek we met some people who were hiking mount Rinjani without a guide. It is indeed possible to make all arrangements yourself, rent gear and just go up – the route is fairly straightforward. However, I wanted to experience how to organize multi-day trips. You know, for the future.
We've booked an all-inclusive '3 days & 2 nights' tour to the summit from one of the local operators – Rudy Trekker. And it was literally all inclusive. From the moment we landed at Mataram airport, the only additional costs were tips for the guide and porters.
Singapore – preparation and arrival
After we booked the tour, we received a list of essential items required for hiking mount Rinjani. That included – among other things – a warm windproof jacket, long pants, gloves, a hat, trekking poles and headlamp.
For the past 6 months we lived in Indonesia, so didn't really have any warm clothes for the summit. We also needed portable chargers, reserve batteries for our cameras and trekking shoes for Kristine. All of that was hard to find in Jakarta.
Luckily, Singapore is a great place to make a stopover for some last-minute shopping like this. We finished all our shopping within a day and spent the rest of the time enjoying the city.
From Singapore we flew to Lombok with a short layover in Bali. Little did I know that the word 'short' will have a totally new meaning soon. The flight from Bali to Lombok was the shortest one I have ever taken. It took no more than 20 minutes including takeoff and landing. The boarding alone took more time than the flight itself.
Related: 44 Places To Explore & Adventurous Things To Do In Bali, Indonesia
We landed in a city called Mataram on Lombok's Western coast. And while on the map the island seems small, it took 4 hours to reach Senaru village where the trek would start the next morning.
We arrived well past midnight and after a short briefing and a sip of tea went straight to bed in the hotel nearby. Well, locals call it a hotel. To us it was a tiny wooden room with a bed, a bathroom with no hot water and no air conditioning.
Briefing – the route to the summit
Hiking mount Rinjani is challenging. But nothing spectacular comes easy, doesn't it? If you push through fatigue, you'll be rewarded with an absolutely stunning 360° view from the top.
But not only that – the views along the way are pretty spectacular too.
It's one of those times when the journey is the destination. The trek itself is rated as one of the best in all of Southeast Asia.
To reach the summit we would start from Sembalun village on the East, located at 1,156 meters above sea level. From there the route would take us via the viewpoint at the crater rim – Pelawangan Sembalun – and on to the summit. Our summit schedule looked something like this:
9:00 a.m. – start
10:00 a.m. – POS 1 Pemantuan (altitude 1,300m)
12:00 a.m. – POS 2 Tengengean (altitude 1,500m) – lunch break
2:00 p.m. – POS 3 Pada Balong (altitude 1,800m)
5:00 p.m. Pelawangan Sembalun (altitude 2,639 meters) – campsite
1:30 a.m. (the next day) – wake-up & short breakfast
2:00 a.m. – start of the summit push
6:00 a.m. – summit & sunrise (altitude 3,726 meters)
8:00 a.m. – back at the camp for proper breakfast (altitude 2,639 meters)
We booked a '3 days & 2 nights' tour, so after the summit the tour continued down to the crater lake (Segara Anak), then over the crater rim again (Pelawangan Senaru) and returned to Senaru village on the North.
*** In mid-2018 two massive earthquakes with a magnitude of 6.4 and 6.9 struck the island of Lombok and caused landslides on the north portion of Mount Rinjani. The area around the summit became very dangerous and, as a result, was closed for trekking.
Day 1 – Sembalun Lawang to Pelawangan Sembalun
Distance: ~14km
Elevation: ascent 1,483 meters
The morning after arrival we woke up slightly tired from all the traveling the day before. We only slept for no more than 5 hours, as were supposed to come for breakfast at 7:30 a.m.
Having arrived late at night we didn't really see much of the island, apart from dark volcanic beaches lit by the moonlight and lots of bumpy roads. The house we've stayed in turned out to be located on a small cliff overlooking the valley and mountains around. It was nature and wilderness anywhere you look. Totally the opposite from what we just experienced in Singapore.
After a quick breakfast of grilled sugary cheese sandwiches with sweet tea we got into the back of a pickup truck and drove for almost an hour to the Sembalun village – our starting point. There we got introduced to our team – the guide and two porters who would be carrying all the food, water and camping equipment required for our trek.
Porters would also set up camp and cook the food along the way, so they were eager to get going. After the introduction, each porter picked up a bamboo pole with two baskets full of provisions and equipment tied to it and set off with the whole weight (~50kg total) balancing on one shoulder.
Related: 9 Tips For Eating Healthy While Traveling And Having More Energy
Through the rainforest and grassfields
The guide leading us to the summit was a 17 year-old guy and has been at the top of mount Rinjani only once before. From behind you almost couldn't see his head, so sometimes it seemed that it was his backpack that was walking.
The guide did speak English, but was not very good at it. To our questions he usually responded by either nodding or shaking his head. And when he wanted to say something, he used simple 3-4 word sentences. As we started the hike the summit was already in sight and the guide pointed to it and said "Up there. Mount Rinjani summit. 24 hours".
The mountain disappeared quickly, as we entered a thick forest. For the first hour of the trek the route was quite shaded and muddy from the heavy rainfall the evening before. In morning's cool temperatures you could almost forget you're near the equator, if not for the very thick and humid air.
As we got out of the forest there it was – tropical heat. In the next couple of hours the temperature have risen to the usual +30°C and I couldn't believe that tomorrow morning we'll need warm jacket, pants and gloves.
We continued through the lush green valley with spectacular views of mountains around you. The ascent was gradual and overall very enjoyable.
There were several groups that day hiking mount Rinjani that started at the same time. With us there were 2 German guys and 3 Chinese girls that day. The guys always pushed ahead and waited at the next checkpoint, whereas the girls tried to keep up with them and then fell back to our 'more relaxed' pace.
Generally for one trekker the tour company allocates one porter. So, in total we were a big bunch – 7 of us, 7 porters and 3 guides.
Porters always went ahead, very often much faster than the group with the guide. They would stop at the rest station, prepare meals (lunch or tea with snacks) and then continue further on.
We didn't know before how the lunch situation works and were expecting to snack until dinner. So, imagine our surprise when after one of the turns we saw a group of porters gathered around what seemed like a bonfire. Once we came closer we saw chairs and cloths neatly set up for us to have lunch.
The lunch came right before the most challenging part and was really nutritious as well. It was not just some quick boiled noodles. For lunch we had traditional Indonesian fried rice with lots of grilled vegetables and fruits for dessert. Awesome service – I felt more like in a restaurant than on a trek.
The climb to Pelawangan Sembalun
During the briefing the night before we were told that on first day half of the route is fairly flat and the second half involves a hard climb that would take no less than 3 hours.
Up to this point we've been hiking for 3-4 hours already and couldn't imagine how hard the climb would be. For all it's worth, we did really good on some of the steep sections up until now. But, as we passed the third checkpoint and came closer to the foothills of the mountain, the route suddenly got really steep.
That's where trekking poles got very useful. Even though we didn't have any with us, the tour company lent one to each of us at no extra charge.
As we climbed, the weather and the terrain changed dramatically. The route itself was very challenging with steep incline and full of rocks, dirt, roots, mud and every other possible substance.
Hiking mount Rinjani is not possible from January to March every year. The national park is closed due to monsoon season which brings heavy rain and makes the route very dangerous. I can see why – our trip was in December and some sections were already muddy and slippery.
The nature, if you can call it so at this point, looked even more 'volcanic' as we proceeded further. There was no resemblence to green beautiful fields we saw just an hour ago. Instead, we were passing through an almost 'burned forest' amidst pine-like trees.
To add more drama, shortly after starting the climb we entered a thick cloud and the visibility dropped. Suddenly, it got much colder and we had to pull out our warm jackets.
The hard climb, the lack of visibility and all of the suffering was well worth what came next. Shortly before 6 p.m. we got to the Pelawangan Sembalun – the viewpoint on Rinjani crater rim.
It provided spectacular views on both sides of the mountain. On one side – the massive caldera of mount Rinjani, as well as mount Barujari and the Segara Anak lake below. On another side – the summit, Sembalun village where we came from and the Indian Ocean.
We were standing at 2,639 meters above sea level and all clouds have scattered below us in different shapes and moved around by the wind. I have never experienced anything like this.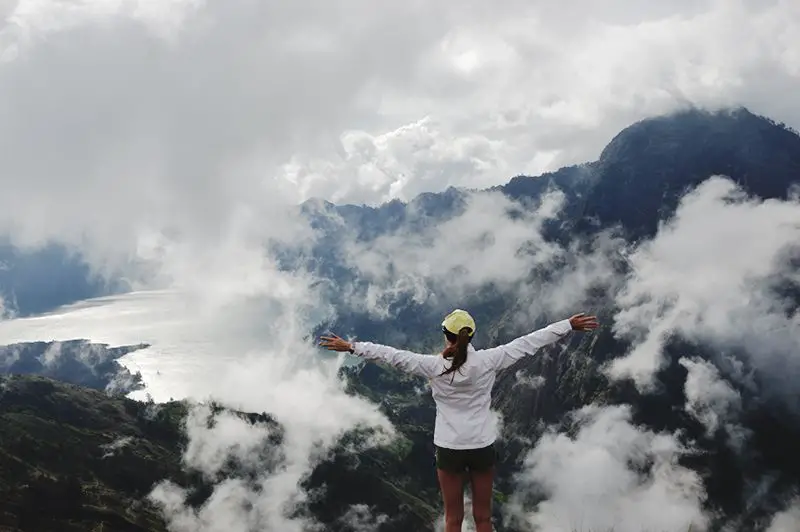 The porters arrived roughly at the same time with us (they made a tea break on the route). Nonetheless, within 30 minutes they managed to set up the camp and prepare dinner. We didn't even finish taking photos when everything was ready for us.
Our camp was located on a narrow ridge with steep slopes on both sides. That night we had dinner with a view of the volcano crater as the sun set over it. That was the most amazing and surreal sunset I have ever seen.
Somehow, after such a long and intense day we weren't that hungry. Most probably that was the effect of altitude.
As we went to sleep that day our legs felt really heavy and the heart was pounding like crazy. Kristine had second thoughts about the summit attempt the next day. After all, we just did 9 hours of hard climbing and were pretty tired. But the hardest part was still ahead…
Day 2 – the summit day
Distance: 3km ascent + 8.2km descent
Elevation: ascent 1,087 meters + descent 2,226 meters
The alarm rang at 1:45 a.m. that night. As I was trying to figure out where I was with the help of a backlight from my watch, the guide was already waiting for us with 'traditional' sugary grilled cheese sandwiches and tea for breakfast. Same as yesterday, but so much tastier at this altitude on a cold night.
As I peeked my head outside the tent, I saw that clouds parted and gave way to the most jaw-dropping view. I thought you could only see this kind of scenery in movies.
Full moon illuminated the silhouette of the crater rim and was reflected in the lake surface several kilometers ahead. The sky was clear and full of stars.
Tents pinched on a narrow ridge were distinctly visible and small lights moving inside signaled people were getting ready for the summit.
The whole experience was surreal and no camera could capture the divine beauty of the moment. So, I took my small tea party outside to enjoy the view before we had to leave. It felt no warmer than 10 degrees outside. Pretty weird experience after 6 months living in Southeast Asia.
Surprisingly, the legs weren't sore from all the climbing yesterday. The heartbeat also calmed down, as I acclimatized to the elevation. We discussed and agreed with Kristine to go for the summit, but don't stretch ourselves. If it gets hard, just slow down and take it one step at a time.
Shortly after 2:00 a.m., equipped with head lamps and the bare minimum in our backpacks we set off for the summit. Even though it was the middle of the night, the ridge we were camping on was well lit by the moonlight and it almost felt like twilight.
Ahead of us, slightly above the level of sight, we could already see a line of moving lights. Those were groups that left half an hour earlier and were currently on the first section of the climb – a steep ascent to the crater ridge through a 'labyrinth' of trees and boulders. Our guide promised that section to take approximately an hour. Even though it was hard, it took exactly that – an hour later we were on the ridge with a straight line to the summit ahead of us. We instantly felt cool breeze and put on our gloves.
Heart Rate Zone Training
Have questions about heart rate training? Need help with your new & fancy sports watch? Ready to take your training to the next level?
Grinding through volcanic dirt and ash
The first hour felt hard, but definitely doable. To be honest, the part that followed until the summit was worse than all of what we did previously. Combined.
The guide promised the climb to be very hard, because the terrain is loose dirt, sand and rock. The last 400 meters are so hard that it will take an hour to cover that part alone, as the terrain turns to volcanic ash.
From how we remembered the mountain yesterday, the ridge that leads to the last 400 meters didn't seem steep. So, we figured it wouldn't be harder than the first hours through the grassfields yesterday. Only the last bit would need a push, but at that point we're almost there.
After a short break we continued to the summit. Several hundred steps later we realized that what we expected to be a gradual ascent was in fact a very steep climb. After some 20 minutes of going up a hill we started to doubt if we'll actually make it.
Related: 12 Ideas How To Stay Fit While Traveling And Enjoy The Process
It was pitch black and all I could see was my feet and Kristine walking in front of me. The guide was in front of her. If I'd turn my head to the side I wouldn't be able to see anything.
"Watch your step. Don't leave the path" – the guide said – "The ridge is steep. Some people fall and die". The darkness, I believe, really helped to focus on the moment and not think about how dangerous the route is.
An hour passed like that. And then another one. Slowly, the silhouette of the summit and the crater around started to appear. Soon it got bright and we were able to see everything as in broad daylight. It was clear we won't make it to the summit before sunrise.