BMW Berlin Marathon Review – How Did I Run My Best Race (So Far)
So, in my two earlier attempts at the marathon distance something didn't click for me. I finished both races feeling I could have done better and that really haunted me. Berlin marathon was different, though, and was one of the best races I had.
Throughout the race I felt good and was even able to enjoy it. I'd like to think I learned from my mistakes and, as a result, managed to speed up instead of fade towards the finish.
I believe I finally executed the race to my actual potential.
In this post I'm listing all the things that I think helped me maximize what my body was capable of that day. It's as much an experience I'd like to share as it's a point of reference for myself for future races.
Weeks leading to the Berlin marathon
Let's start with tapering. The tricky part with it is not to overdo it.
Yes, the body needs to rest before the race to absorb all the marathon training. However, too much rest can actually push the body to lose fitness.
It's a fine line, but the way I balance it is I reduce the overall volume gradually, while still keeping the intensity. This helps me to sustain the endurance and give the legs that 'light' feeling come race day.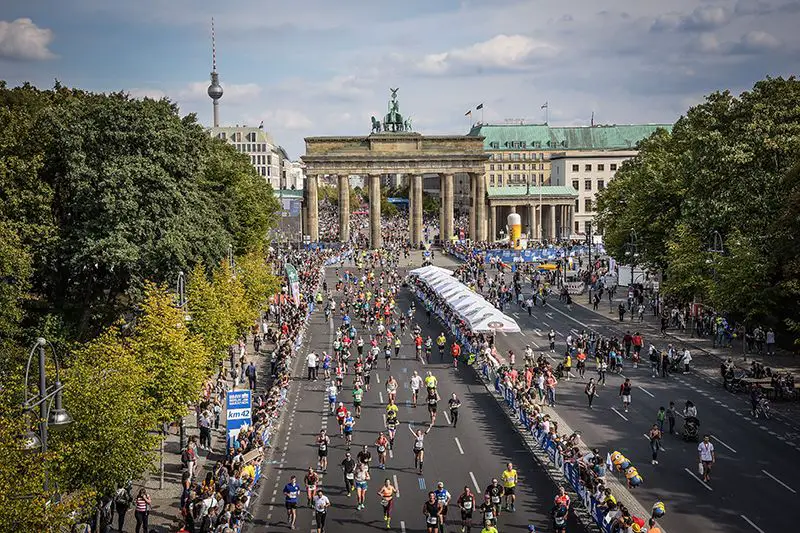 For Berlin marathon I did a progressive taper reducing the volume more every week. I maintained my usual schedule and intensity, but made the intervals shorter as the race came closer.
My 3-week-long taper looked like this:
3 weeks out: distance – 73K (down by 15%). 6 runs – 2x easy, 2x intervals, 1x fartlek, 1x long run
2 weeks out: distance – 50K (down by 30%). 6 runs – 1x easy, 2x fartlek, 2x intervals, 1x long run
Marathon week: distance – 30K (down by 40%, not including the marathon itself). 6 runs – 2x easy, 3x fartlek, 1x marathon
Berlin marathon – race week and days before
If I hit the taper right, then I really start to feel prepared only in the last week. That's when I feel a sudden burst of energy and 'extra' power.
Mentally it's really challenging to back off, not test myself too much and resist the urge to run some harder sessions. As they say,
You can't build more fitness during race week. But you can easily lose it.
For this race I started to feel that leg turnover only 2 days out from race, which was a bit late.
Getting enough sleep
Aside from mathematically balancing the training volume, I also tried to get almost 9 hours of sleep every day throughout the marathon week.
The goal of sleep is to give the body time to rebuild muscle tissue and normalize hormone balance.
I noticed it's more important to get enough sleep throughout the whole week, than on the day before the marathon. It will take several days for the body to completely recover from months of intense training and grow stronger.
Choosing the right food
My carb-loading consisted of a pizza Margherita eaten at 6pm the day before the marathon. Other than that I tried to eat as many greens as possible throughout the week in the form of salads and smoothies.

There's a common misconception among many athletes that eating right before the marathon comes down to a huge bowl of pasta the evening before the race.
In reality, what the body needs after hard hours of training is not calories, but nutrients. Anti-inflammatory foods to speed up muscle recovery, and vitamin- and anti-oxidant rich foods to normalize all internal processes.
Proteins and carb-loading come second after that.

Ice showers / ice baths
One new 'innovation' that I tried before NYC marathon and Kraichgau triathlon was ice baths. Cold exposure helps to reduce inflammation and flush away the remaining fatigue from legs to keep them fresh. Turns out that also works before the race.
I didn't have a bath tub in the hotel room, however. Instead, I kept my legs under a cold shower for minutes, which produced a similar effect.
Berlin marathon – race morning
My race mornings are generally pretty standard and almost automated. I woke up around 3 hours before the start, took a quick shower and went for a hotel breakfast.
Having breakfast so early helps to digest the food in time and avoid stomach problems during the race.
Nothing fancy for breakfast. Some oatmeal, some bread with jam, some dessert. Overall, 500-700 calories for those who's counting.
Clothing
I prepared my kit the night before, so before breakfast I just put it on with some warmer clothes on top. I kept these clothes on until as late as possible before I had to hand off my bag.
After learning my mistakes from my first marathon when I dressed like a scuba diver, I now try to dress as light as possible for the race.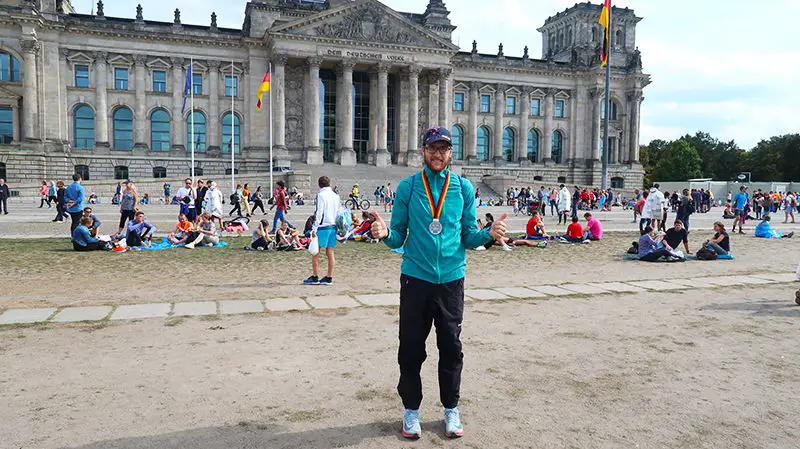 Pro tip: apart from shoes, the single most important investment you can do is to buy a good quality running socks. Fairly thin with moisture-winkling fabric, possibly with a little compression.
Having good socks on during a marathon is like taking a roadtrip in a limousine. You're comfortable and you feel cool.
Warming up
After breakfast I made a 20-minute trip to the start and arrived about an hour before the race. Perfect for a proper warmup, toilet breaks (these get really crowded) and dropping off clothes.
I start my warmup pretty early to give myself enough time to slowly mobilize all muscles, do a little jog and finish off with some race-pace 20-step speed pickups. The goal is to complete everything 15 minutes before the start, eat a gel and get into the starting block.
Berlin marathon – race execution
Now on to the Berlin marathon itself.
You couldn't ask for a better weather for a race. Even the morning was not cold, so there was no problem staying warm with minimal clothes.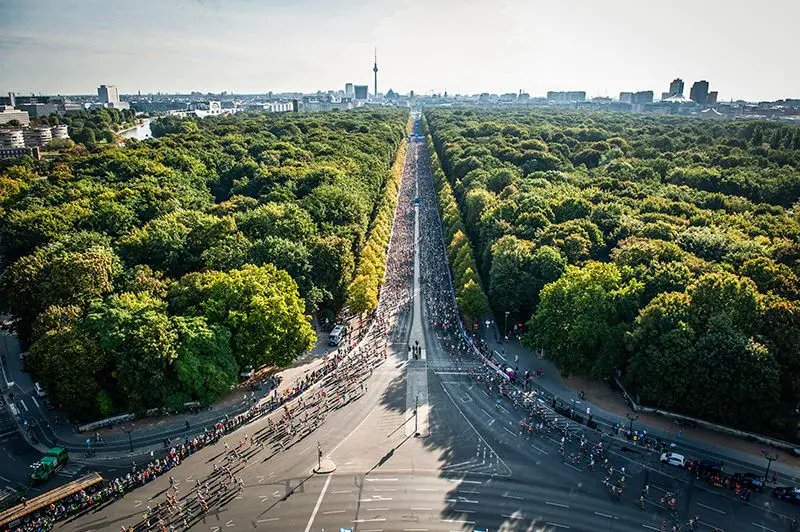 Leaving ego at the start
I had a very vague strategy in my head for the race. But, knowing that fatigue will not kick in until at least 2 hours in I was mentally prepared to let it go.
Basically, I planned to take the first 2K very easy and forget about the pace. From 2K to around 16K my goal was to remain in Zone 3. After that I'd gradually build up to Zone 4 until the last 5K and hold on for as long as I can.
More experienced and faster runners can race marathons in Zone 4, but their pacing should really be on top.
Related: Train Smart – A Practical Guide to Exercise Heart Rate Zones
Berlin Marathon start – first 2K
It generally takes my body around 10 minutes to warm up and for the heart rate to settle in.
Earlier I would start, look at the heart rate, get excited it's very low, speed up, get out of breath 10 minutes later and back way off. Over time I learned it's more fun to take it easy and speed up instead of slowing down.
So, I ran those first 2K slower than expected, to focus, see what's possible and enjoy the moment.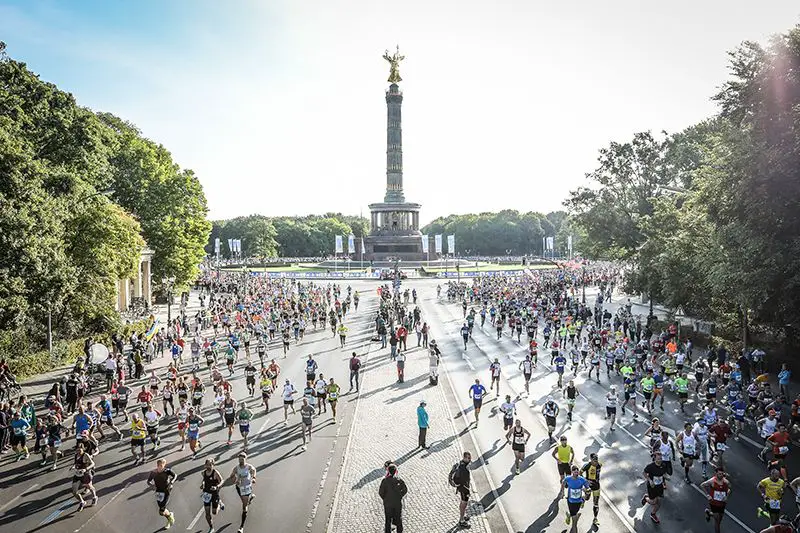 During these first kilometers I understood that I'm not in the sub-3 hour marathon shape I expected to be. I was going at least 10 seconds per kilometer slower and my heart rate was already close to Zone 4.
I still had a small reserve of 5 bpm, but I also knew it will naturally rise over time as the race progresses.
My first kilometers weren't actually far off from my average pace for the full distance – around 4:25. I was glad I didn't try to hit the 4:15 pace from the start. I would have paid for that at 30K for sure.
Backing off – 2K to 16K
My heart rate was already high, so I made an executive decision to maintain the effort until 16K. That would be right before taking in the second gel.
Funny situation. I wanted to go faster and I knew I could go faster. But then again, I thought so in my two previous marathons. Something in me suggested I try something new.
It's easy to go hard during this portion. You feel recovered, fresh and strong. You might even have thought at 10K to yourself "Hey, that's easy – another 3 of these and that's it!".
Well, your body thinks differently.
10K is like a warmup – marathon doesn't really start until 30K.
In fact, this is where a lot of marathons are lost. Going too fast through the first half only to notice the lack of energy at 30K.
I wanted to finish strong, so for the third of the marathon I held myself back to remain in Zone 3. And I think that really made the difference this time.
The build up – 16K to 30K
My pacing strategy was based on the results from two previous marathons. I figured that the best plan would be to reach the average target heart rate from the NYC marathon at the halfway mark and maintain it from there.
That should give me enough momentum to see if I have something left for the last 10K or 5K.
Related: What Is Target Heart Rate Zone And How To Calculate Yours
My average target heart rate at NYC marathon was 78% (or 95% of my threshold effort). That's what I aimed to reach at the Half Marathon point.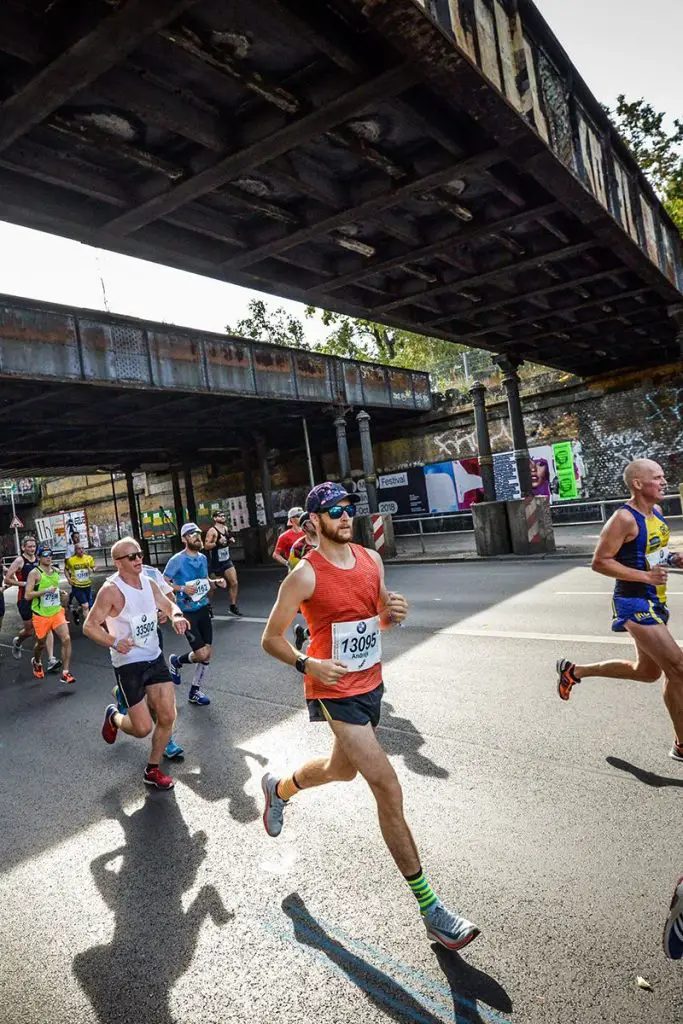 I did gradually build the effort to a planned 78%, but towards the 30K mark I hit a rough patch. Not sure what happened there, but my legs were getting heavier and overall it seemed I was slowing down.
I'm over-dramatizing this, of course – I was far from bonking. In fact, it was only some 10 seconds per kilometer slower than my other splits.
However, with 12K still to go it felt like a lot. And the worst part is you never know if it will get worse or not.
Staying strong – 30K to 37K
The last quarter of the marathon may seem easy at first. Only 10K to go – that's almost less than you run on an easy day!
Nonetheless, mentally this is the hardest part of the race and where the marathon really begins.
At this point some runners are 'hitting the wall' or even cramping and are forced to a walk. It's very demotivating to see and if you're hurting yourself it's even worse.
With around 10K still to go you can't just set off for the finish line. You'll run out of steam with 5K still to go. So, there's no better thing to do than face your demons and have a very long conversation with yourself.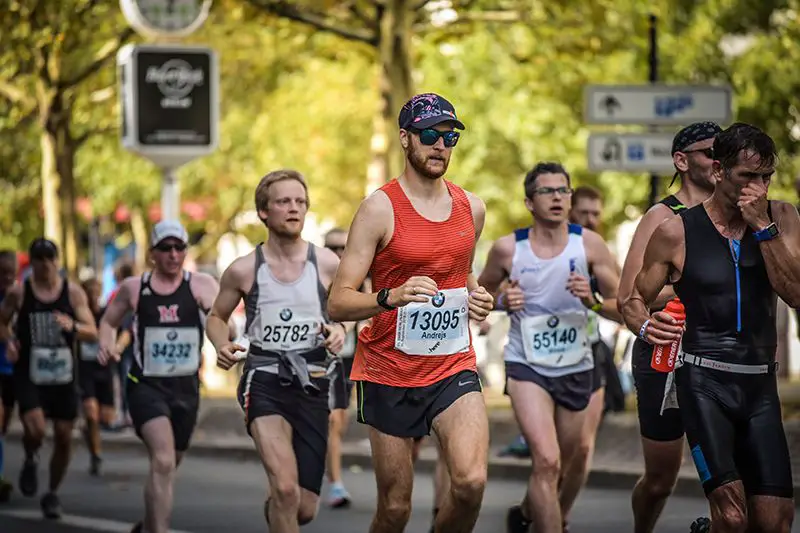 Marathon is just a lot of kilometers one after the other. I told myself to just focus on the next bit ahead of you – what you have now. Put one step in front of the other and that finish line will get closer.
When the rough patch comes up, it's good to remember the following
Doubt exist in the future. Regret exist in the past. None of those emotions exist in the present.
I did feel a bit rough before 30K, but after I had a gel at 32K it started to ease off a bit. I was able to pick the effort back up and was determined to keep it up until 37K.
The kick – last 5K
I was saving the only gel with caffeine until the last 5K to give me the energy for the final kick. The idea was that it would take 10 minutes to absorb and then help me keep my heart rate elevated until the finish.
I planned to pick up speed in the final 5K, but was afraid my wheels would come off with a couple of kilometers to go, like it did last year in NYC. So, the caffeine gel was kind of like an insurance.
Back in NYC I felt ok with 5K to go, but a 2K-long climb at 38K changed it all and I spent last 2K in a haze. Well, the last 5K of Berlin marathon were in a different kind of haze.
I took the last gel at around 36K and by the time it was only 4K to go I was eager to do a final sprint. I was excited to feel so much energy after almost 3 hours of running, but still concerned if I would hold the pace until the finish if I pick it up now.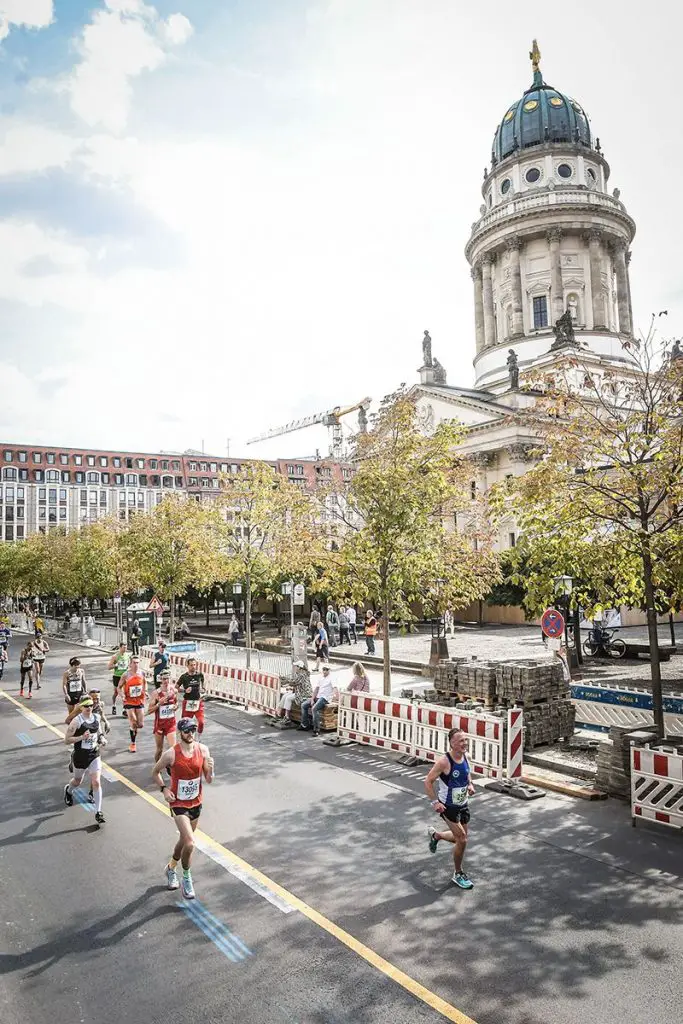 My cue for the finish push was Potsdamer Platz – a large square after which it was only 2K to go. After 37K I really stopped paying attention what kilometer it was. So, once I saw large buildings I just went for it.
I was enjoying the fact that I'm running hard at the end of a marathon and passing everyone on my way.
It actually felt more like a finish of a half marathon and nothing compared to my previous races.
Berlin marathon result
My net time was 3:07:08, which means I ran the second half in 1:34:35. I take that as a sign of good pacing – only 2 minutes off from an even split.
From the protocol my time splits were on average 4:00 minutes per kilometer for the last 2K. Maybe if I would press on at 30K when I hit the rough patch (instead of sprinting in the end) and maintained the speed I would do a bit better.
With my average pace of 4:25, 10 seconds per km over 17K is roughly 3 minutes, whereas last hard kilometers probably gave me a minute or so.
So, technically, I could have been 1-2 minutes faster if I pressed on earlier. But, it's never a given, so I take finishing strong at that price.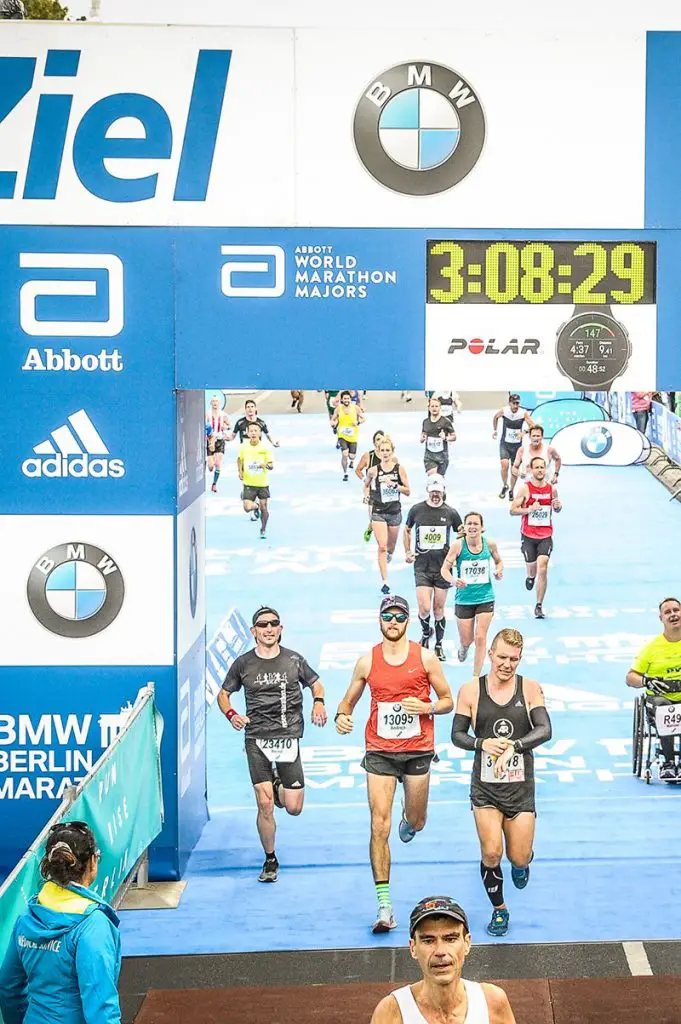 My verdict?
The race was great! The course is flat and fast, the organization is seamless and the support is absolutely amazing. I can really see why Berlin marathon is part of the world majors – highly recommended.
In fact, the course is so fast that Eliud Kipchoge broke the World Record by a whopping 1 minute and 18 seconds.
My nutrition strategy for Berlin marathon
I did pay closer attention to fueling this time and I think it really worked.
During both previous marathons I felt legs getting heavy somewhere after 20K, numbness in the last kilometers and dropping heart rate towards the end. That turned out to be a combination of both – lack of calories and sodium.
In fact, after the NYC marathon I ate a pack of salty crackers and within 15 minutes the numbness was gone and I felt much fresher.
Related: First Time Marathoners – 18 Training, Taper & Race Day Tips
So, during Berlin marathon my plan was to take a gel with the highest sodium content every 30 or 40 minutes and drink water at every aid station. My 'gel schedule' was as following:
20 minutes before start (after warm up)
9 kilometers (~39 minutes in)
17 kilometers (~1:13 hours in)
25 kilometers (~1:47 hours in)
32 kilometers (~2:19 hour in)
36 kilometers (~2:38 hours in) – this one was with 70g caffeine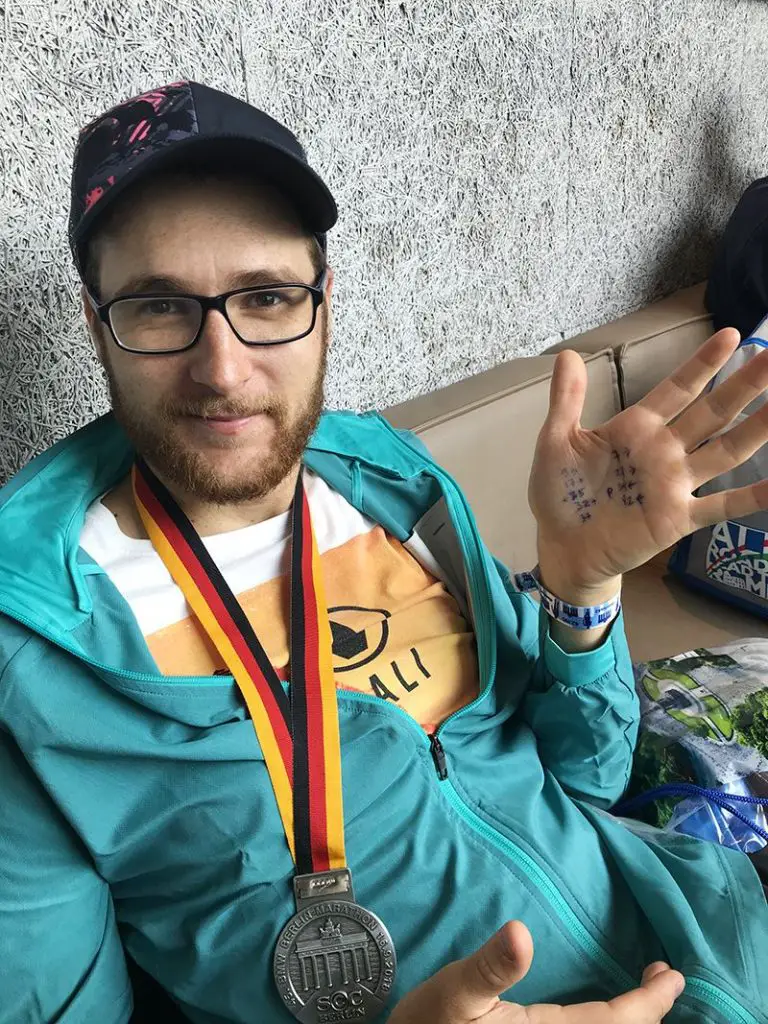 My training for Berlin marathon
While the race execution was nearly spotless this time, I believe I made a couple of mistakes in my training this time.
First off, I am pretty sure I've missed the optimal form for the race by a couple of days. I was coming down from 80K peak weeks (first time I did it) and I feel my body needed a couple of more days to get into optimal shape.
I went for a lab test 5 weeks before the race and adjusted my training to improve my aerobic base. My focused switched from race intensity tempo sessions to more long & easy Zone 2 efforts, which was a mistake. Still important, but not a month before the race.
I did a couple of 80-90K weeks, but didn't feel much progress from that. I felt my form was actually better while I was under stress right before the test than recovered for the marathon.
Probably, I had my best shape a little too early and then didn't add enough intensity to sustain it.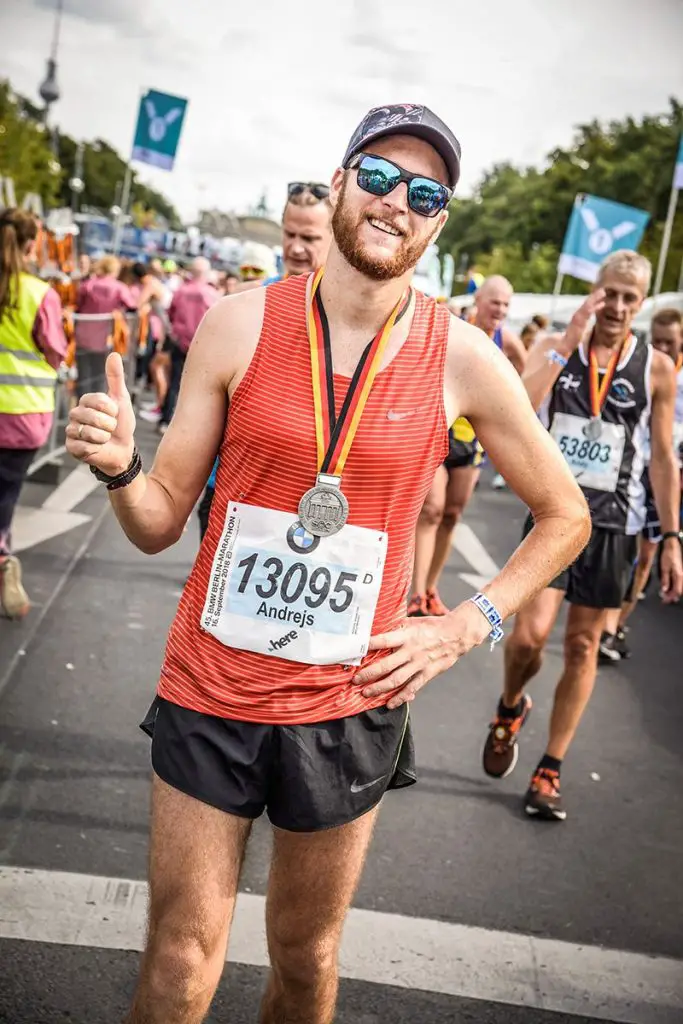 Tempo and threshold efforts
What I learned from this 'experiment' is that high mileage alone does not fully correlate to a fast race.
Yes, I did run a 3 minute PR, but somehow I have the feeling I was in a slightly better shape last year for the NYC marathon. I guess we'll never know – due to all the hills and bad fueling I didn't run to my potential then, so these races are not comparable.
However, what I did feel was that holding Zone 4 last year felt easier and that is for sure thanks to high Zone 3 and low Zone 4 efforts I did in training then.
Speed training
I have this 'it's complicated' relationship with speed training.
There's no doubt I need it. But, then again I know I would be better off creating a solid foundation for the future and working on building my aerobic base first. So, I don't spend much time on it.
Personally, I believe unless you're elite or targeting at least a sub 2:50 marathon – speed training shouldn't be the highest priority. It's very easy to overdo it when you don't have a solid aerobic background to recover well from it.
Related: High Intensity Training For Endurance Athletes – How Much Is Too Much?
For 3+ hour marathoners the race is almost exclusively a Zone 3 effort, whereas real speed training has to be done at Zone 4. Faster marathoners benefit from that training because the speed they do their track sessions at is actually close to their race speed.
For instance, a 2:03 marathon is roughly a pace of 2:55 minutes per kilometer. Athletes who run that time do their speed sessions not faster than at 2:45 per kilometer pace.
Amateur athletes (myself included) would be better off training the basic endurance to be able to maintain the effort throughout the race. For example, focus on long run with Zone 3 effort sections included in it.
And that's what I plan to do for my next race.
Did you find this information useful? Share the post with others using the buttons below.
What's next?
Are you looking to achieve peak fitness? Or are preparing for a specific adventure? Maybe you are looking to develop a more resilient mindset and integrate training into a busy lifestyle? Whatever your goals are, I can help you develop a balanced training plan and coach you to reach your full potential. Reach out via this page and lets get started.
Tags In
Andrejs
Andrejs is a certified IRONMAN coach and a former professional athlete who created The Athlete Blog as a way of sharing his training experience with the world. His journey across different sports inspired him to develop a training methodology that, apart from results, also focuses on being healthy, happy and full of energy. You can read his personal story
here
.