Marathon injury prevention – how to build a strong core
I know how daunting it can seem to do a post workout stretch or core exercises every day. It may even seem useless at first due to low intensity, but in the longer term it really helps to prevent running injuries.
It can even improve performance thanks to improved running form and endurance.
Not all injuries are caused by running, though.
This Thursday was a perfect summer day, so I took my skateboard out to enjoy some sun and vitamin D. I had a video camera in my hand and didn't pay much attention to the road surface. In the end, I hit a rock and went flying forward.
I fell on my side landing on the hip and elbow. It happened not far from home, so I crumbled back estimating how much time will I be out of running.
Treating injuries
In most cases the best idea is to leave the problem area alone for a while, unless no acute help is needed. It doesn't need anymore extra stress – so no poking.
It's always best to prevent running injuries, but anything can happen.
When I went to bed that evening I thought I would skip at least a week or two of running. But it's surprising what good rest can do.
10 hours of sleep later things did not turn out as bad as I've expected. It was hard to get out of bed, yes, but 10 minutes of careful stretching and warm helped – I was able to walk somewhat well.
I took the bike for my regular commute, instead of a subway, which was a good choice. Walking was more painful than riding a bike.
I did skip a workout on Friday to give my body extra rest and went for a short 5K recovery run on Saturday. It was ok – painful to run, so I stayed on the grass to minimize vibration.
My Garmin also showed that my balance is off to one side by more than 1%, which is probably because my hip flexor is strained. It's usually pretty even at 50-50.
Today (Sunday) I felt much better and went for a long run. It was good and I almost didn't feel the pain.
I have a speed workout planned for Tuesday, but I think I'll switch it for hill repeats. There's much less vibration when running uphill than at high speeds.
How to prevent running injuries during marathon training
Accidents like this aside, fatigued muscles cause majority of running injuries. It is much easier to strain or even tear fatigued muscle, because it is shorter than the fresh and well-rested muscle.
It is possible to prevent running injuries that are not caused by an accident.
To add to that, in some cases overused muscles cause stress in adjacent muscles that press on nerves and cause pain.
The best example is pain in the knees or "Runner's knee". Tight hips cause tightness in IT band muscle that pushes on the knee.
Relieve the tension in the hips and strengthen them and the knee pain will disappear.
Which brings me to the importance of core strength. It is like a central command system that hold together all muscle groups – especially lower body. Strengthen the core muscles and most of chronic muscle pain will disappear.
Training those smaller muscles can also help to improve the running form and posture.
Apart from building core strength it is also important to allow muscles to recover. Very often post workout recovery is overlooked in favor of more training, but adding a week of reduced mileage once a month helps to prevent running injuries as well.
Also, read my 6 steps for a fast muscle recovery between workouts for some practical advice.
So in the end it's all about those 10-15 minutes of core and stability exercises and proper recovery that allows us to prevent running injuries that may spoil our training plan.
Happy training!
Andrejs
Andrejs is a former professional athlete who created The Athlete Blog as a way of sharing his training experience with others. His journey across different sports inspired him to develop a training methodology that, apart from results, also focuses on being healthy, happy and full of energy. You can read his personal story
here
.
GET A FREE TRAINING PLAN
Enter your email below and get a 4-week "back in shape" training plan sent to your inbox
Thanks! Check your email now
Something went wrong.
You'll also get a €25 coupon off your first Airbnb rental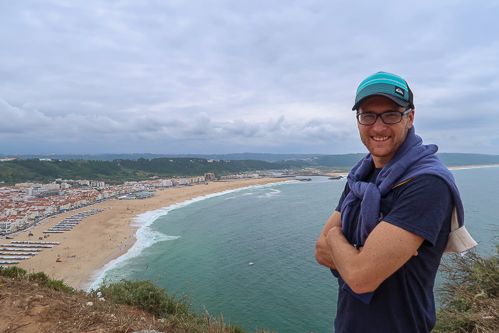 How did I get here?
Hey there! My name is Andrejs and I am here to inspire, entertain and get you fit for any adventure.
I went from being an over trained pro athlete to a blogger sharing how not to waste time and live life to the fullest.
Traveling, new sports and activities brought new meaning to my training and made it much more effective, fun and enjoyable.
I need help with ...

Planning and
Organization

Core and
Mobility

Fueling and
Nutrition

Rest and
Recovery

Training
Process