How Building Core Strength Helps Marathon Runners Get Faster
My hip is getting much better and I can barely feel the pain after falling off a skateboard. Since the injury I spent more time on building core strength and it definitely sped up my recovery.
I was a bit afraid it would take too much time to heal, as I had pain in 3 different places. But all turned out well.
A week later the pain is almost gone and my hip hurts only when I poke it. Injuries like this, however, always make you think what can be done to stay healthy in the future.
Preventing injuries by building core strength
Apart from proper recovery, one of the things that helps to prevent injuries is building core strength.
All muscles in our bodies are linked. When we overuse one muscle we force the load on adjacent or supporting muscles. Our core is like a central hub that links it all together and keeps us balanced and in sync.
When core is not strong enough more pressure is put on other muscles to keep balance, which over time makes them tight. If not treated, it causes majority of injuries and the worst part is that it mostly goes unnoticed.
Tight and overused muscles don't have the same range as fresh ones and it's much easier to strain them.
Often it's not the tight muscle itself that is injured. For instance, tight hips usually cause tight IT band that usually causes knee pain.
This is exactly why athletes do careful warm ups before every session. Especially when it's cold outside and if the effort will be high. It extends the range of the muscle and prevents muscle strains.
Exercises for building core strength
There are many exercises that target the core, but it's not necessary to do every one in the book. Focusing on key ones is enough for building core strength.
Core muscles are not large in size and it doesn't make sense to use big weights or train until exhaustion. Building core strength is most effective with body weight exercises, as it's easy to overuse these muscles and cause even more injuries.
Some people tend to overdo the duration of the exercise. Several sets of 30 seconds to 1 minute with short rests is generally enough.
We only want to strengthen the muscle, not fatigue it.
Here are my key exercises for building core strength:
Plank is the exercise that targets all core. You basically stand in a pushup position resting on your elbows and keep your body nicely straight and flexed (watch here).
Side leg raises is a great exercise to strengthen hips. It is especially important for people who run and cycle a lot and those who spend a lot of time at the desk (so basically everybody). Lie on your side, bottom leg bet, and lift your upper leg up slowly up and down (watch here). Your knees will thank you for it.
Crunches, lower back raises and diagonal arm and leg lifts (watch here) all help to build good posture. We often focus on strong abs and forget about postural muscles – back and hamstrings. All of these muscles help to maintain good running form and healthy posture that prevent injuries.
You can do several of these exercises every other day or can include an hour-long session of Pilates every now and then. It is much harder than it sounds and the effect from even one session per week is amazing.
Building core strength helps to treat injuries
Doing exercises above as well as eating well seemed to sped up recovery after my skateboard injury.
In a week I was able to return to my regular regime.
I was not able to start with the speed work just yet, but did do a steady 5K in 20:00. Overall, my hip was very cooperative, but I did push a bit through the pain at the very end.
I substituted Tuesday's speed work for a hill run (around 1 min gradual uphill and back down with a total of 2-3 min rest). Good call – my legs thanked me for not putting too much pressure on the hip. I did it in Munich's Olympic park with some nice weather and nice views.
I guess vitamin D and the sun helped a lot with speedy recovery.
Now I seem to have built general endurance, but I need to work more on my speed to be able to run fast. Once my hip will finally heal, I'll add more distance to my steady runs and focus more on short speed workouts (around 400-800 repeats) to add some speed.
I have a 6K run next month and I want to show some nice times.
Let's see how next weeks go, still much to work on.
Andrejs
Andrejs is a former professional athlete who created The Athlete Blog as a way of sharing his training experience with others. His journey across different sports inspired him to develop a training methodology that, apart from results, also focuses on being healthy, happy and full of energy. You can read his personal story
here
.
GET A FREE TRAINING PLAN
Enter your email below and get a 4-week "back in shape" training plan sent to your inbox
Thanks! Check your email now
Something went wrong.
You'll also get a €25 coupon off your first Airbnb rental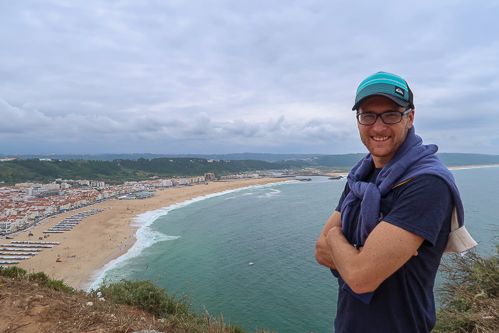 How did I get here?
Hey there! My name is Andrejs and I am here to inspire, entertain and get you fit for any adventure.
I went from being an over trained pro athlete to a blogger sharing how not to waste time and live life to the fullest.
Traveling, new sports and activities brought new meaning to my training and made it much more effective, fun and enjoyable.
I need help with ...

Planning and
Organization

Core and
Mobility

Fueling and
Nutrition

Rest and
Recovery

Training
Process